Riot BlockChain, Veritone, Helios & Matheson: An Analysis Of This Year's Mystery Rallies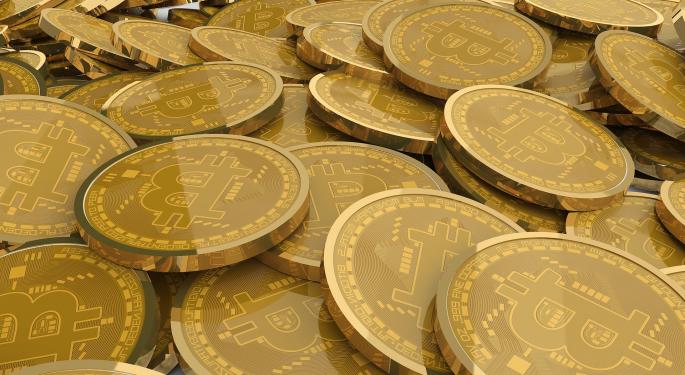 In 2017, many high-quality stocks have rallied for all the right reasons: good earnings, good acquisitions, or in the case of Apple Inc. (NASDAQ: AAPL), the successful launch of a new product.
Others have had enormous rallies that were not based on any solid fundamentals. As expected, wild price appreciation is generally followed with a crash back down to earth.
The furious rallies can take place over a few days or longer to take place and usually unwind very quickly.
Huge Volume In Blockchain Stock With Biotech Past
One stock that appears to revving its engine is Riot Blockchain Inc. (NASDAQ: RIOT). The name alone — and association with the spectacular run in Bitcoin and related technology — has caused the issue to over double from its Sept. 29 close ($4.16), when it reached $10.17 on Oct. 11. It came off that high, but found support in the $7 area and reached $11.26 in Tuesday's session, up from Monday's closing price of $10.35.
It is nearly impossible to make any sense of prior price for one reason: For all price action prior to Oct. 4, 2017, the company was known as Bioptix, a maker of of diagnostic machinery for the biotech industry. Therefore, its fall from $15.32 to $3.38 on Jan. 29, 2015 has no bearing on the current price action.
The precipitous decline was instigated when the in vitro diagnostic company then known as Venaxis announced the FDA had found its APPY 510(k) submission for rapid blood testing "not substantially equivalent."
Venaxis changed its name to Bioptix in December 2016 after acquiring the latter company, then announced on Oct. 4 of this year that it was changing its name to Riot Blockchain — and its business model.
What's now known as Riot Blockchain was unsuccessful in the biotech space; it's unknown how it will perform in the cryptocurrency sector.
The stock has some of the characteristics of a continuation of the rally. It's a lower float and reverse split issue that reached an all-time-high of $1,194.20 in April 2010.
Riot Blockchain has had much higher-than-average volume coming into the issue over the last five sessions. In a holiday week, 5 million shares were traded Monday, followed by a staggering 12.1 million shares Tuesday.
Today's price will sure surely attract more momentum and high-frequency traders on this traditionally lower volume week.
Of course, the major catalyst is in the name. For many investors who have not struck it rich in the Bitcoin rally, the stock may appear to be an opportunity. In that case, it may be prudent to scour the company's 8-K in order to determine if the company can establish itself as a leading play in Bitcoin mining.
Veritone Volatility
Any number of factors can instigate mysterious rallies. In the case of Veritone Inc. (NASDAQ: VERI) a Barron's article citing the company's potential to be a significant player in artificial intelligence caused the issue to double in only eight trading sessions. From its Aug. 18 close of $7.87, the Friday prior to the Barron's article, Veritone eached $16.66 by Aug. 30. That was only the beginning, as the issue had catapulted to $74.92 by Sept. 27.
Veritone dropped to $45.95 after negative commentary from Citron Research analyst Andrew Left. The stock has been been cut by more than half since then, when it bottomed Nov. 13 at $21. So far, the rebound off that low has been capped at $29.62.
Price Swings In Helios & Matheson
Companies with a low float or large short interest have recently rallied out of the blue. For example, Helios & Matheson (NASDAQ: HMNY) rallied from its Sept. 13 close at $2.50 to an Oct. 11 high of $38.86. The rally was based on the potential success of the MoviePass service, but its performance remains to be seen.
From a price perspective, the issue peaked in August 1998 at $127.50 and bottomed at $1.03 in May 2016. From a fundamental perspective, the company has not released earnings since January 2014, making it difficult to determine if it has any value at all.
Related Links:
5 Cryptocurrency Stocks That Are Rallying Despite Hacking Headlines
The Once-Mercurial Vertione Plummets After Q3 Miss, Stock Downgrade
Posted-In: Andrew Left BitcoinShort Sellers Technicals Top Stories Intraday Update Movers Trading Ideas Best of Benzinga
View Comments and Join the Discussion!