6 Hot Stocks Among Shorts: Weight Watchers Moves Ahead Of The Pack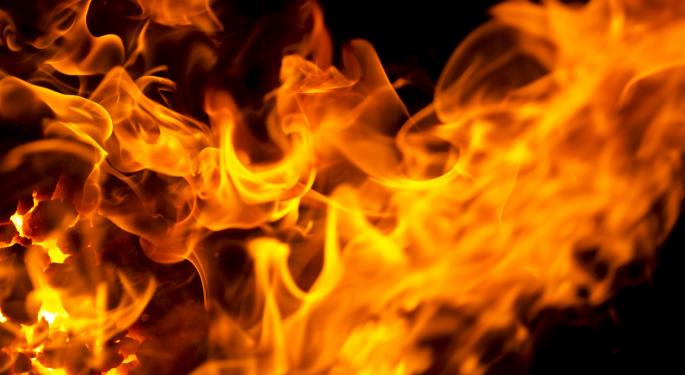 Astec Analytics is a provider of timely and accurate intra-day short selling data and information, which helps investors better understand changes in investor sentiment.
Here is a summary of notable short data, according to data from FIS' Astec Analytics.
Top Pick: Weight Watchers
Ranking as the top short is Weight Watchers International, Inc. (NYSE: WTW). Shares of Weight Watchers rose 8 percent on January 17 when the company's shareholder, board member and spokesperson Oprah Winfrey was on the cover of People magazine and talked about the Weight Watchers' program. However, short sellers were quick to act by adding 10 percent to the total outstanding short positions but these were all closed by the end of the week.
Aside from last week's developments, short interest remains near its 12-month peak which was seen in February of last year and accounts for over 94 percent of the shares available to borrow.
1. GoPro
GoPro Inc (NASDAQ: GPRO) saw around 4 percent of the total outstanding short interest position close last week. Nevertheless, as a percentage of the shares available, volume has dipped less than 1 percent and remains at an "eye-wateringly high" level of over 97 percent. This indicates that lenders are recalling shares as the underlying investors are selling their shares.
On the other side, borrowing of GoPro's stock remains significant which may imply some hedge funds will bank their profits if the trade becomes uneconomic.
2. Under Armour
Even though Under Armour Inc (NYSE: UA) (NYSE: UAA)'s CEO Kevin Plank met with President Donald Trump at a meeting with other leading executives, the stock continues to struggle and shares are well off from its peak of almost $47 in April.
Meanwhile, short sellers started closing their positions in November but as a percentage of shares available, nearly 93 percent of all shares available to be shorted are in fact in the hands of short sellers.
3. Tesla Motors
Tesla Motors Inc (NASDAQ: TSLA) is no stranger to the top short list and with shares notably higher since the start of December short sellers are "showing nerves of steel" and even added a further 2 percent to their positions.
Short sellers are for the most part sitting on unrealized losses which suggests the investors are very sure of their contrarian trade.
4. Ziopharm Oncology
ZIOPHARM Oncology Inc. (NASDAQ: ZIOP), a biopharmaceutical company that oversees a portfolio of cancer therapies, is not immune from extreme volatility that is often seen in the healthcare space.
Since Ziopharm's stock rose in April 2015 and hit a five-year high of $14, short sellers have held on to more than 90 percent of the available shares. Now that shares of Ziopharm closed last week at $5.59, short sellers are sitting on significant gains. However, 97 percent of the available shares are sold short which implies further downside could be seen in the stock.
5. Insys Therapeutics
Insys Therapeutics Inc (NASDAQ: INSY) also focuses on the treatment of cancer and similar to Ziopharm shares peaked at around $44 in July, 2015.
Short sellers quickly took advantage of the stock's peak and around 70 percent of the available shares to short were shorted. Since then the proportion of available shares that are shorted rose to more than 90 percent in the bottom half of 2016.
Short sellers are for the most part sitting on a profitable position but borrowing costs are three times higher than Ziopharm's.
View Comments and Join the Discussion!
Posted-In: Astec Analytics FIS short interest Short Sellers short sellingShort Sellers Trading Ideas Best of Benzinga