Competition And Content: Why This Hedge Fund Is Short On Netflix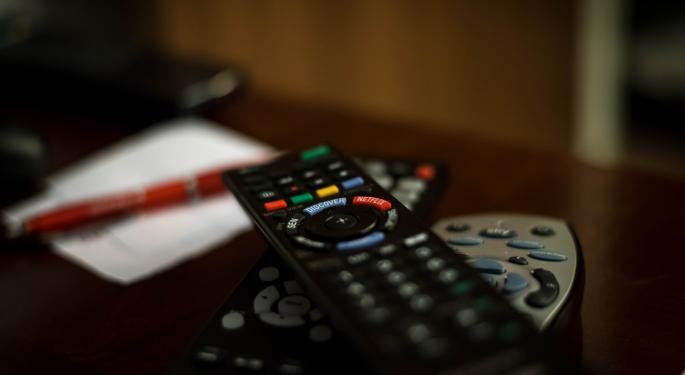 Despite a history of volatility and less than encouraging revenue reports, Netflix, Inc. (NASDAQ: NFLX) still trades big numbers. As 2017 approaches, the stock is well over $100, bouncing closer to the $130 mark. While the continued longevity of the company's growth is impressive, the question remains how long it can last.
Gullane Capital is one hedge fund skeptical of Netflix's continued returns, shorting the company in next few months. Managing partner Tripp Miller was on Thursday's edition of Benzinga's PreMarket Prep to discuss why Netflix might be about to drop below $100.
A Stream Of Contenders
Miller started by addressing the reaction to the uncommon choice to short Netflix, and why the decision isn't as dramatic as it might seem at first. "It's probably our most controversial short; it is also the smallest short we have in our portfolio," he began. "It's average short price [is] about 5 percent below where the stock is trading."
One factor in the short was a survey of Gullane Capital's other assets in streaming media, particularly Amazon.com, Inc. (NASDAQ: AMZN), which the hedge fund has been long on for quite a while. With Amazon's entry into video streaming through the company's Prime service, Miller believes consumers are able to get a version of what Netflix delivers with a variety of other perks. He explained, "One of the things we look at with Amazon is the diversified portfolio, what they are offering to the consumer on the video side. While it's not as robust on streaming as what Netflix has, it's growing rapidly and they're investing in that space."
Other streaming services, like NBC Universal's Comcast Corporation (NASDAQ: CMCSA)'s Seeso TV and Turner Broadcasting (Time Warner Inc (NYSE: TWX))'s Filmstruck have also launched and are set to cater to the niche video streaming audience, potentially sapping some of Netflix's viewership.
A Flood Of Content
Netflix's biggest asset may also be its biggest shortcoming. The amount of content already on the platform is impressive, and Netflix has committed to doubling that in the next year. According to Miller, "When you look at what they spend on content, $5 to $7 billion this year, what they're really on the hook for in the next 36 months is north of $15 billion. And when you look at a business like Netflix that doesn't make money, that's burning cash flow, we're not big believers that companies like that grow forever."
Miller's primary takeaway from working with media companies was that nothing is guaranteed. "Even the best players in the world struggle from time to time. We had DreamWorks Animation LLC (previously traded (NASDAQ: DWA)), and we learned a lot by studying that business of how hard it is to play in the media space and really pick winners."
Listen to the full discussion in the clip below.
PreMarket Prep is a daily trading ideas show that focuses on technical analysis and actionable short term trades. You can listen to the show live every morning from 8-9 ET here, or catch the podcast here.
View Comments and Join the Discussion!
Posted-In: Short Sellers Short Ideas Hedge Funds Markets Media Trading Ideas Interview General Best of Benzinga