10 Industries That Could Be Impacted by Driverless Cars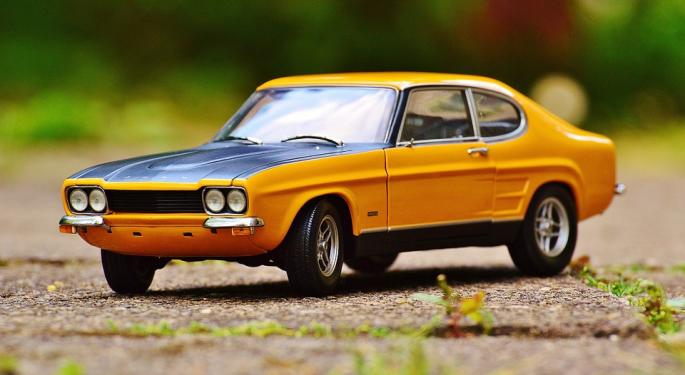 For most daily drivers, it's hard not to be excited by the prospects of driverless cars. How could you not be? No more sitting in traffic, having to share the road with crazy drivers, and just think of all the extra time. The average American spends 46 minutes driving every day, according to AAA's Foundation for Traffic Safety survey. That means every year, the average American driver could get back almost 280 hours of their life, thanks to driverless cars. Just like the airplane, autonomous technology and driverless cars are positioned to fundamentally change transportation as we know it.
To make driverless cars a reality, it'll take a lot of new hardware, software, and other technology. There are roughly 263 start-ups alone working on different aspects necessary for developing driverless cars, according to VC firm Comet Labs. It's a list of companies very different from what used to be involved in car manufacturing. While it's definitely heavier on the tech side, overall it's a mash-up of companies across sectors including some traditional automakers. Beyond start-ups, many large companies are also working on developing autonomous technology including: Alphabet Inc (NASDAQ: GOOG) (NASDAQ: GOOGL) Waymo, Tesla Inc (NASDAQ: TSLA), Baidu Inc (ADR) (NASDAQ: BIDU), and Apple Inc. (NASDAQ: AAPL).
These companies are working on changing the way we get from point A to B and their efforts could impact far more than just transportation. Here are ten industries that may be affected:
Hotels and Lodging
If you've ever been on a long road trip, there's probably been a time that you found yourself too tired to continue on, so you pulled into a roadside hotel. Highways throughout the United States are lined with places for the weary traveler to rest their head. But travelers might not rely on them as much in the future, according to Volkswagen executive Sven Schuwirth, who once said he thinks driverless cars will be able to morph between a driving mode and sleeping mode. Several major automakers have already developed concept cars with shape-shifting capabilities, enabling the vehicles to act as mobile hotel rooms.
Banking
Federal Reserve Bank of New York data estimates the total amount of auto debt at the end of 2016 was about $1.16 trillion. Approximately 95% of today's overall auto finance market is business-to-consumer. In the next 10 to 15 years, Deloitte Consulting predicts 35% of the market will become business-to-business as car-sharing continues to rise in use. In the future that could lead to the banking industry shifting away from smaller consumer loans to larger business loans. The five largest banks by market share in the auto lending industry are JPMorgan Chase & Co. (NYSE: JPM), Ally Financial Inc (NYSE: ALLY), Wells Fargo & Co (NYSE: WFC), Capital One Financial Corp. (NYSE: COF), and Bank of America Corp (NYSE: BAC), according to Trefis research. At the end of Q3 2016, they held 25% of all outstanding loans in the United States.
Auto Manufacturing
This one's pretty obvious, but there are many different ways the auto industry might be impacted. By 2030, PwC predicts 50% of automobile manufacturing costs will be electronics, up from about 33% today. A lot of technology already goes into cars and they're going to need a lot more when they replace us behind the wheel. There are many different companies producing all matter of electronics used in auto manufacturing. Some of the largest include: Nvidia Corporation (NASDAQ: NVDA), Delphi Automotive PLC (NYSE: DLPH), STMicroelectronics NV (ADR) (NYSE: STM) and Autoliv Inc. (NYSE: ALV).
Insurance
The National Highway Traffic Safety Administration research suggests that over 90% of crashes are caused in part by human error. Autonomous technology and improvements in car safety could cause the number of accidents to decline by as much as 80% by 2040, according to KPMG. That could lead to shifts in how the insurance industry operates. Tesla started selling insurance directly to drivers in some markets using data they collect from the car's onboard computers; and insurance companies including Travelers Companies Inc (NYSE: TRV), Allstate (NYSE: ALL), and Berkshire Hathaway Inc. (NYSE:BRK.B) Geico have rolled out usage-based policies, which determine pricing based on individual driver's behavior behind the wheel and how much they drive.
Energy
Brandon Schoettle and Michael Sivak, researchers at the University of Michigan Transportation Research Institute, think people could start sharing cars instead of owning their own. According to their calculations, it could reduce American car ownership by 43%, but increase use by 75%. The reason for that is because they predict the cars will make multiple trips to accomplish tasks like dropping off passengers and running errands. Schoettle told Bloomberg "the net effect is probably going to be an increase in mileage, and in general more miles you drive the more fuel you burn".
Other research suggests fuel consumption could drop significantly. Shifts in energy consumption, whether increases or decreases, could impact major oil companies including Exxon Mobil Corporation (NYSE: XOM), Chevron Corporation (NYSE: CVX), BP plc (ADR) (NYSE: BP), and ConocoPhillips (NYSE: COP). In the long-run, these trends could also impact the more than 114,533 gas stations located throughout the United States, according to the last count in 2012 from the U.S. Census Bureau.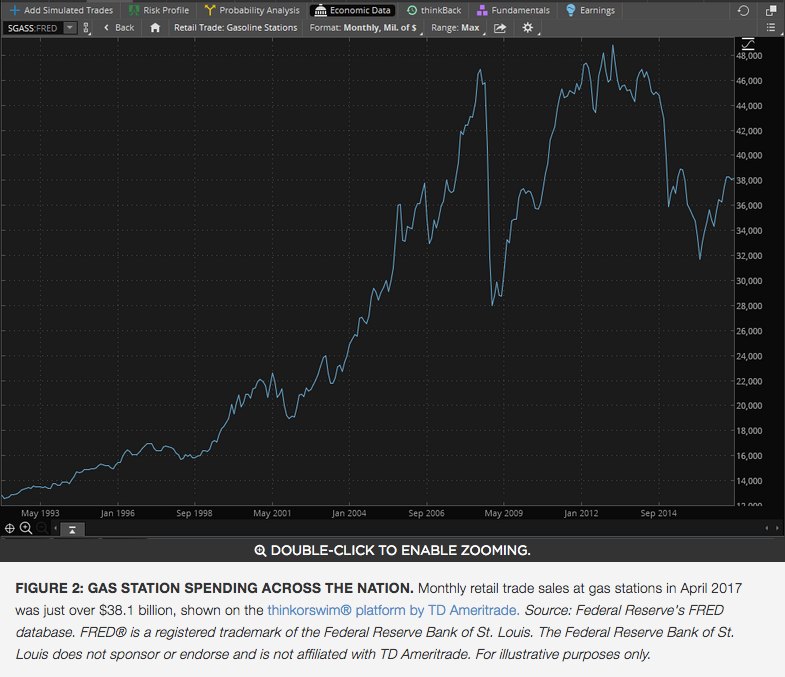 Healthcare
There were more than 32,000 car crash deaths in the U.S. in 2013 and those deaths cost more than $380 million in direct medical costs, according to the Centers for Disease Control and Prediction. If the accident rates declined by as much as 80% by 2040 as KPMG expects, it could reduce medical costs by almost half a billion dollars per year. In the long-run, experts think the increased safety of cars will lead to reduced demand for certain healthcare services and products.
Taxi and Other Ride-Hailing Services
In New York City alone, there were 13,587 yellow cabs at the beginning of 2017 according to the New York City Taxi & Limousine Commission. The number of those cabs has steadily declined as ride-hailing services like Uber and Lyft grow in popularity. By March the NYC Taxi & Limo Commission said the number of yellow cabs on the streets had declined below 13,000 as the total number of Uber and Lyft vehicles on the road passed 43,000 and 17,000, respectively. Uber has been testing driverless fleets since 2016 and Lyft has partnered with General Motors Company (NYSE: GM) to develop a fleet of their own. Ford Motor Company (NYSE: F) is also testing ride-sharing services in a few select cities with its subsidiary Chariot, which offers "on-demand ridesharing via Ford Transit shuttles," according to Tech Crunch.
Airlines
Volkswagen executive Sven Schuwirth thinks self-driving cars could change short-haul travel, something business travelers are no stranger to. He envisions a world where "your car wakes you up at four o'clock in the morning, picks you up and drives you autonomously the entire way" and then "you can sleep, you can prepare for a meeting, you can call your friends and family" instead of trying to get to the airport to catch your flight. Princeton Autonomous Vehicle Engineering Chair Alain Kornhauser predicts that driverless cars will cause a substantial disappearance of air travel less than 500, or about 310 miles. Short-haul travel helped build several profitable airlines, but they could need to rethink strategies if there are new alternatives.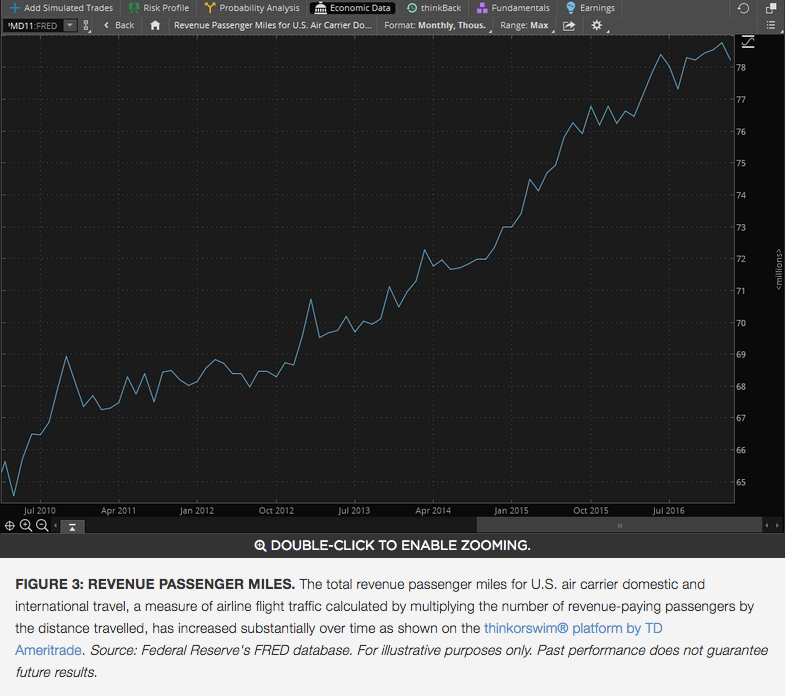 Parking
Cornell research estimates there's currently about 144 billion square feet of total parking throughout the United States. Experts at Boston-based architectural firm Arrowstreet think driverless cars and the growing use of ride-sharing services could reduce the overall demand for parking by 61 billion square feet by 2035. It's expected that autonomous vehicles will eventually be able to park themselves, leading city planners and architects to start thinking about how that space could be repurposed. That could also lead parking businesses to adjust their operations for a shift in structures and operations. Overall the parking industry is pretty fragmented, but there are some publicly-traded parking REITs and SP Plus Corp (NASDAQ:SP), formerly Standard Parking.
Public Transportation
Some experts are saying fixed-route public transportation might eventually be a thing of the past. Or at least they might not need drivers anymore. Others think there won't be a need for buses, shuttles, minivans and other public transportation. Zipcar co-founder Robin Chase told the Transport Politic she thinks cheaper prices for ride-sharing services once there's no human labor involved could eliminate the need for a lot of public transit.
It's exciting to think about all the change that could come about thanks to driverless cars and autonomous technology, but it's still a ways off before they become a wide-spread reality. As we've seen in the past, the future doesn't always turn out the way we expect. There are countless possibilities that could arise from this new technology and only time will tell how our world might change.
If you're interested in finding out more, visit the TD Ameritrade research tools page to look further into these sectors, and for more information on elite-level trading tools and resources visit the thinkorswim features page.
Posted-In: TD Ameritrade The Ticker TapeREIT Travel Markets Tech General Real Estate
View Comments and Join the Discussion!