Is This Mammoth Data Center Really Filled With Hot Air?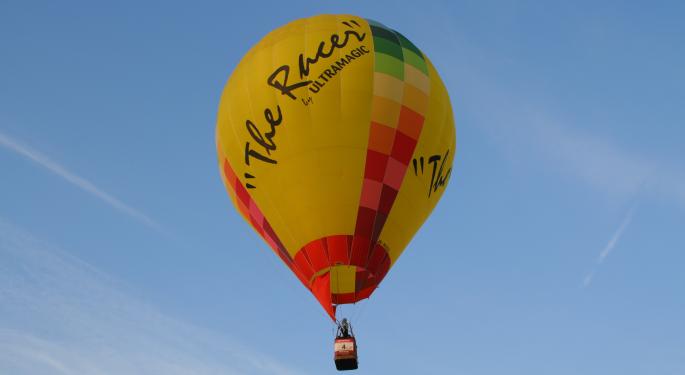 Absolutely. Well, yes and no.
The proposed project slated for the Denny Triangle area of downtown Seattle is not a pipe dream by any stretch of the imagination. According to a recent Data Center Knowledge article, if approved, the project could be ready for data center tenants by 2017.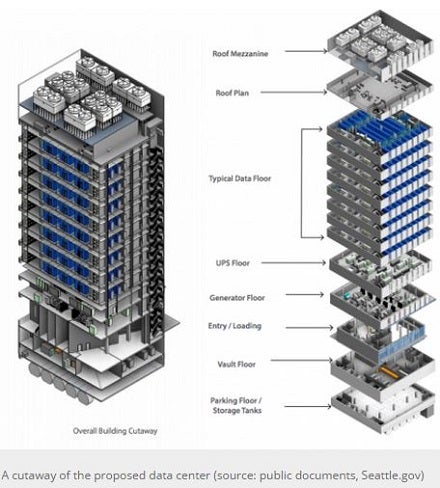 Source: Data Center Knowledge
However, when constructed it will be full of hot air given off by thousands of servers. Is that a problem? Only if the heat isn't removed and dispersed properly.
However, in this case, the heated air can be a plus. In fact, it is part of a sustainable design concept intended to recycle waste heat to save energy and reduce operating costs.
So, in a sense, it actually would be a "pipe-dream" for the design-build team assembled by experienced Seattle developer Clive Properties after all.
A Developer With Deep Pockets
Innovative projects such as this one often don't come to fruition due to a lack of vision by lenders and a lack of access to equity capital by the developers. However, the good news is that Clive brings a lot of horsepower to the table.
Related Link: Northstar Realty Finance To Be Dropped From Mortgage REIT Index
It is also notable that Clive's JV partner in the nearby 34-story downtown Seattle Westin Building is none other than the largest U.S. data center REIT, $9 billion market cap Digital Realty Trust (NYSE: DLR).
Digital Realty purchased a 49-percent interest in the Westin 339,000 square foot Tier-1 gateway data center property back in 2006.
This facility houses the Seattle Internet Exchange, which is a peering network supported by all of the major players including: Microsoft, Google, Yahoo and, of course, Amazon.com, Inc. (NYSE: AMZN).
Amazon's "Rufus 2.0" Campus
It just so happens that Amazon is planning to use heat generated by data center equipment in the Westin Building to heat office space for its innovative corporate campus across the way. The district energy system will pipe heated water from the data center into the Amazon high-rise now under construction at 2021 Seventh Ave.
Back on September 17, Data Center Knowledge reported that construction of the Seattle-based company's massive high-rise campus in the city's Denny Triangle neighborhood was underway.
Could This Project Be Any Cooler?
According to Districtenergy.org, Amazon's new building will contain a 400,000-gallon reservoir and a heat-reclaiming chiller plant. Hot water will circulate to the other buildings on Amazon's campus and return much cooler water to the data center, where the cycle will repeat.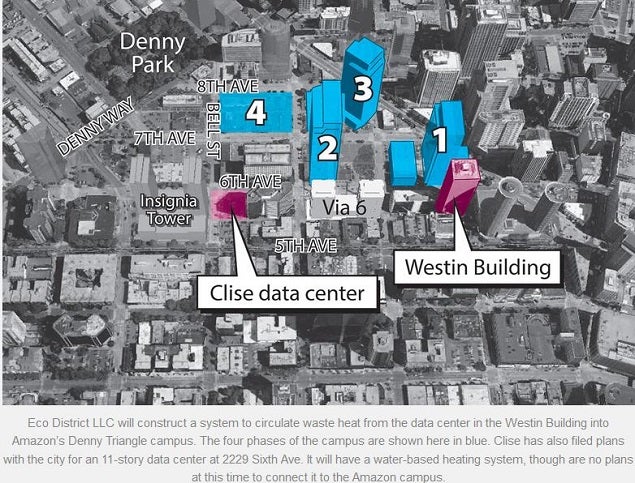 Source: districtenergy.org
Clive Properties and design-build firm McKinstry formed a partnership with Eco District LLC to construct the system for Amazon's Rufus 2.0 Denny Triangle high-rise campus.
McKinstry estimates the system will be four times more efficient than a traditional electrical heating system. "The energy consumption in the new office building will be 80 million kilowatt-hours less over the first 25 years," said Stephanie Pitts, a McKinstry spokesperson.
This Project Requires City Support
A more formally engineered proposal will be required for this district heating project to get final approval from the Seattle City Council.
Councilman Mike O' Brian was quoted in a GeekWire article: "My understanding is the waste heat from this facility is significant enough to support more than just those three.
"I see this project as a first step toward what I hope to be a district wide energy system that we can build off this as a catalyst."
It appears that the proposed Clive Properties 12-story data center project is the right project, in the right location, at the right time.
Image credit: skyseeker, Flickr
Posted-In: Clive Properties SeattleREIT Tech General Real Estate Best of Benzinga
View Comments and Join the Discussion!