Data Center REITs Outperforming Market In Face Of Bearish Retreat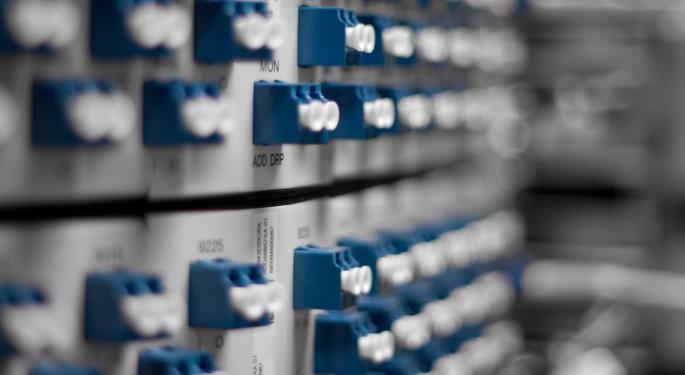 While the Dow Jones Industrial Average continues its bearish six-day slide, it becomes easier to pick out companies that are showing relative strength in the face of negative headlines, increased volatility and bearish sentiment.
The REIT sector as a whole has performed quite well, as investors are looking to double down on both the strength of the U.S. economy and the high dividend yields often found in this sector.
Related Link: Why REITs Have Outperformed During Wild October Trading
The data center REIT sector harbors two of the strongest performers, industry stalwart $8.5-billion cap Digital Realty Trust, Inc. (NYSE: DLR) and newcomer QTS Realty Trust Inc. (NYSE: QTS), with a market cap of just under $1 billion.
QTS Realty has been a strong performer during the past week, hitting an all-time high of $33.20 during intra-day trading on October 16 and closing up 2.2 percent for the day at $32.95 per share.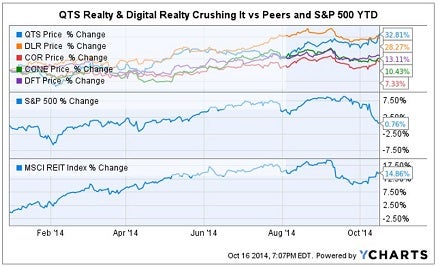 Why Data Center REITs?
The two mega-trends driving growth in the data center REIT space are familiar to most investors: the staggering growth of data collection and the shift to cloud computing. Additionally, data centers are capital intensive to construct and often require a long lead time compared to how quickly business trends and computing requirements can shift.
Data center REITs can provide the building shell and power requirements for customers saving them both deployment time and capital investment. The costs for HVAC, back-up power generation, raised floor and other requirements can be rolled into a lease as well. Essentially, customers can choose from a menu of options and negotiate leases that allow for flexibility and future expansion.
Customers are often attracted to locations that are networked and can provide co-location and connectivity within a secure environment. The ability to lease facilities in multiple locations can help to reduce latency, enable enterprises to shift computing loads to respond to demand, allow for redundancy and provide disaster recovery.
Investors Have Two Very Different Choices
Digital Realty has a global footprint. This is a competitive advantage for Digital when it comes to acquiring and retaining large multinational companies as data center customers.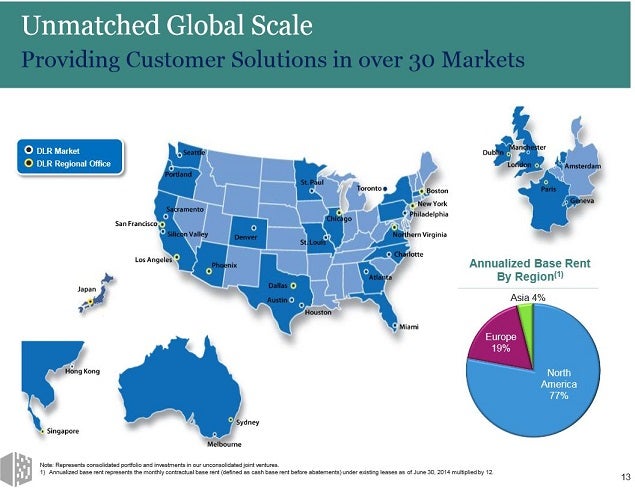 Digital has been a pioneer in the publicly traded REIT space. It has a history of paying and increasing dividends over a 10-year time horizon.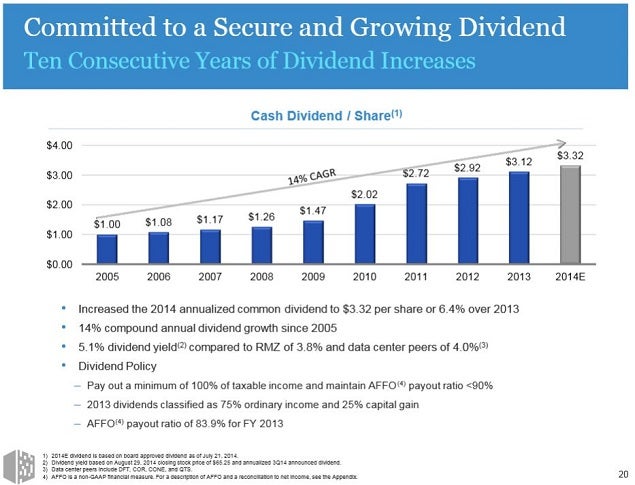 Digital CFO Bill Stein has been operating as interim CEO for most of 2014. Investors will be paying close attention during the upcoming earnings call regarding this situation. The market has responded positively to Mr. Stein's leadership YTD.
QTS Realty Performance Since Its IPO
It has only been about a year since QTS Realty filed its IPO in October 2013.
QTS Realty has three different platforms, or the 3C's, in its business model: C1 - custom data centers, C2 - co-location, and C3 - cloud and managed services.
Although QTS Realty is a relatively new player in the publicly traded data center space, the company has executed its "3C strategy" and chalked up some big wins during the quarter ended September 30.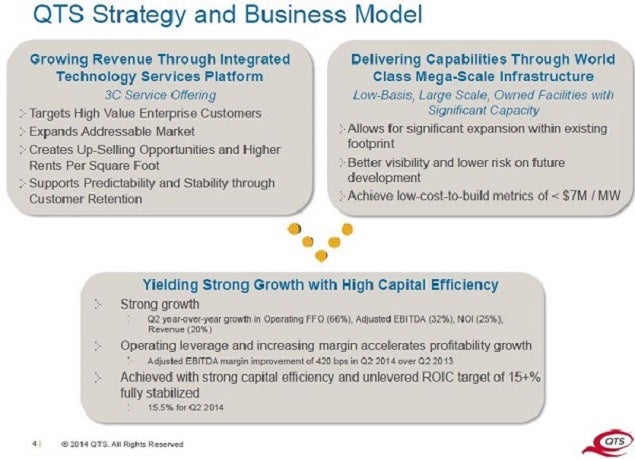 QTS Realty has systematically acquired large scale mega-data center facilities and campuses at a very low-cost basis. This is part of the reason that QTS Realty had been able to deliver a return on invested capital, or ROIC, in excess of 15 percent -- a key metric for QTS Realty management.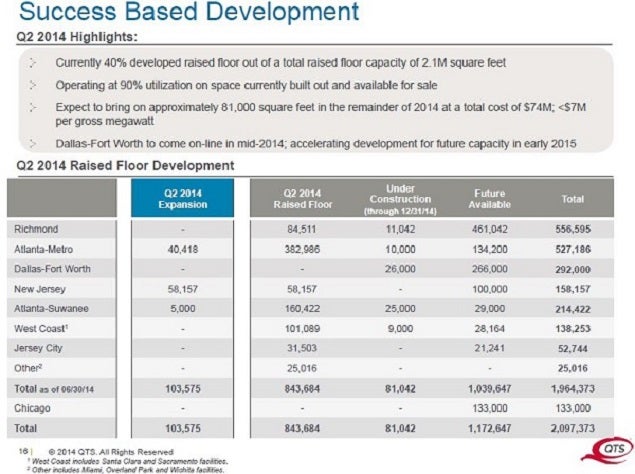 Big QTS Announcements
On July 2, QTS Realty announced the acquisition of a 194-acre campus in New Jersey containing the McGraw Hill Financial data center and a strategic alliance with global IT services provider Atos SE. QTS and Atos will operate the facility for an initial lease term of 10 years.
On July 9, QTS Realty announced that it had acquired the former 317,000 square foot (SF) Sun Times Press facility, which is located on a 30-acre parcel located in Chicago -- one of the largest data center hubs in the U.S.
Most recently, QTS Realty announced the opening of its 26,000 SF Phase I at its new Dallas/Ft. Worth data center campus, as well as the launch of its next 26,000 SF of raised floor build-out. This 40-acre campus originally housed a 700,000 SF chip plant that is being repurposed for data center use. There is also room for an additional 600,000 SF of data center expansion at this site.
Tale Of The Tape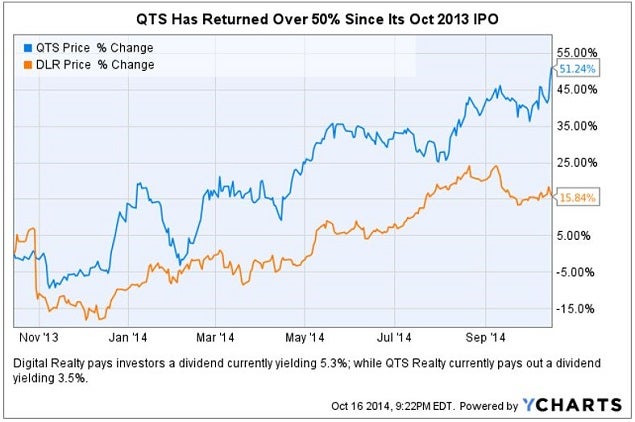 Bottom Line
Both of these data center REITs have outperformed both their sector peers and the broader market YTD. They each provide investors opportunities for growth and income.
QTS Realty with its smaller market cap and large footprint of low cost basis facilities is poised for continued growth. Digital Realty has a proven track record, global network and higher current yield for investors looking for income.
Both of these companies are scheduled to report Q3 earnings after the bell on Tuesday October 28. Digital will host its earnings call that evening, while the QTS realty call is scheduled for the following morning.
Posted-In: Atos SE data centers McGraw Hill Financial REITREIT Trading Ideas General Real Estate Best of Benzinga
View Comments and Join the Discussion!