How Has Windstream Holdings, Inc. Performed Since Announcing REIT Conversion Plan?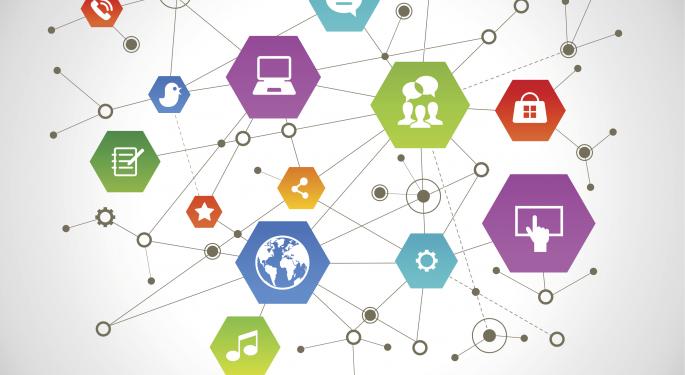 Windstream Holdings, Inc. (NASDAQ: WIN) on July 29 announced it had plans to form a publicly traded real estate investment trust (REIT) that included its fiber and copper assets.
The issue, which had already rallied from the lower $7.00 handle in February to its $10.53 close on July 28, exploded during the premarket and briefly rallied to $13.30 during the regular session. That was the highest level for the issue since it peaked in June 2011 at $13.41.
The euphoria was short-lived as the issue retreated to close at $11.83. Since then, its share price has slowly eroded and returned to the level it was trading at just before the surprise announcement was made ($10.75).
Related Link: Did Pimco Bail On Bill Gross's 'New Neutral' Strategy?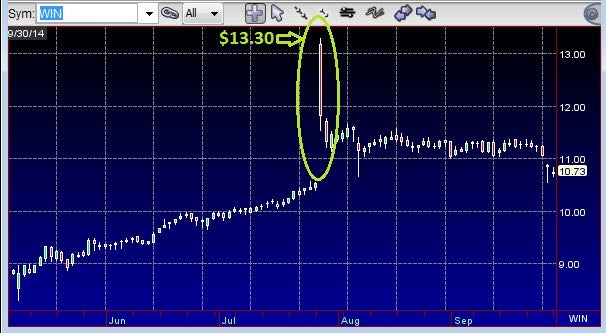 Courtesy of Neovest
Street-Wide Effect And Aftermath
In other words, all the investors that paid up for the issue that day, as well as investors that bid up other potential REIT candidates like CenturyLink, Inc., are deep in the red.
Investors that got carried away into the larger telecoms, such as AT&T Inc. (NYSE: T) and Verizon Communications Inc. (NYSE: VZ), must be regretting their hastiness at the issue's current levels.
AT&T spiked to $37.48 on the news, but could have been purchased in the lower $34.00 level only seven days later. If one missed on the initial decline, they have had multiple opportunities to purchase AT&T at its present $35.00 level.
The parabolic move in the shares of Verizon that day took the issue to $53.66. Within eight trading sessions, the issue could have been purchased in the lower $48.00 handle, but did not spend much time at the level and has returned to the mid $49.00 handle.
Factors Not Considered For All
Investors that leaped into the larger telecoms may not have taken into consideration all the regulatory hurdles that they may face. While many telecom companies have assets that may qualify for REIT status, larger telecom's may face a stricter regulatory review process.
Mike Sapien, principal analyst at Ovum, said that despite it being a viable option for the large carriers, given the financial benefits there "will be increasing regulatory complexity and approval for the very large, heavily regulated carries like AT&T and Verizon." Words of wisdom that have bore themselves out in the price of these two issues.
Perhaps the investors that filed into Windstream should have taken into account that the conversion process can take from 18 months to two years to be completed. Ameek Ponda, a Sullivan Worcester attorney, noted that a REIT conversion to any company "that has a lot of real estate on its balance sheet... who does this next is more about the capital markets, leverage strategies and where they are with the ratings agencies."
Although forming a REIT is tax efficient in the long run, Windstream might have to figure out a way to increase its shareholder income while maintaining its current credit rating. All of this is taking place while the company is subject to reviews by some state public utility commissions. Having the issue pending on a state-to-state basis may negate some of the benefits that were factored into the issue during its historic rally on July 29.
Other Factors For The Decline
Other factors for the issues decline may be its Q2 EPS miss of $0.04 ($0.04 versus $0.08) on lower than expected revenue. The earnings miss was followed by resignation of the the company's COO, Michael Vladescu.
The conversion to a REIT failed to impress the analysts at one of the Street's most respected firms, Goldman Sachs, which resumed coverage of Windstream with a Sell rating and a $9.50 price target on September 2.
Going Forward
Similar to when issues rally off of takeover rumors and then fade as the deal does not materialize, the issue returns to its original level. At that time, savvy investors that believe a deal is still possible begin to nibble at the issue potentially in play. This course of action eliminates some the risk associated with these highly speculative endeavors.
This is now a similar scenario facing potential Windstream investors.
Tune in every morning, Monday-Friday, from 8-9:45 AM EST to hear Joel Elconin and Dennis Dick discuss what's moving the markets and why on Benzinga's #PreMarket Prep.
Posted-In: Ameek Ponda Mike SapienREIT Technicals Movers & Shakers Analyst Ratings Trading Ideas General Best of Benzinga
View Comments and Join the Discussion!