If Verizon Sells U.S. Wireless Towers, Who Is The Likely Buyer?
A Bloomberg article on September 24 focused on a Verizon Communications Inc. (NYSE: VZ) plan to monetize 12,000 wireless towers for an estimated $6 billion. If Verizon is selling, who is buying?
The Competition
The recent $4.36 billion tower portfolio sale by AT&T Inc. to wireless tower REIT Crown Castle International Corp. (NYSE: CCI) was the basis for the estimated price of $500,000 per tower.
The other two major players in this sector are American Tower Corp (NYSE: AMT) and SBA Communications Corporation (NASDAQ: SBAC). In theory, any of the three could be Verizon's buyer.
Related Link: Entire Wireless Tower REIT Sector Hits 52-Week Highs
Standard practice for wireless tower companies in the past has been to invest free cash flow into new tower assets or engage in stock repurchases to return capital to shareholders in the event that there were not sufficient new investment opportunities. Dividends are a new wrinkle.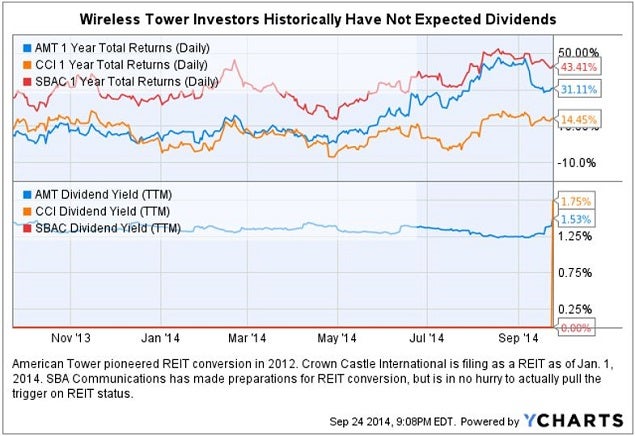 Crown Castle instituted a small dividend at the end of last year, and American Tower continues to pay shareholders a relatively minor dividend as well. SBA Communications has no current plans to pay a dividend.
However, all three of these companies report REIT metrics such as AFFO, along with traditional GAAP financial reporting, which makes it easier for investors to compare relative performance.
Searching For Verizon Portfolio Clues
During the past two weeks each of these companies presented at investor conferences. American Tower and Crown Castle both presented at a recent Bank of America/Merrill Lynch conference, while SBA Communications CEO Jeff Stoops presented at the Goldman Sachs Communicopia conference.
All three companies were asked directly about their level of interest and how they might respond to a potential offer by Verizon to sell its American wireless tower portfolio.
American Tower
American Tower Vice President and Treasurer Leah Stearns was asked right out of the gate if the company would be a potential buyer of the Verizon tower assets at or near an estimated price of $6 billion.
While stating that American Tower would certainly "look at any deal in the U.S. market," she also emphasized that the company remains focused on deleveraging its balance sheet. She added that the company "would not be allergic to issuing equity for an accretive deal… for the right assets."
Additionally, Ms. Stearns discussed how AMT had other opportunities to deploy capital in the domestic wireless market, including the build-out of 500 to 600 new towers, as well as the granular acquisition of approximately 150 towers.
However, during the balance of the presentation it became clear that American Tower would be continuing its strategy to borrow at low interest rates in the U.S. and invest in overseas markets such as Brazil, Columbia, India, Uganda and South Africa.
Related Link: Iron Mountain Incorporated: Impressive Global Moat & REIT Dividend Announcement
SBA Communications
While discussing the U.S. business, President and CEO Jeffrey Stoops reported that SBA Communications has been achieving levels of organic growth in the range of 10 percent, exceeding its budgeted goals of 6 to 8 percent. Based upon the ongoing tower upgrades by the four major wireless carriers, he saw another three- to four-year runway for this better than expected U.S. asset growth.
Boca Raton, FL-based SBA Communications has also been actively investing in tower assets located in Brazil and Central America. In Brazil, the company was able to assemble a portfolio of more than 7,000 towers in two years — an accomplishment that took approximately 10 years to achieve in the U.S.
SBA Communications is seeing leasing revenue outside of the U.S. generating returns as high as 16 percent. This is partially the result of the low cost of borrowing in the U.S. and current leverage targets of 7x to 7.5x to take advantage of the low rate environment.
Crown Castle International
While at first glance it might appear that the Crown Castle dance card may have been full from the AT&T purchase last year, it soon became obvious that was not necessarily the case.
Senior Vice President, Chief Financial Officer and Treasurer Jay Brown was hit with the Verizon tower acquisition question right out of the gate. His reply was essentially a step by step plan detailing how Crown Castle could accomplish the acquisition.
The strategy would be similar to how Crown Castle took down the AT&T portfolio, utilizing about two-thirds debt, or perhaps a bit more in the short-term, and layering in about a 5 percent equity raise.
Crown Castle has a long history of buying U.S. wireless carrier towers, resulting in slow and steady growth with no foreign currency issues.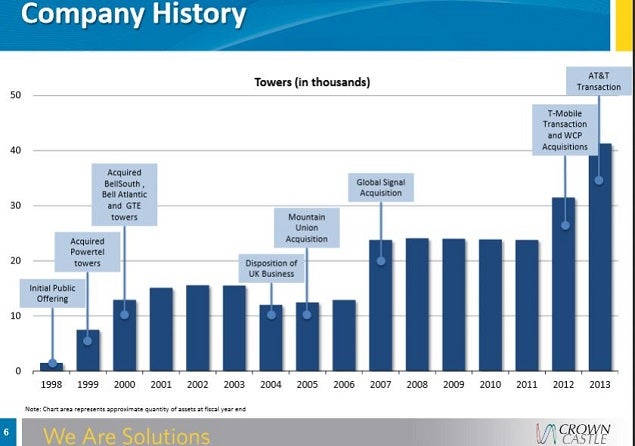 This block and tackle approach to growth doesn't generate high returns initially. When there is only the legacy carrier on a tower the initial return is about 5 percent. However, returns increase steadily, averaging about 1 percent each year as carrier density is increased.
Crown Castle has chosen to bet on the compound annual growth rate of the tower lease revenue in the U.S. wireless market. It is a slow and steady approach, devoid of any flashy headlines. However, that isn't always a bad thing for shareholders.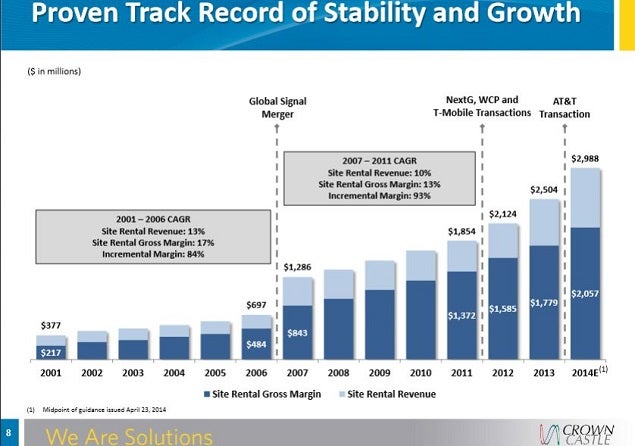 Crown Castle has been growing its portfolio of U.S. tower assets by buying towers from wireless carriers as its primary strategy since 1999. When the dust settles, it would not be a surprise to see a Verizon transaction announced and added to this timeline next year.
Posted-In: American Tower Bank of America Merrill Lynch crown castle international Goldman SachsREIT Top Stories General Real Estate Best of Benzinga
View Comments and Join the Discussion!