Iron Mountain Incorporated: Impressive Global Moat & REIT Dividend Announcement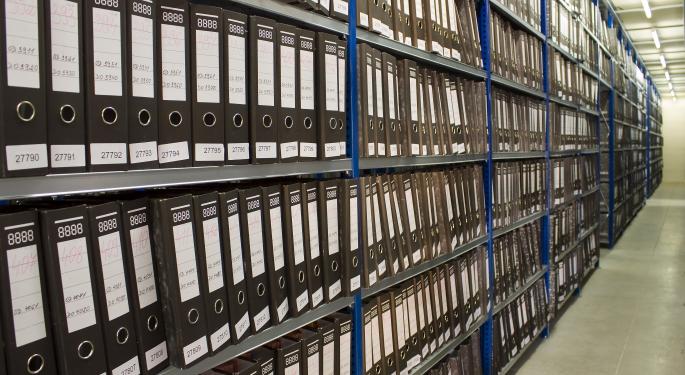 Iron Mountain Incorporated (NYSE: IRM), the reigning global business records storage king, now has a REIT castle to go along with its storage business moat.
Revenues from the Iron Mountain document storage business have increased for 25 consecutive years. Now, the company could be poised to deliver a very competitive dividend yield as a newly crowned REIT.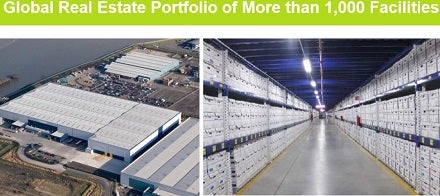 Mr. Market Rewards REIT Conversion
Back in late June, Iron Mountain stock jumped about 20 percent on the news that the IRS had issued a positive letter ruling, approving its REIT conversion.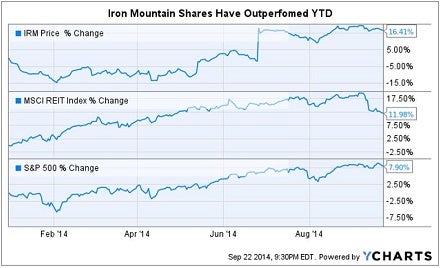 Dividends Galore, Plus Special Dividends And "Catch-Up" Dividends
The slide below clarifies how the company plans to increase its dividend distributions to "catch up" with minimum 90-percent distributions of taxable earnings required to take advantage of REIT tax status retroactive to January 1, 2014.
Related Link: Blackstone-Vivint Solar IPO: A Potential Green Triple-Play?
The recently declared Iron Mountain annual dividend moving forward is $1.90.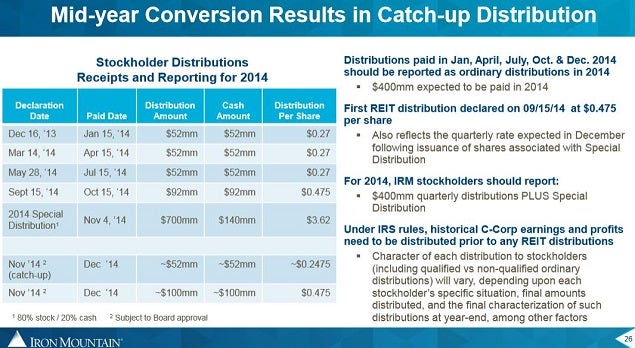 (IRM - Morningstar Presentation 9/17/14)
Shareholders of record as of September 30 will receive a $0.475 dividend per share on October 15, plus a $3.62 Special Distribution on November 4, and a "catch-up" dividend of ~$0.2475, as well as the regular quarterly dividend of $0.475 per share to be paid in December.
At the close of trading on September 22, IRM was trading at $35.32 per share. Based upon the recently declared regular dividend of $1.90 per share, the yield would be 5.38 percent.
However, that significantly understates the actual yield for 2014 based upon a total estimated payout of $4.8175 for shareholders of record September 30 prior to the end of the year.
Key Takeaways: Morningstar - Management Behind The Moat Presentation
Iron Mountain is three times larger than its closest competitor.
The company occupies 67 million square feet worldwide and currently leases the majority of its facilities. CFO Rod Day shared that REIT approval helped to lower Iron Mountain's cost of capital, making these facilities a potential acquisition pipeline as leases come up for renewal.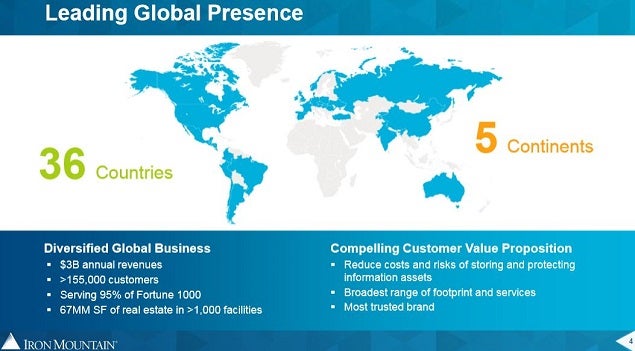 A significant part of the Iron Mountain moat flows from marketplace dominance -- especially with large enterprise customers. An estimated 950 of the Fortune 1000 are Iron Mountain customers.
Proven reliability in record storage, management and retrieval, combined with scale in each market, help to create and maintain the moat.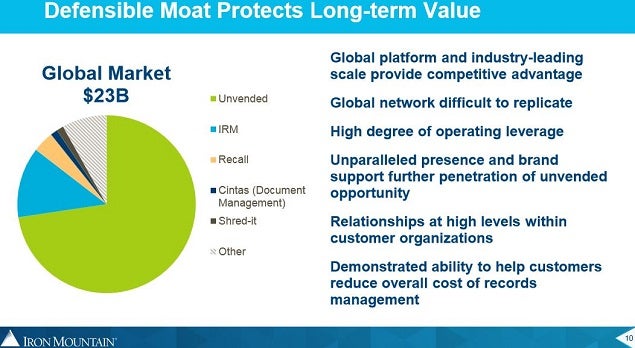 Although usage of paper documents in the aggregate are in decline, regulatory and legal documents -- the lifeblood of Iron Mountain -- continue to provide a slow but steady increase in the company's largest and most profitable business segment.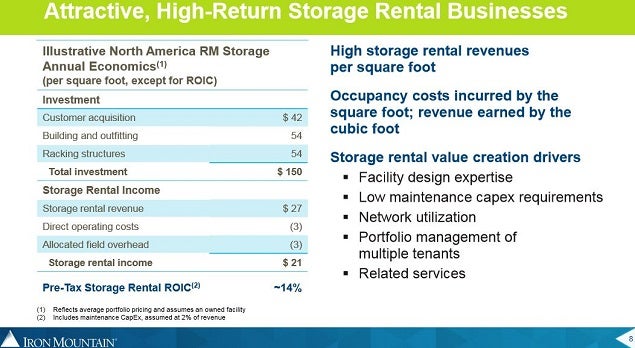 Iron It's arguable that Mountain really has no peers in the REIT world, in terms of uniqueness.
The company's document business is more than just a hybrid between industrial and self-storage REITs. Iron Mountain also provides logistics, document shredding and consulting services, along with a small data center component.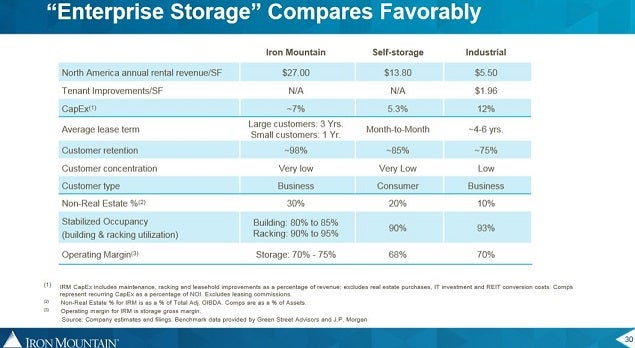 Iron Mountain is more complex to model by investors and analysts than pure-play self-storage and industrial REITs.
However, this may provide investors with a window of opportunity to buy shares of Iron Mountain at relatively attractive prices.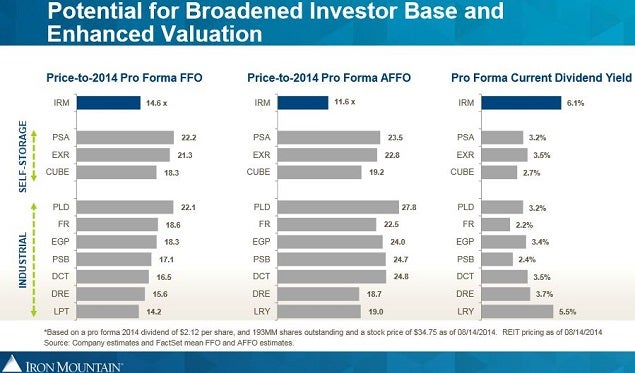 Final Thoughts
Iron Mountain appears to be an attractive value proposition based upon key REIT metrics such as Price to FFO, Price to AFFO and a very competitive dividend yield.
The storage of critical business documents has proven to be extremely sticky for Iron Mountain, with the average life of a record box in storage being 15 years. This contributes to the Iron Mountain enterprise document storage business, having demonstrated a history of being recession-resistant -- another sign of a competitive moat.
Disclosure: At the time of this writing, the author had no position in the equities mentioned in this report.
Posted-In: Iron Mountain REIT REIT REIT analysisREIT Top Stories Real Estate Best of Benzinga
View Comments and Join the Discussion!