Digital Realty Trust, Inc. Returns 40% YTD And Has More Great News For Investors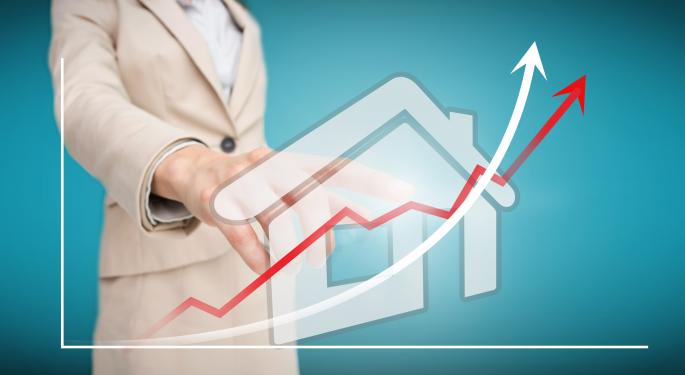 Data center REITs provide investors an innovative way to cash in on the exponential growth of big data and the cloud computing revolution.
Industry pioneer Digital Realty Trust, Inc. (NYSE: DLR) has increased dividends for 10 consecutive years and has returned shareholders an eye-popping ~40 percent year to date.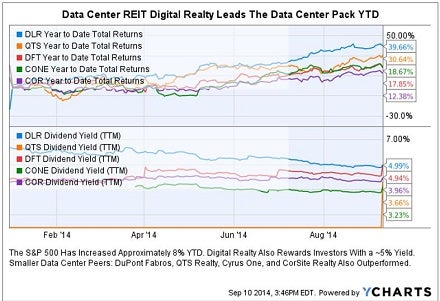 The global data center giant's interim CEO Bill Stein continues to deliver on his "The Way Forward" promises. During his first conference call wearing both the CFO and interim CEO hats, Stein emphasized to stockholders that the top priority for the company would be to increase the return on invested capital (ROIC).
Related Link: RCS Capital Corp's New Crowdfunding Platform: Good For Investors?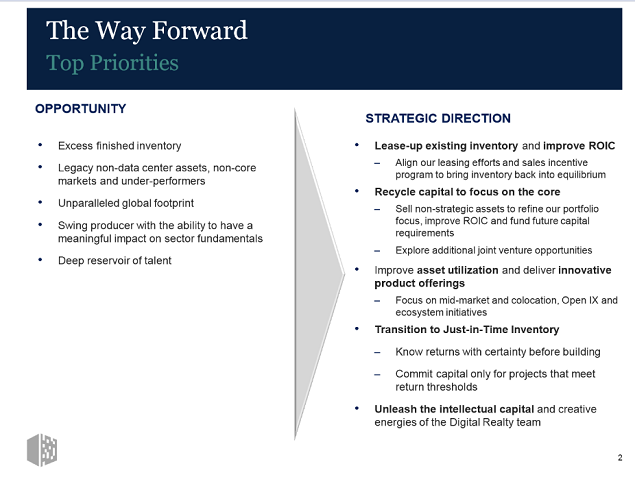 Digital Realty on September 9 announced a joint venture that appears to accomplish this objective and much more.
The Griffin Capital Joint Venture
Digital Realty contributed a 100 percent-leased 132,280 square-foot "Turn-Key Flex" data center located in Ashburn, Virginia, to a JV with non-traded Griffin Capital Essential Asset REIT. The asset was valued at $185.5 million based upon a cap rate of about 7 percent. The weighted average remaining lease term is approximately seven years.
Digital will retain a 20 percent interest in the JV and will receive fees to continue to manage the facility for the venture. The venture arranged a $102 million bank loan for five years at LIBOR plus 225 basis points. This transaction resulted in recycling $168.4 million of net proceeds to Digital, which it will initially utilize to pay down debt.
The Importance Of This Venture
Back in October 2013, Digital announced a similar 20/80 percent joint venture with a Prudential Financial real estate fund. Digital contributed nine large "Power Base Building" 100 percent-leased data centers to the venture valued at $366 million, or $346 per square foot. This served to create a market value data point for these data center "shell" facilities.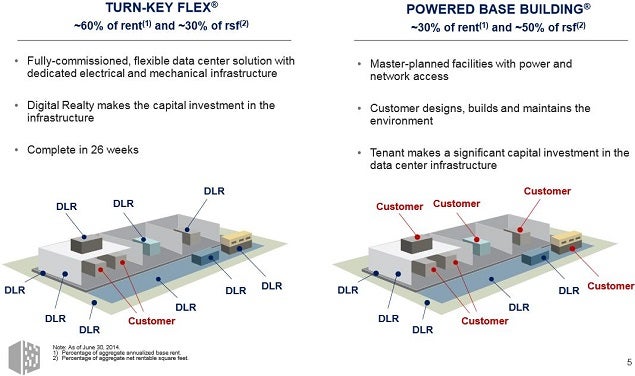 The Digital Turn-Key Flex facilities are built out for the customer with Digital providing the capital for: HVAC/Mechanical, UPS/Battery, Electrical and Back-up Power Generators.
The Griffin Turn-Key Flex JV demonstrates that there is a market for this asset class and provides a benchmark price per square foot of ~$1,400. Digital Realty earns fee income, retaining an ownership stake and upside potential from performance incentives. The net proceeds can also be recycled into future investments that meet or exceed targeted ROIC returns for investors.
Investor Takeaway
The outperformance year to date by the top performers in the data center REIT sector asset class could have easily been overlooked by most investors. Technology investors may not be comfortable with the real estate component, while REIT investors may prefer to stick with more traditional office, retail, multifamily and industrial sectors.
Investors willing to take the time to become familiar with these high-tech landlords will be able to participate in the growth of big data, without the risks associated with bets on particular software platform or proprietary technology.
Posted-In: Griffin Capital Essential Asset REIT Prudential FinancialREIT Top Stories General Real Estate Best of Benzinga
View Comments and Join the Discussion!