Smartest Guys In The Room - Private Equity Giants Turn To China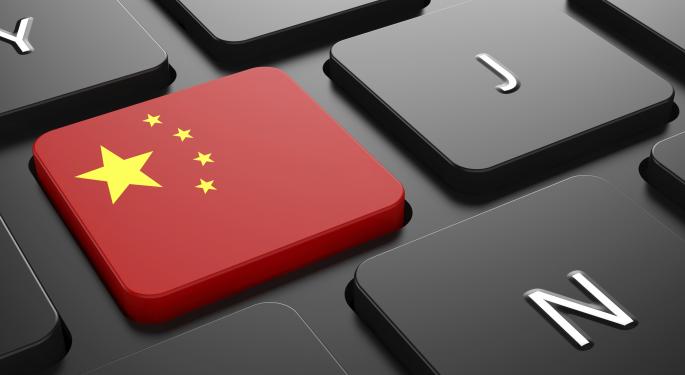 Many investors feel that private equity alternative asset managers like Blackstone Group LP (NYSE: BX), Carlyle Group (NYSE: CG) and KKR & Co. (NYSE: KKR) are some of the smartest investors on Wall Street.
When these portfolio managers decide to make a move, it behooves investors to "follow the money."
This week, it appears that investments focused on the Chinese consumer is a recurring theme. It runs the gamut from the dining table to regional malls.
However, Detroit, Michigan-based mall owner/developer Taubman Centers (NYSE: TCO) should actually be credited with having some of the first U.S. boots on the ground when it comes to mall development in China and South Korea.
Private Equity Score Card For The Past Year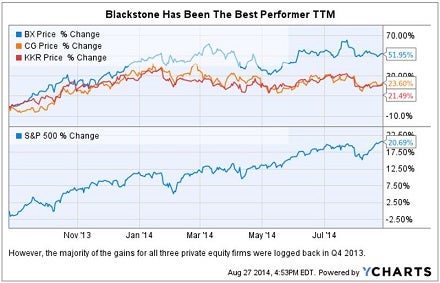 KKR is currently paying investors a dividend yielding ~7.5 percent. Blackstone is paying out a dividend of ~4.5 percent, and Carlyle Group currently is paying out just a around a 2 percent yield.
KKR & Co. Places A Bet On The Food Court
If Chinese chicken salad appears on the menu, there is a good chance that it might be sourced from Fujian Sunner Development Co. Ltd. Sunner is China's largest breeder, processor and supplier of chicken products, providing fresh and frozen chicken for China's fast food industry, food manufacturing industry and meat wholesale markets. The company is listed on the Shenzhen Stock Exchange. KKR by way of its KKR Greater China subsidiary will invest approximately $400 million USD for an 18 percent stake in Sunner.
Related Link: Why High-Yielding REIT Spirit Realty Capital Is Crushing It
China's large-scale chicken producers only account for 30 percent of total supplies today, a significant increase from 12 percent in 2007, but still very low compared to mature markets like the US, where more than 95 percent of supply comes from large-scale producers.
More Food For Thought
On August 27, 2014, Reuters broke the story that Chinese e-commerce giant Alibaba Group Holdings Inc. reported a jump in quarterly earnings of over 46 percent to $2.54 billion USD because of a rise in domestic sales. Net income nearly tripled to ~$2 billion, or $0.84 per ordinary share for the quarter ended June 30, 2014. This is another positive sign regarding Chinese demand for retail goods.
There have been numerous reports that Alibaba will file its IPO to go public on or before Sept. 30, 2014.
Blackstone Nibbles At The China Mall Space
Blackstone Group had announced in November 2013 the purchase of a 40 percent stake in unlisted Shenzhen-based shopping mall group SCP Co Ltd for ~$400 million. During the earnings presentation for the quarter ended June 30, 2014 Blackstone revealed that there were $1 billion of inflows for its Asia real estate fund. Blackstone has plenty of dry powder to put to work in China and the rest of Asia for its private equity investors.
Carlyle Group Rumored To Be Close To A Major Announcement
Again on August 27, 2014, Reuters reported from its Hong Kong bureau that private equity firm Carlyle Group is in "advanced talks" with China Vanke Co Ltd., to buy stakes in nine of its shopping malls. The acquisition price was rumored to be in the range of between 6 to 10 billion yuan, or $976 million to $1.6 billion USD.
This could be the beginning of a significant Asian partnership for Carlyle, because Vanke happens to be China's largest real estate developer.
A Simpler Way For U.S. Investors To Play In This Space
U.S. regional mall REIT Taubman Centers appears to have gotten "the memo" a few years back, as they have been pioneering large mall development joint ventures in both China and South Korea.
Taubman announced back on June 18, 2014, a definitive agreement for the sale of seven of its U.S. regional malls to Starwood Capital Group for ~$1.4 billion. Taubman developed all seven of these malls originally. This effectively results in Taubman increasing its concentration in assets located in Asia, as well as Puerto Rico and Hawaii, compared to the U.S. mainland.
On August 26, 2014, Taubman Asia, a subsidiary of the U.S. mall REIT, announced an increase in its partnership interest from 30 percent to 34.3 percent in the Hanam Union Square shopping center project located in one of the most scenic areas of greater Seoul, Korea. When complete, this four-level lifestyle shopping mall will contain ~1,700,000 SF of gross leasable area, served by 6,000 parking spaces.
Related Link: 3 Things Investors Need To Know About W.P. Carey's Recent Acquisitions
Taubman Asia's portfolio includes managing the operations of IFC Mall in Seoul, which was opened fully leased in August 2012, and two regional mall joint ventures under development in Xi'an and Zhengzhou, China. Taubman is currently developing six properties in the U.S. and Asia totaling 5.6 million square feet.
How Has The Market Reacted To This Taubman Strategy YTD?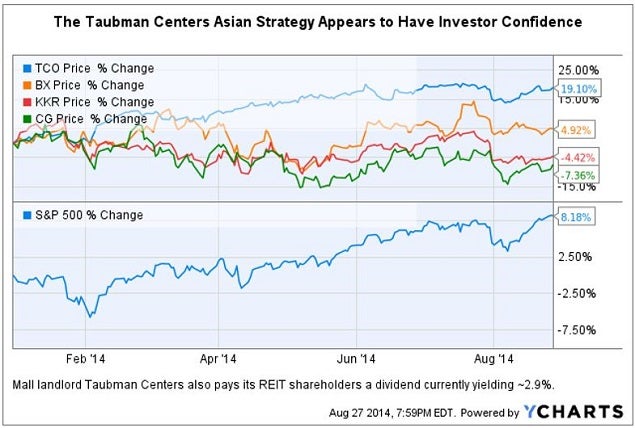 Thus far in 2014, shareholders in Bloomfield Hills, Michigan-headquartered Taubman Centers actually appear to be the "smartest guys in the room."
Posted-In: Bloomfield Hills Detroit Reuters Taubman CentersREIT Global Real Estate Best of Benzinga
View Comments and Join the Discussion!