NASCAR's Chase Elliot, Hooter's And Iconic Brands Go For Checkered Flag At Darlington
Sports enthusiasts got a fresh dose of live-action after NASCAR returned to Darlington Speedway this past Sunday. And, while fan attendance at the event was a non-starter, the nationally televised race kept the die-hard fans glued to the televisions and may have introduced NASCAR to a new audience that took advantage of any glimpse of live-action sports at their disposal.
For some viewers, it was a first look at the enormous level of sponsorship that brands are willing to spend to emblaze logo's on a driver's car. In this case, that sponsorship can make Iconic Brands (OTC: ICNB) a beneficiary from having one of its largest private-label clients, Hooter's, prominently skinned on Chase Elliot's # 9 car.
Combined, the two can help Iconic create a winning revenue-generating formula for itself as the season continues. And, while Hooter's may be the one doling out millions to drive customers to its stores, Iconic Brands is likely to benefit as being the company's exclusive provider of its private-label spirits.
NASCAR Returns To Darlington
Sunday's event proved that Chase Elliot's #9 car is clearly fast enough to win the Wednesday night race. And despite a 4th place finish on a track that leaves little room for passing, he likely has a plan in place to move his next finish at Darlington up by three places. A win for Chase Elliot can translate into a victory for the team – sponsors and suppliers included. Moreover, as a likely pack leader, he'll earn plenty of views.
Sunday's telecast delivered a reported 6.3 million viewers, a 38% jump over the most recent season race. Wednesday nights prime-time lineup may do even better. For sponsors, that can mean a spike in brand awareness, and at a time when consumers around the globe are ready to get back to a sense of normalcy, being on the minds of consumers can be valuable. And, while the Iconic Brands logo won't be glued to the hood of the car, the trickle-down effect of a successful Hooter's campaign is likely to pay dividends to the Iconic-produced brands as well.
Importantly, Iconic Brands is already positioned to take advantage of the demand.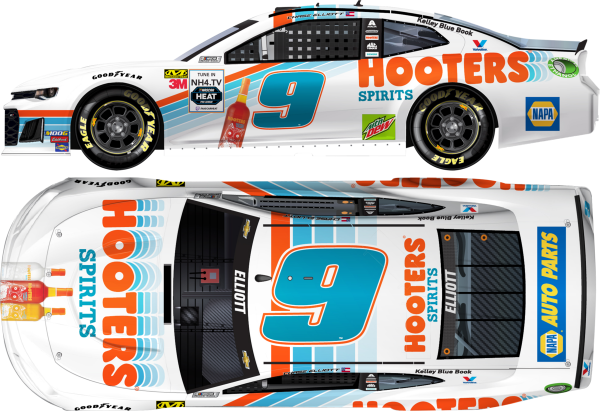 Driving Sales Through National Agreements
Perhaps the greatest strength of Iconic Brands is that they have a production and distribution infrastructure to capitalize on an increase in product demand. And whether that demand comes from Hooter's, or from any of its other private-label clients, being prepared is a crucial asset.
Iconic's valuable contract with federally licensed, United Spirits, brings that preparedness. It also makes Iconic Brands one of only a few private label developers that can import and sell to authorized wholesale distributors in all 51 markets in the United States. Further, it's a license that can help facilitate opportunities beyond its US-based clients by allowing them to capitalize on their ability to procure superior and unique products from around the world and brand them with other internationally recognized celebrities and opportunities.
Moreover, the licensing represents value beyond just dollars and cents. It also allows clients substantial time-saving benefits that can facilitate a "hit the ground running" distribution plan in its effort to efficiently enter the spirits industry.
It's an asset that most of its peer competitors don't have. But, there's more to the story.
Private-Label Brands Drives Spike In Revenues
The potential from the Hooter's deal may be in the spotlight on Wednesday night. Still, Iconic has other attractive opportunities, especially coming from Christie Brinkley's, Bellissima Prosecco, a line of premium and sparkling wines that bring to market the standards of quality inspired by Christie's healthy lifestyle.
Beyond wine, trendy and smooth tasting vodkas have reintroduced millions of consumers to a new class of liquor. BIVI vodka, a premium, and mild tasting spirit inspired by Chaz Palminteri is an Iconic Brands product that positions BIVI as a superior option to the vodka faithful. This brand was developed by using only the finest semolina wheat and only the purest mountain spring water of Sicily. The result is a distinct and pleasurable taste that is gaining market share through the brand quality and celebrity-inspired prominence. Both products did well.
In April, Iconic reported that those two brands helped year-over-year revenue to surge by 114%. From a momentum perspective, the fourth quarter contributed to the yearly increase by posting a more than 370% increase in sales compared to the same quarter in 2018. More impressive to the quarter was that the Q4 revenue was higher than the previous three quarters combined. Thus, with racing in focus this week, that's a pretty fast run.
Securing A Niche Identity And Profit
On a longer-term focus, Iconic Brands, Inc. is continuing to secure its niche identity as a lifestyle branding company with the highest expertise of developing, from inception to completion, alcohol beverage products for itself and third parties. Capitalizing on its core products, as well as from opportunities emerging due to the COVID-19 pandemic, Iconic Brands posted a gross profit of $475, 814, a 97% increase over last year's earnings.
Iconic is positioning itself to maintain its earnings momentum. In April, the company partnered with Christie Brinkley to donate a portion of the proceeds made from online orders of Bellissima products through online wine retailer, Splash Wines, to Direct Relief to aid in relief efforts for COVID-19. Further success came from Christie Brinkley's QVC appearances during December 2019 and January 2020, where an estimated 40,000 bottles Bellissima Prosecco and Sparkling wines were sold.
The quarterly performance demonstrates that Iconic is thriving in an extremely turbulent consumer market. With the trends in the private-label spirits sector during the past five years signaling an increase toward celebrity-inspired, top-shelf products, Iconic's ability to remain agile and focused should help the company to continue its revenue growth.
Also, by disrupting private-label marketing, if consolidation does become a factor as less advantaged companies fail to weather the economic disruption from the coronavirus, Iconic Brands may be better positioned to leverage their niche-focused strategy to exploit a massive opportunity. The near 115% growth in YOY revenues and more than 375% increase during the most recent quarter-over-quarter revenues may prove that point.
Disclaimer
This communication was produced by PCG Digital Holdings, LLC, and affiliate of PCG Advisory Inc., (together "PCG"). PCG is an integrated investor relations, communications and strategic advisory firm. The information contained on this may be 'Paid Advertising' for purposes of Section 17(b) of the Securities Act of 1933, as amended (together with the rules and regulations there under, the "Securities Act"). PCG may be compensated by respective clients for publicizing information relating to its client's securities. For more information in terms of compensation received for services provided by PCG, see the pertinent advertising materials relating to the respective client. By accessing this Site and any pages thereof, you agree to be bound by the Terms of Use and Privacy Policy.
PCG is not a registered or licensed broker, dealer, broker-dealer, investment adviser nor investment manager, nor does PCG engage in any activities that would require such registrations. PCG does not provide investment advice, endorsement, analysis or recommendations with respect to any securities, and its services to or statements about its clients should never be construed as any endorsement of or opinion about any security of any client. No information contained in this communication constitutes an offer to sell, a solicitation of an offer to buy, or a recommendation of any security or any other similar product or service regardless of whether such security, product, or service is referenced in this communication. Further, nothing in this communication is intended to provide tax, legal, or investment advice and nothing in this communication should be construed as a recommendation to buy, sell or hold any investment or security or to engage in any investment strategy or transaction. For full disclaimers, including compensation received for professional services, please click here.
Media Contact
Company Name: PCG Digital Holdings
Contact Person: Kenny Ellis
Email: Send Email
City: New York
State: New York
Country: United States
Website: https://pcgadvisory.com/
Press Release Distributed by ABNewswire.com
To view the original version on ABNewswire visit: NASCAR\'s Chase Elliot, Hooter\'s And Iconic Brands Go For Checkered Flag At Darlington
View Comments and Join the Discussion!