Sienna Biopharmaceuticals Announces SNA-120 (0.05%) Biopsy Data Demonstrate Positive Impact on Key Inflammatory Cytokines, including IL-23 and IL-17, in Psoriasis
-- Biopsy data support strong clinical effect observed in Phase 2 trials with SNA-120 

-- Following Positive End-of-Phase 2 meeting with FDA, Sienna continues toward enrolling first patient in Phase 3 program in second half of 2019
WESTLAKE VILLAGE, Calif., May 14, 2019 (GLOBE NEWSWIRE) -- Sienna Biopharmaceuticals, Inc. (NASDAQ:SNNA), a clinical-stage biopharmaceutical company, today announced biopsy data from its recent Phase 2b clinical trial with SNA-120 (pegcantratinib), the Company's Phase 3 topical, non-steroidal Tropomyosin receptor kinase A (TrkA) inhibitor under investigation for the treatment of psoriasis. Biopsy analyses were conducted at The Rockefeller University on 22 subjects, and included Immunohistochemistry (IHC), MicroArray and quantitative Reverse Transcription Polymerase Chain Reaction (qRT-PCR). 
"The clear and substantial impact by Sienna's SNA-120 on immune cells and the vast array of important psoriasis-related pathways after 12 weeks of treatment is impressive and encouraging for a topical, non-steroidal treatment," said James G. Krueger, D. Martin Carter Professor in Clinical Investigation, Director, Milstein Medical Research Program, and Senior Attending Physician at the Laboratory for Investigative Dermatology, The Rockefeller University.
Specifically, the Immunohistochemistry analysis showed meaningful and statistically significant improvement in the epidermal thickness at Week 12, supporting the effect of SNA-120 (0.05%) on keratinocyte hyperproliferation and inflammation. In addition, the data demonstrated a statistically significant reduction in T cell and dendritic cell counts, confirming an immune response to treatment with SNA-120. 
 
In MicroArray analyses, SNA-120 (0.05%) was also observed to affect most of the key inflammatory pathways in psoriasis (40 of 45) in a statistically significant manner when compared to vehicle at Week 12.
 
In the qRT-PCR analysis, SNA-120 (0.05%) demonstrated substantial, statistically significant gene expression improvements in key cytokines that play an important role in psoriasis pathogenesis, including IL-23, IL-12, IL-17A and IFNg, among other cytokines, in PASI 75 responders and even led to restoration to non-lesional expression levels, further validating the strong pharmacological effect of SNA-120.
"We are pleased to report these histological and biomarker results from our recent Phase 2b trial with SNA-120, our tissue-targeted TrkA inhibitor," said Paul F. Lizzul, M.D., Ph.D., Chief Medical Officer of Sienna. "These data showing SNA-120 affects key cytokines involved in psoriasis, including IL-17 and IL-23, continue to support and corroborate the mechanism of action of SNA-120 and the unique contribution of neurogenic inflammation to psoriasis pathogenesis. This impact of SNA-120 on validated targets of the most effective biologic therapies today, combined with the clinically meaningful effects observed in patients in the Phase 2b trial, further bolsters our excitement and confidence as we progress toward Phase 3 pivotal trials."
About SNA-120 Phase 2b Trial Results
SNA-120 (0.05%) demonstrated in a Phase 2b clinical trial statistically significant improvement compared to vehicle on important pre-specified endpoints of psoriasis disease severity, including the Investigator's Global Assessment (IGA) 2-grade composite, comprising a 2-grade improvement from baseline and clear (0) or almost clear (1) skin, which has been the Phase 3 primary endpoint for topical psoriasis drugs approved by the U.S. Food and Drug Administration (FDA). Specifically, 29% of patients achieved success on the IGA 2-grade composite, compared to 13% of subjects treated with vehicle. Similarly, 27% of subjects also experienced a 75% reduction from baseline in their Psoriasis Area and Severity Index score (PASI 75), compared to 13% of subjects treated with vehicle. Subjects also experienced an approximately 60% reduction from baseline in the associated pruritus (itch), although the pruritus result did not reach statistical significance compared to vehicle. SNA-120 was well-tolerated with no serious treatment-related adverse events. Treatment-related adverse events were observed in two patients and included dermatitis (0.5% group) and pain and pruritus (vehicle group). SNA-120 has been administered to more than 500 subjects for up to 12 weeks and has been well tolerated across all trials, with minimal to no demonstrated systemic bioavailability. Following a positive End-of-Phase 2 (EOP2) meeting with the FDA in April 2019, Sienna is progressing towards enrollment of the first patient in its Phase 3 program with SNA-120 for psoriasis in the second half of 2019.
About Sienna Biopharmaceuticals
Sienna Biopharmaceuticals, Inc. is a clinical-stage biopharmaceutical company focused on bringing unconventional scientific innovations to patients whose lives remain burdened by their disease. We draw upon our deep knowledge and experience in drug development across multiple therapeutic areas as we build a unique, diversified, multi-asset portfolio of therapies in immunology and inflammation that target select pathways in specific tissues, with our initial focus on one of the most important 'immune' tissues, the skin. We are leading the way with our novel proprietary technology platform, applying a scientific design process to create potent targeted pharmacologically active molecules that are directed toward a specific target tissue and a select disease pathway, and with minimal to no systemic exposure.  At Sienna, we are going where it still matters for patients.
For more information, visit the Company's website at www.SiennaBio.com.
Forward-Looking Statements
This press release contains forward-looking statements, including but not limited to statements regarding Sienna's SNA-120 biopsy data and the progress and timing of Sienna's SNA-120 development, including anticipated enrollment in the Phase 3 program for SNA-120. Such forward-looking statements involve substantial risks and uncertainties that could cause Sienna's clinical development programs, future results, performance or achievements to differ significantly from those expressed or implied by the forward-looking statements. Such risks and uncertainties include, among others, the uncertainties inherent in the pharmaceutical drug and medical device development processes, including regulatory approval processes, the timing of regulatory filings, the challenges associated with manufacturing pharmaceutical drug and medical device products, Sienna's ability to raise sufficient capital to fund its development programs, and other matters that could affect the sufficiency of existing cash to fund operations and the availability or commercial potential of Sienna's drug candidates. Sienna undertakes no obligation to update or revise any forward-looking statements. For a further description of the risks and uncertainties that could cause actual results to differ from those expressed in these forward-looking statements, as well as risks relating to the business of Sienna in general, see Sienna's most recent Annual Report on Form 10-K and any subsequent current and periodic reports filed with the Securities and Exchange Commission.
Contact:
Media
Caroline Van Hove
cvanhove@siennabio.com
818-575-6250
Investors
Sean Andrews
sandrews@siennabio.com
818-629-2244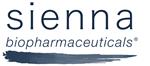 View Comments and Join the Discussion!