Steady Named to American Inno's List of Companies to Watch
ATLANTA, May 02, 2019 (GLOBE NEWSWIRE) -- Steady, a groundbreaking platform building a better future for America's workforce, was named by American Inno as one of Atlanta Inno's 50 on Fire.

The inaugural list was comprised through nominations from the community of entrepreneurs and startups reshaping innovation in the Atlanta area through new funding, recent product launches, in-demand recruits and innovative approaches to solving problems.
Steady was one of five visionary FinTech companies nominated because of the app's income building platform providing workers with flexible, on-demand jobs and financial services to fit the needs and aspirations of its users.
"We are proud to be nominated as one of Atlanta's 50 on Fire," said Steady CEO Adam Roseman. "We strive to be the premier app for connecting people to the work they want and are reshaping the way companies hire for contract positions. Knowing that we're at the forefront of how Atlanta's workforce is earning extra income and being part of the Atlanta ecosystem in this way is positioning us to expand our reach and generate additional interest in the work we're doing."
Led by Propel Venture Partners, Omidyar Network and Clocktower Technology Ventures, and backed by former NBA star Shaquille O'Neal, Steady raised $9 million in Series A funding last August. Earlier this year, Steady joined the Advanced Technology Development Center (ATDC) at Georgia Tech's Accelerate program, was a finalist for the 2018 Atlanta Startup Awards and joined the World Economic Forum's (WEF) Centre for the Fourth Industrial Revolution. As of March 2019 Steady has been downloaded over 900,000 times.
Steady will be honored at a celebration for the 50 on Fire on Thursday, June 6 at 4 p.m. ET at the Ponce City Market Rooftop where 11 innovators, one from each category (B2B Technology and Software; B2C/C2C; Creative Content; Crypto/Blockchain; Cybersecurity; Government, Advocacy and Education; Healthcare and Medicine; FinTech; Lifestyle; Marketing, Advertising and Design, and Nonprofit), will receive the Inno Blazer award and a 50 on Fire blazer jacket. Tickets, $45-$3,750, are available through Eventbrite.

About Steady
Founded in 2017 by Adam Roseman, Eric Aroetsy and Michael Loeb, Steady is a new platform that puts the per of recommendation and information into the hands of the American worker.  With $9 million in Series A funding, Steady makes it easier than ever for workers to find part-time, one-time and temporary work and their income. In September 2017, Steady was chosen as one of 10 startups to participate in Fintech71's exclusive 10-week accelerator program. One month later it won the Startup Pitch competition at Money 20/20, the world's largest financial services innovation event. As of March 2019, Steady has been downloaded more than 900,000 times.
To join the 700,000-strong Steady community, users can maximize their income by downloading the free app from the App Store and Google Play. Employers interested in partnering with Steady can contact Steady at partners@steadyapp.com.
About Atlanta Inno
Since February, 2018, Atlanta Inno has been covering and connecting the Atlanta ecosystem, producing digital media and events about entrepreneurs, executives, startups, businesses, trends and topics that are shaping the present and future of the city's economy. Through a daily newsletter, daily editorial, monthly events, directories, data and more, Atlanta Inno is building a portal to and for ATL's burgeoning startup and tech communities.
Media Contact
Paul Wilke
steady@uprightcomms.com
+1-415-881-7995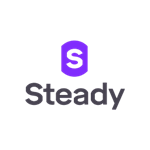 View Comments and Join the Discussion!