INVESTOR ALERT: Levi & Korsinsky, LLP Reminds Investors of an Investigation Involving Possible Securities Fraud Violations by Certain Officers and Directors of Veeco Instruments Inc.
NEW YORK, April 18, 2019 (GLOBE NEWSWIRE) -- Levi & Korsinsky reminds investors it has commenced an investigation of Veeco Instruments Inc. ("Veeco Instruments" or "the Company") (NASDAQ:VECO) concerning possible violations of federal securities laws.

The investigation concerns whether certain materials issued pursuant to the Company's merger with Ultratech, Inc. were materially false and/or misleading. In particular, the investigation concerns whether the Registration Statement and Prospectus issued concerning the merger failed to disclose, among other issues, Veeco's known delays in orders, pricing pressure, reduced margins, and a dispute with its largest competitor in China. Following the completion of the merger, Veeco's stock fell from $32.00 per share on May 26, 2017, to a close of $11.90 on December 8, 2017.
To obtain additional information about the Veeco investigation go to: https://www.zlk.com/pslra-1/veeco-instruments-inc-loss-form.
Levi & Korsinsky is a national firm with offices in New York, California, Connecticut, and Washington D.C. The firm's attorneys have extensive expertise and experience representing investors in securities litigation, and have recovered hundreds of millions of dollars for aggrieved shareholders. Attorney advertising. Prior results do not guarantee similar outcomes.
CONTACT:
Levi & Korsinsky, LLP
Joseph E. Levi, Esq.
55 Broadway, 10th Floor
New York, NY 10006
Tel: (212) 363-7500
Toll Free: (877) 363-5972
Fax: (212) 363-7171
www.zlk.com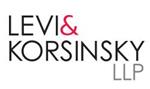 View Comments and Join the Discussion!