Why This $1.00 Medical Device Stock Is Set Up To Rip
There's an obvious but overlooked reason CAS Medical (Nasdaq: CASM) has been depressed for the last four months, and it has less to do with the underlying business than a casual glance might suggest.
CAS Medical is a relatively unknown Nasdaq listed medical device company with 20% top-line organic revenue growth. The company provides cerebral oximetry monitoring for hospital patients undergoing a range of procedures and evaluation, which include heart, thoracic, hip and shoulder surgeries as well as monitoring in the ICU, NICU, PICU and ER. Although likely unknown to those not specializing in healthcare, the cerebral oximetry monitoring market is big. According to a recent piece published on Seeking Alpha, it's an $800 million - $1 billion market and only $125-150M of the market has been penetrated.
A Big Insider Trading Bust Creates an Even Bigger Buying Opportunity for CASM
Mega health care fund Deerfield Management was a major owner of CASM stock last year, with 3.2 million shares or about 10% of the company.
But the investment fund has been dumping stock rapidly in the last 180 days, apparent in end-of-quarter ownership filings. In the first quarter of this year, Deerfield liquidated about half of their position, or 1,401,566 shares, on the open market.
For a stock that averages 50,000 shares in daily volume, the Deerfield liquidation was a major drain.
In the 60 days since the end of the first quarter, CASM has been squashed by 50% on above-average volume. We think this was Deerfield puking up the rest of their CASM position into the open market. With no large buyer to sop up this excess supply, Deerfield's liquidation had an inordinate effect on CASM.
There's an easy explanation.
It may not be news to you, but a handful of Deerfield partners were recently indicted for insider trading. According to the unsealed indictment, health care consultant David Blaszczak and three Deerfield partners are accused of using confidential information about government financing arrangements to trade stock in companies that could be affected. The companies were focused in the dialysis and radiation therapy industry, including Fresenius Medical.
That doesn't include CASM, but one of the indicted was a partner on Deerfield's Medical Devices team.
With this indictment, we think Deerfield is cleaning up Olan's book. As a partner on the devices team at Deerfield, Olan undoubtedly had a hand in managing the CASM position, or was perhaps the lead on this position.
When things get hairy, funds liquidate, and we think the Deerfield sales are just damage control in the office - not a result of the CASM fundamentals.
Deerfield sold about half of their CASM position in the first quarter of the year, and it's likely that they continued to sell into the second quarter. That liquidation is coming to an end, and the stock's recent puke lower followed by a small bounce is a good indicator that the supply may have dried up.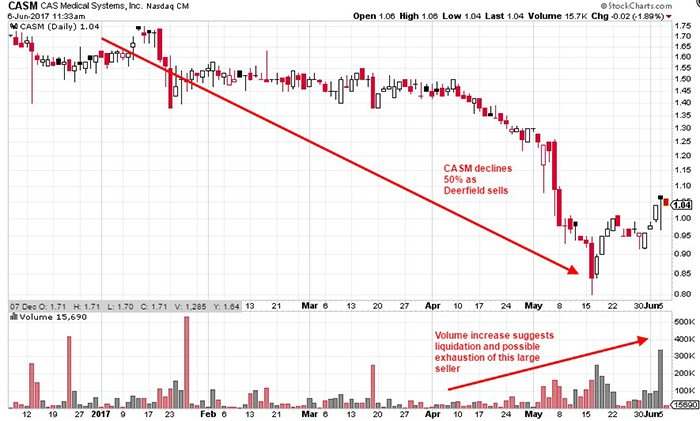 PSDV: A Similar Situation Yielding a Rapid 45% Return
Traders have seen this same setup recently, which resulted in a rapid 45% move from another small-cap stock. A similar situation occurred two months ago with PsiVida Corp (Nasdaq: PSDV). PsiVida is another small health care company. The stock had been declining all year because PsiVida had their own overhang, a controlled equity financing agreement that let the company issue and sell new stock into the market. This was basically a manufactured overhang.
On May fifth PsiVida announced that they would no longer be using the controlled equity agreement, and that they would not be selling stock any time soon. With that overhang gone, PSDV ripped from $1.70 to $2.45. Anyone who started buying PSDV as that overhang was gone could have made a quick 45% return.
CASM Could Quickly Trade Back To $1.50-$2.00 / Share
We believe CASM is very undervalued in the $1.00 per share range, and that owning CASM after the Deerfield overhang has cleared could be a very profitable short-term trade as the stock recovers to the $1.50 range where it traded for most of 2016.
Cerebral oximetry monitoring is an $800 million - $1 billion market and only $125-150M of the market has been penetrated. The original player in the space was Somanetics, which Covidien (a subsidiary of Medtronic (NYSE: MDT) acquired for $250M or 5x sales in 2010. If Covidien, or another large device company, were to acquire CASM at a similar multiple based on the Company's expected 2017 cerebral oximetry monitoring revenue of $19M, the price per share would be north of $3.00. This is possible, especially when considering CASM's 15-20% year-over-year organic revenue growth and the technological superiority of CASM's device. At $3.00 per share, CASM's valuation is under $100M.
Lastly, for longer term investors, there's an even bigger opportunity in CASM. If the Company executes on its growth strategy over the next 24 months and can capture another 1 or 2 percent of the cerebral oximetry monitoring market, it's entirely possible CASM could trade at, or be acquired, at a $200M valuation or higher. A $200M valuation would represent an approximate 600% return for investors purchasing CASM at today's levels.
About One Equity Stocks
One Equity Stocks is a leading provider of research on publicly traded emerging growth companies. Our team is comprised of sophisticated financial professionals that strive to find the companies and management teams that will outperform the market and deliver investment returns to our subscribers. We are not a licensed broker dealer and do not publish investment advice and remind readers that investing involves considerable risk. One Equity Stocks encourages all readers to carefully review the SEC filings of any issuers we cover and consult with an investment professional before making any investment decisions. One Equity Stocks has not been compensated to publish this article and has no relationship with the Company. We have a long position in CASM.