California Ultimate Turf Scores Roaring Success with TigerTurf™ Installation for Arena Soccer Park of Orange, Calif.
Professionalism, quality of California Ultimate Turf, TigerTurf applauded
Orange, Calif. (PRWEB) April 21, 2010 -- California Ultimate Turf (CUT) scored a roaring success recently when it installed 22,000 square feet of TigerTurf for Arena Soccer Parks' facility located at 2190 North Canal Street in Orange, Calif. The installation was completed Feb. 2 on time and within Arena Soccer Parks' budget in spite of a two-week rain delay.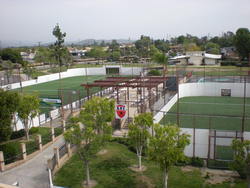 Based in Signal Hill, Calif., CUT is a full service, turnkey construction company that has been an authorized field representative for TigerTurf Americas, the world's most advanced artificial turf manufacturer, since 2008. TigerTurf Americas is headquartered in Austin, Texas.
Arena Soccer Parks LP provides recreational indoor/arena soccer entertainment for all ages and skill levels in Orange and Garden Grove, Calif. The privately-owned company offers year-round leagues for men, women, boys and girls.
Project Details
The Arena Soccer Park in Orange features two artificial turf fields. One is a regulation-sized "indoor soccer" field with full-sized goals that cater to both adult and club teams as well as a mini field for super fast 4-on-4 adult action and youth play. Each field is equipped with stadium seating and night lighting.
Chester Holt, manager for Arena Soccer Parks, chose California Ultimate Turf over three other artificial turf providers to replace the original 14-year-old Astro Turf at the Orange soccer facility. Holt purchased TigerTurf 45M, a durable athletic surface that is well suited for multi-purpose fields and weighs 45 ounces per yard.
Doug Coulter, founder and chief executive officer of CUT, said the project included several key steps: removing the old turf; repairing the asphalt subsurface; filling in the surface with concrete; removing the old asphalt and turf; installing the new TigerTurf product; and anchoring the new turf to prevent rolling.
Coulter also serves as the captain of the TigerTurf Football Club, a team of 10 men who play soccer on Monday nights at the Arena Soccer Park in Orange during the Winter and Fall Leagues. Five of the TigerTurf Football Club players are employed by CUT.
Client and Player Comments
Holt said he is extremely satisfied with TigerTurf and CUT, adding: "I don't think I could have gotten anything else better. The price, quality of the product, workmanship and ease of maintenance are everything I expected they would be.
"Going with California Ultimate Turf was a no-brainer," Holt commented. "I liked the backing and the blade structure of the TigerTurf product. I also liked that the California Ultimate Turf team members did all of the work themselves and did not hire subcontractors. I appreciated the way the staff presented themselves, turf samples, their Website, and information in their newsletters. Honestly, between the TigerTurf Website and the CUT Website, all of my questions were answered well before I talked to any sales and customers services representatives."
Holt said that he originally had planned for the park to be closed for field renovation for only two weeks, but heavy rain caused the park to be unavailable for four weeks. Yet, league play at the Orange facility began on schedule. Holt reported that total playing time on the new fields has increased to 60 hours per week versus 38 hours of play before the TigerTurf revamp.
Eric Ebert, a member of the TigerTurf Football Club who played with Major League Soccer Teams Houston Dynamo during the 2007-2008 season and Chivas USA during the 2008-2009 season, commented about the condition of the new fields: "The TigerTurf surface allows for better play than a natural surface. The surface is even and has no holes. And the artificial turf surface isn't as hard as a natural surface is. Players feel better knowing that the field conditions are more consistent and safer."
For more information on California Ultimate Turf, please visit www.tigerturfworld.com or email info(at)tigerturfworld(dot)com.
# # #
For the original version on PRWeb visit: http://www.prweb.com/releases/tigerturf/arenasoccerpark/prweb3900584.htm
View Comments and Join the Discussion!