DriveWealth Enhances Its Brokerage Capabilities by Offering "Real-Time" Margin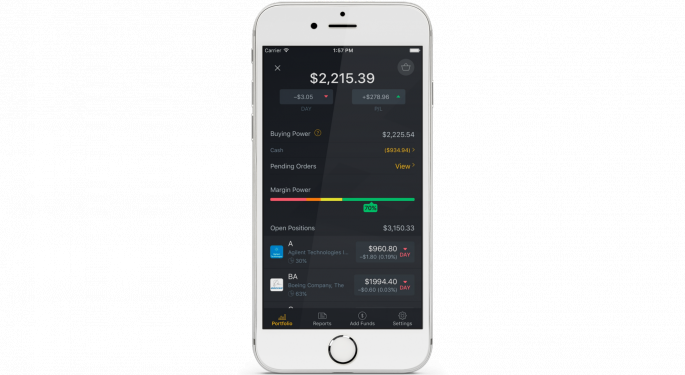 DriveWealth1 is pleased to announce the release of real-time margin, available in the app and via the APIs used by partners.
"DriveWealth has enabled a new generation of investors through our intuitive, easy to use, investing app, which allows investors to build diversified portfolios using fractional shares. With the release of real-time margin, we are now giving investors who want to trade on leverage a way to increase control and decrease risk relative to traditional margin accounts," said Robert Cortright, Founder and CEO of DriveWealth.
The roll out of real-time margin means that investors who choose to open margin accounts with DriveWealth will experience enhanced risk controls as compared to investors who have margin accounts with other brokers. DriveWealth calculates customer margin requirements both at beginning of day and then continuously throughout the trading day, unlike the traditional method of calculating SMA once per day utilized by most brokerage firms. Having the ability to update investors' buying power based upon market movements throughout the day protects them from downside volatility and limits purchasing power that would otherwise place their account in a margin call. DriveWealth's real-time margin makes it less likely for clients to be in a position to receive a house margin call or to be forced to liquidate positions. DriveWealth believes margin capabilities are a tool used by more seasoned investors to effectively manage their diversified portfolios.
Real-time margin is available in DriveWealth's app for use by individual investors. The margin interest rate will be the fed funds rate (0.42% as of Tuesday, August 16, 2016) plus 400 basis points. Through our robust set of APIs, real-time margin is also available to DriveWealth's business partners, which includes international brokers, wealth managers, and financial institutions, who work with DriveWealth in order to offer US equities to their clients across the globe.
About DriveWealth Holdings, Inc.:
1DriveWealth Holdings, Inc. is the parent company of DriveWealth Technologies, LLC and DriveWealth, LLC. DriveWealth Technologies, LLC is the technology service and financial education provider for DriveWealth, LLC. DriveWealth, LLC, member FINRA and SIPC, is a mobile and global full carrying broker dealer for retail investors. DriveWealth provides a low cost, easy-to-use US equities investing platform to individuals worldwide. DriveWealth also partners with businesses around the world to offer its Brokerage as a Service platform, which allows global financial institutions to give their clients access to US listed securities.
Posted-In: Press Releases
View Comments and Join the Discussion!