Benzinga Offers More Accurate And Unique Financial Data Sets With The Launch Of Benzinga Cloud
July 14, 2015 - DETROIT, MI - Professional and retail investors alike are in dire need of financial data that gives them an edge in the markets. Today, Benzinga officially announces the launch of more accurate and unique financial data sets with the unveiling of Benzinga Cloud.
Max Bowie of WatersTechnology spoke with Benzinga to delve into the content behind the Cloud:
"Among the first third-party data providers contributing to the platform are Big Data visualization software provider Capital Market Labs; crowd-sourced stock tips supplier ClosingBell; crowd-sourced estimates vendor Estimize; GovBrain, which analyzes political data to create trade ideas; Insider Insights, a provider of insider trading data and analytics; and crowd-sourced stock ratings vendor Vetr."
Continue Reading at WatersTechnology.com
"Benzinga Cloud will deliver unique datasets from several data vendors to quants, hedge funds, trading platforms and brokerages in one easy API. Technology is moving faster than ever, we want to make sure we are delivering the cutting-edge and innovative data sets that our customers are actively seeking," said Jason Raznick (CEO, Benzinga).
Available for licensing on Cloud.Benzinga.com, investors can find:
Audio Squawk, Corporate Newswire, Commodity Wire, Futures Wire, FX Wire, Macro Wire, Trading Ideas, Market Updates and Press Releases.
EPS & Revenue, Future Earnings Dates, Guidance, Conference Calls, Dividends, Analyst Ratings, IPO Calendar, Stock Splits, Market Data, Fundamentals and Corporate Logos.
Benzinga Cloud Playground makes it easier for up-and-coming fintech startups and niche data providers to offer their proprietary third-party services to the broader market by leveraging Benzinga's distribution. "Benzinga has built its reputation and the company through relationships in the industry. The Benzinga Partner Network [BPN] and the playground are further proof that Benzinga continues to derive value by generating Alpha through insights compiled from data in the Benzinga Partner Network," stated Kyle Bazzy (President, Benzinga).
Infographic: Benzinga Cloud, The Future of Data
Visit Benzinga Cloud online for more information:
cloud.benzinga.com or email licensing@benzinga.com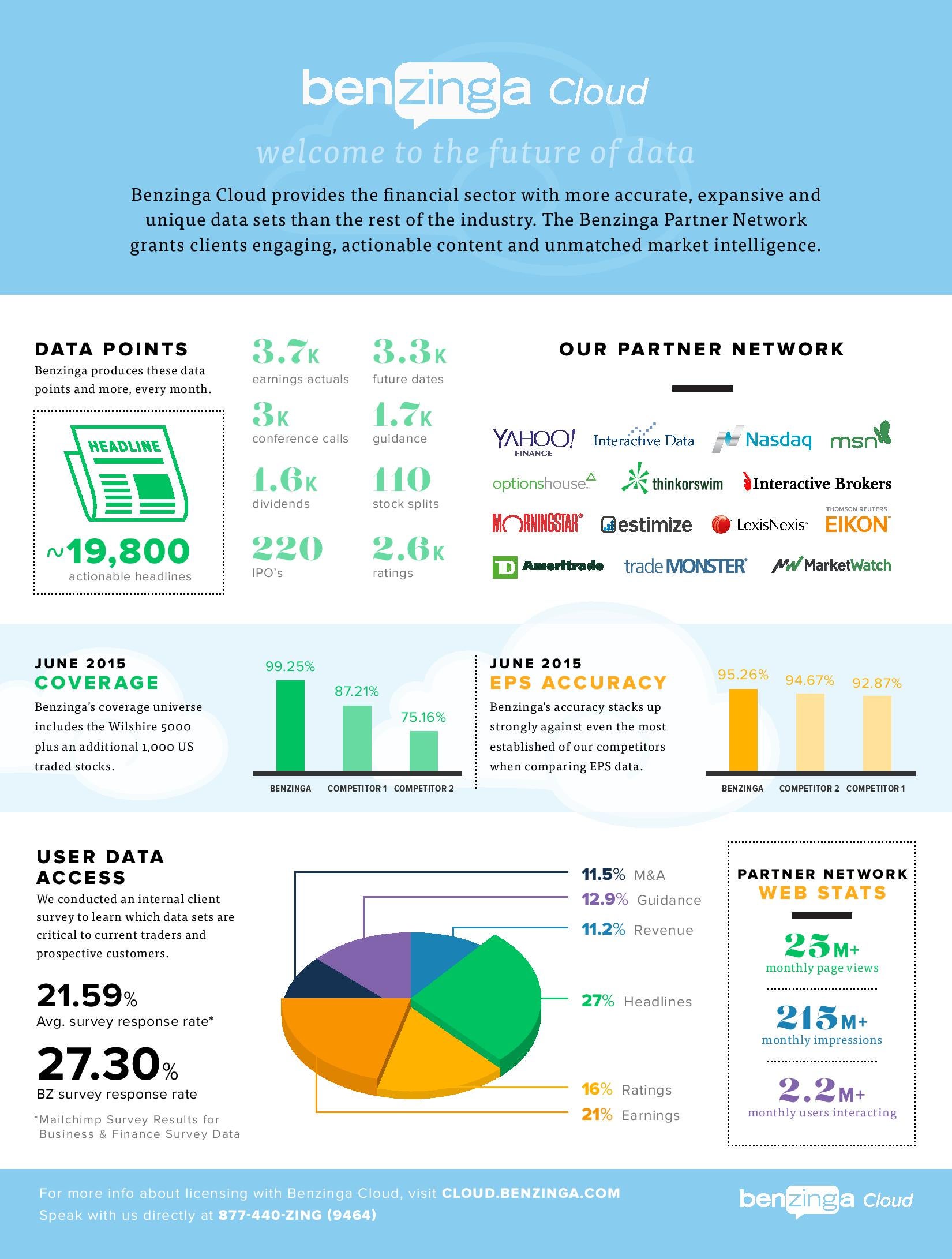 About Benzinga
Benzinga is a full-service news and media company offering investors unmatched market intelligence and innovative content. With expertise in breaking news and accurate financial data, Benzinga covers all aspects of financial markets spanning from corporate actions to economics to politics.
About Benzinga Cloud
Benzinga Cloud is a suite of financial and corporate data services provided by two teams. Financial news analysts carefully monitor the US equity markets to curate timely and actionable newswires. Along with data analysts, the team provides the most accurate corporate and economic data in the industry.
View Comments and Join the Discussion!
Posted-In: Benzinga benzinga cloud Benzinga playgroundPress Releases