#PreMarket Prep Guest List For The Week Of December 8, 2014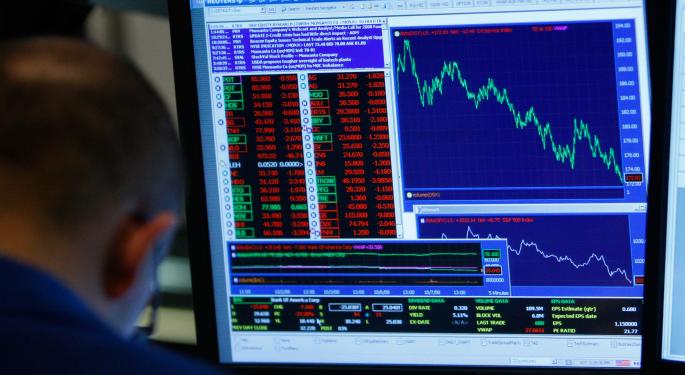 We'll be joined by plenty of new and familiar voices this week's #PreMarket Prep broadcast, sponsored by Marketfy.
Be sure to tune in at 8:00 am EST Monday-Friday here to tune in to the exciting show.
Monday, December 8, 8:35 a.m.
Sheldon McIntyre (@hertcapital) , Founder of 360° Virtual Advisor
Sheldon McIntyre founded 360° Virtual Advisor in 2010. He has more than 14 years of experience in the investment industry.
9 a.m.
Karl Setzer (@ksetzergrains), Grain Market Analyst at MaxYield Grain
Karl Setzer spends much of his day hedging MaxYield's grain position and coaching the Grain Solutions Team in client risk management.
9:20 a.m.
Scott Carter (@LearCapital), CEO of Lear Capital
Scott Carter is an economic theorist, an investment specialist, and an authority on precious metals. His background in commercial insurance, financial services and retail precious metal sales makes him uniquely qualified to address the benefits of holding physical financial assets.
Tuesday, December 9, 8:35 a.m.
Nic Chahine (@racernic), Creating Income with Options Spreads
Nic Chahine joins the show every Tuesday to discuss the week's options outlook.
9 a.m.
D.J. Paul (@ocelotfilm), Co-Chair of the Crowdfund Intermediary Regulatory Advocates
D.J. Paul is the chief strategy officer of Propellr, a New York-based real estate investment crowdfunding platform, the co-chair of the Crowdfund Intermediary Regulatory Advocates (CFIRA) and was recently appointed as a member of the SEC's Advisory Committee on Small & Emerging Companies.
9:20 a.m.
Russell Rhoads (@RussellRhoads), Senior Instructor with the Options Institutes at the Chicago Board of Options Exchange
Russell Rhoads is a chartered financial analyst and joined the Institute in 2008 after a career as an investment analyst and trader with a variety of firms including Highland Capital Management, Caldwell & Orkin Investment Counsel, TradeLink Securities and Millenium Management. He is a financial author and editor having contributed to multiple magazines and edited several books for Wiley publishing.
Wednesday, December 10, 8:35 a.m.
Fari Hamzei (@HamzeiAnalytics), Founder of Hamzei Analytics
Fari Hamzei joins the show every Wednesday, bringing his wealth of knowledge on aggressive equity options and index futures trends.
9 a.m.
Rachel Shasha (@Sassy_SPY), Trader and Blogger at Sassy Options
A graduate from both UCLA and USC, Rachel Shasha researched the psychology of the markets for more than five years. She is currently a full-time trader and regular contributor to TheStreet. Her main strategy involves trading both short- and long-term options using technical analysis, open interest and sentiment/psychology.
9:20 a.m.
Joshua Belanger (@optionsizzle), Founder of OptionSIZZLE.com
After more than a decade in the trenches of Wall Street, Joshua Belanger has become well known for his work with options trading volume, easy approach to options education and strategic investment guidance.
Thursday, December 11, 8:35 a.m.
Harlan Pyan (@AllAboutTrends), Co-Founder of All About Trends
All About Trends is a subscription-based newsletter service focused on helping individuals secure consistent profits in the market by trading what they see, not what they think, hear or fear.
9 a.m.
Bill Corcoran (@bettertrades), CEO of BetterTrades
Bill Corcoran is an active trader in the equity options, futures and FOREX markets. Cordoran teaches trading education courses all over the U.S., both in person and online.
9:20 a.m.
Cate Long (@cate_long), Financial Blogger and Founder of Puerto Rico Clearinghouse
Cate Long writes about the fixed income markets including municipal bonds. She has worked for a number of years with industry standards organizations, regulators and Congress to help craft a more transparent and fair framework for investors to participate in the fixed income markets.
Friday, December 12, 8:20 a.m.
Paul La Monica (@LaMonicaBuzz), Digital Correspondent at CNNMoney
Paul La Monica writes daily about the markets, economy and technology and also appears in the daily Buzz video segment. He also tweets throughout the day on StockTwits and Twitter @LaMonicaBuzz. La Monica previously was an assistant managing editor overseeing the site's economic, markets and technology coverage.
9 a.m.
Antonio Figueiredo (@OptionsFlux), CEO of OptionsFlux
OptionsFlux is an options analytics platform and a leading provider of Real-Time and historical data solutions. OptionsFlux's goal is to provide individual investors, non-professionals and retail active options traders with sophisticated tools and data that gives clients powerful market-scanning capabilities in order to compose the very best trading ideas.
9:20 a.m.
Gary Ran (@TelemusCapital), Founder and Partner at Telemus Capital
Gary Ran serves as the firm's Chairman. In this role he is responsible for the overall strategic direction of Telemus Capital. In addition, Gary manages some of the firm's most important client relationships and chairs the firm's investment committee.
Prior to forming Telemus in 2005, Gary served as a first vice president of investments at Merrill Lynch and as senior vice president of investments at UBS Financial Services. During his 20-plus year career as a retail stockbroker, he built one of the largest brokerage practices in the industry.
View Comments and Join the Discussion!
Posted-In: Benzinga #PreMarket Prep broadcast fari hamzei nic chahine PremarketPre-Market Outlook Best of Benzinga