How RobustWealth Helps Streamline Financial Planning For Investors And Advisors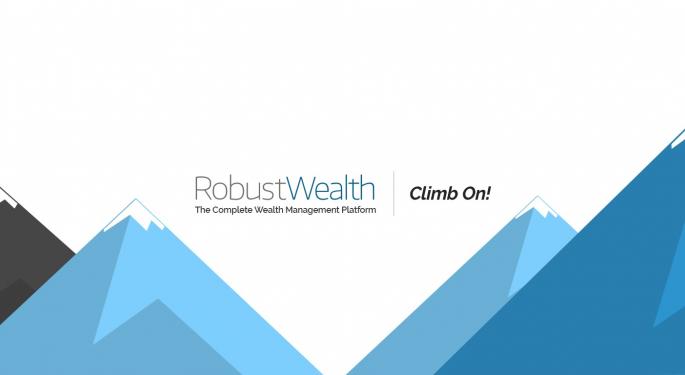 Benzinga will be holding its annual Benzinga Global Fintech Awards, a day of dealmaking, networking, and recognition in the financial technology space, on Nov. 10, 2020.
In recognition of those disruptive innovators creating positive and diverse change within the financial services space, Benzinga sat down with Mike Kerins, founder at RobustWealth.
About RobustWealth
In light of the digital transformation and gamification of investing and wealth management, financial services providers honed in on low-cost, visually appealing, and easy-to-use tools. One provider of such tools is RobustWealth.
Founded in 2015 and acquired by Principal Financial Group in 2018, RobustWealth is a fintech specializing in vertically-integrated, digital wealth management technology. The company's mission is to enable individuals the ability to manage their entire financial life in one spot digitally.
In the simplest way possible: RobustWealth unlocks the full spectrum of investing tools for everyday investors.
The company connects investors and advisors, automating and standardizing processes to increase efficiency and returns.
"We make it easy," said Kerins. "You can open an account in five minutes and fund it the same day. From the advisors perspective, they can spend more time being a CFO for the individual."
Core Product Portfolio
"It's the best of both worlds."
RobustWealth comes as a solution to the traditionally laborious process of wealth management, automating operational activities like account management and trading.
RobustWealth's core product portfolio consists of the following platforms: Client, Advisor and Enterprise.
"We build most of everything, so we can control the experience," Kerins noted. "We've chosen to be vertically integrated, building a lot of our components. It's more seamless, so you don't spend time logging into different software trying to figure out how it all works together."
Use Case, Recent Developments
In light of the COVID-19 coronavirus pandemic, the digital transformation in investing accelerated.
As a result, Kerins, alongside others at RobustWealth, listened closely to users and released two new platforms.
"We released a new goal-based platform for individuals," the founder said.
"We also released a new advisory platform, providing options on segmenting the client base. It's a great model management platform because you can centralize how you manage portfolios. You don't have every advisor doing their own thing, spending time trading."
Innovation Outlook
"We see the opportunity to innovate on the financial planning side."
According to Kerins, RobustWealth is working feverishly on goal-based financial planning that's completely integrated with everything from account opening to portfolio management.
"Over the next two years, we're coming out with the ability to click and buy recommendations."
To learn more about RobustWealth, click here.
View Comments and Join the Discussion!
Posted-In: RobustWealthFinancial Advisors Fintech Personal Finance Interview Best of Benzinga