'Access, Clarity, Confidence': 280 CapMarkets Heads Strategic Initiatives, Transforms Fixed Income Through Technology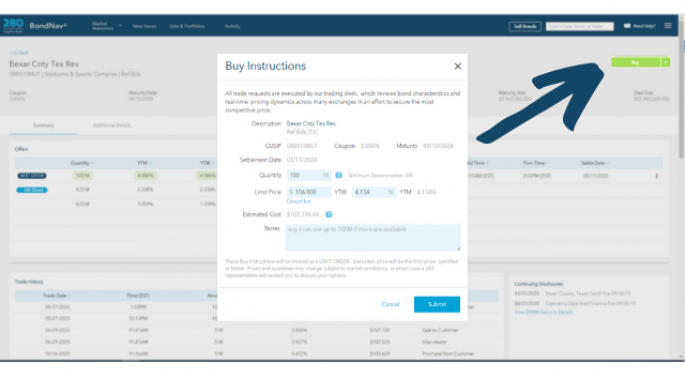 Alongside the COVID-19 coronavirus, financial markets experienced a historic liquidation, with demand across many non-correlated assets plummeting.
The resulting economic fallout and market inefficiencies leveled the playing field, turning the attention to newer, more nimble, technology-focused solutions.
In light of the turmoil, veteran fixed-income expert Dave Rudd, co-founder, and president at 280 CapMarkets, spoke with Benzinga regarding his firm's role in the transformation of fixed income through technology.
Volatility Negates Fairness
Debt markets are a means to facilitate the purchase or sale of contractual securities. Unlike equity markets, bond markets are often viewed as a safety due to the presence of obligation and deep liquidity.
In the midst of the recent selloff, however, liquidity and efficient pricing dropped off a cliff.
"We're living in a world where, just today, we had an order on a million bond piece that was out for the bid, and we were the cover, but we were out by 8 points," said Rudd. "That means we were the second-best bid, but we were eight points cheaper than the highest bid."
Despite markets roaring back alongside the injection of unprecedented stimulus, infrastructure and transparency are on shaky ground.
"In a normal environment on an investment-grade bond, a million or more, you might get 25 to 40 bids. Today, we've seen some bids wanted where there were only 3 or 4 bids."
Innovation Breeds Transparency
In response to market inefficiencies, the self-funded, San Francisco-based company is leveraging innovation to offer participants better access to deep markets.
"We talk about our value add, which is access, clarity, and confidence."
280 CapMarkets combines traditional execution services via 280 Securities and cloud technology via 280 Technologies to deliver BondNav, a municipal and corporate bond marketplace with unparalleled connectivity, execution, and processing capabilities.
The company is building on existing technologies like BondNav to better address institutional liquidity demands.
"We're definitely expanding our product offering; we now have over 280 firms on the system and about 500 users, so the growth has been exceptional."
The firm's cloud technology improved the capabilities of mobile and remote working clients in the face of COVID-19 stay-at-home restrictions.
"In just one click, you can view bond and pricing details, and ultimately send us an order," the co-founder said. "We're having success in large part because the platform is aggregating across all different systems."
Feedback Evolves Roadmap
Client feedback is a massive priority for 280 CapMarkets.
"We're not layering new features on top of older technology. We're building new technology and so we want our clients to play a big role in our development."
Users are encouraged to develop a wishlist that helps determine the company's go-forward roadmap. A prior result of customer-focused innovation was competitive pricing. 280 negotiates all orders on the client's behalf, sharing in price improvements.
"We get paid based on how much we save," added Rudd.
In light of the volatility, 280's platform observed increased interest due to its unique pricing transparency and negotiating power.
"We've seen a lot of advisors migrate to our platform because they like the fact that we can show bids and negotiate. We leverage our network, including direct to institutional customers, the buy-side mutual funds, and ETFs."
Next Generation Initiatives
"The idea is to create real ease of use for our clients."
280 plans to execute a number of strategic initiatives that will address the demand for better access to markets.
"We're looking to enhance the technology, expand our team, and expand our offerings."
To learn more about fixed income technology built on the principles of access, clarity, and confidence, visit 280capmarkets.com.
Pictured: BondNav shows you all the offers, the bid wanted, where it traded, and where it is re-offered after dealer repurchase.
View Comments and Join the Discussion!
Posted-In: Financial Advisors Fintech Mutual Funds News Bonds Treasuries Economics Markets