Financial Advisors Could Be Making Up To 20% More Money, And This Fintech Wants To Help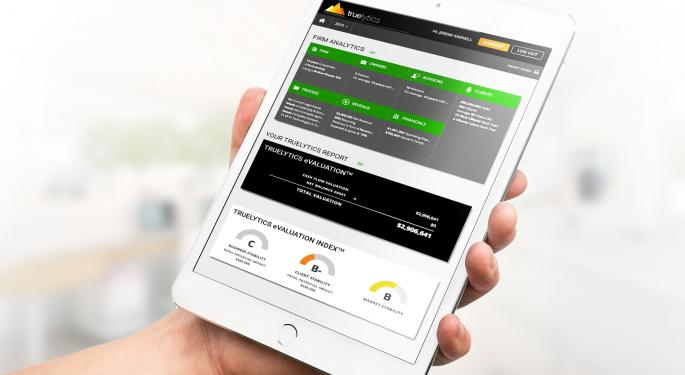 Advisors spend so much time with their clients that they often miss out on opportunities to improve their practice as a business, says Truelytics CEO Terry Mullen.
"I've been working with financial advisors for over 30 years," said Mullen, who's held senior roles at firms like AIG and SunLife. "Many advisors grew up in sales and acquired clients and assets, and all of a sudden they have a very nice business. But they often don't know how to measure it."
That's why Mullen and the Truelytics team purchased software from Gladstone Analytics, creating a benchmarking tool that allows financial advisors to examine the operational efficiencies of their advisory business.
What It Does
Truelytics' software offers advisors a valuation for their business using a discounted cash flow valuation methodology. To arrive at the valuation, advisors enter data into the Truelytics platform, such as info on their advisors, their clients, processes, revenues and financials.
The software then computes scores for the advisor on business stability, client stability and market stability.
"On average, advisors lose around 20 percent of what they could get if they had all A's on that evaluation," Mullen said.
See Also: How To Reach 10 Tops Vcs With One Click
Identifying Gaps
Next, Truelytics analyzes an advisory practice's metrics based on industry standards. For example, it can tell an advisor whether they have more or fewer support staff than is the norm for a practice their size. This helps identify gaps in an advisor's business that they might not notice during hours of client meetings and late nights reading up on stocks.
"If I'm talking to an advisor whose expense ratio is seven points higher than the industry, if they're able to do things to get them in line with the industry expense ratio, then they would, in effect, put 7 percent more money in their pocket," Mullen said.
Industry Problem
Mullen said a consistent problem he encountered over the course of a 30-year career working with financial advisors was the finance industry's longtime resistance to technological advances. The advent of fintech is offering advisors a chance to upgrade their businesses.
"What we hear overwhelmingly from advisors is that they know what they're supposed to do to run their businesses more efficiently, but they don't know how to execute," said Mullen. "We can help them in the execution."
Truelytics' application allows advisors to see the gaps in their firms and offers insight on how to fill them. Mullen predicts that an advisor could free up an additional 15 to 20 hours a week by streamlining processes at their firm.
Over 300 advisors are currently using the platform, Mullen said.
If you're looking for cool fintech startups and access to top financial institutions, and are sick of attending stuffy corporate conferences, the Benzinga Global Fintech Awards is the event for you. From its first year in 2015, the competition grew to over 250 applicants and over 500 attendees in 2016.
Connect with us on social media — use the hashtag #bzawards and #Fintech to spread the word!
View Comments and Join the Discussion!
Posted-In: Gladstone Analytics Terry Mullen TruelyticsFinancial Advisors Fintech News Personal Finance Interview Best of Benzinga