Fundrise CEO Ben Miller On 'Why Pre-Funding Matters'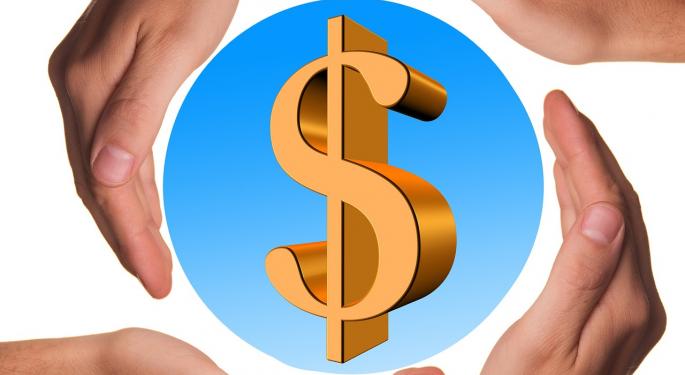 "Real estate crowdfunding is a fundamental change in investment paradigm."— Ben Miller, CEO Fundrise
Fundrise.com co-founders Dan and Ben Miller were industry pioneers, pushing for the JOBS Act in 2012, with a goal to democratize commercial real estate (CRE) investment.
Fundrise has quite a few "firsts" notched onto the belts of its founders, including: first online real estate crowdfunding equity raise, 3 World Trade Center financing participation, $35 million Series A platform funding (largest-ever) and guaranteed project pre-funding from the Fundrise balance sheet.
High Aspirations
In a similar fashion to how Blackstone Group LP (NYSE: BX) has "explored the full potential" of private equity, Miller foresees real estate crowdfunding "as the future of private equity."
Related Link: Wall Street Is Lending To House Flippers; Should You?
"Our goal is to give to individual investors top flight returns like Blackstone, but with a superior investor experience – more convenient, transparent and direct," Miller explained.
Fundrise: A Sector Pioneer
Maketto, originally filed in 2011, was not only the first offering when the Fundrise platform launched in DC in 2012, but the first real estate project in the country to allow investment from individuals online.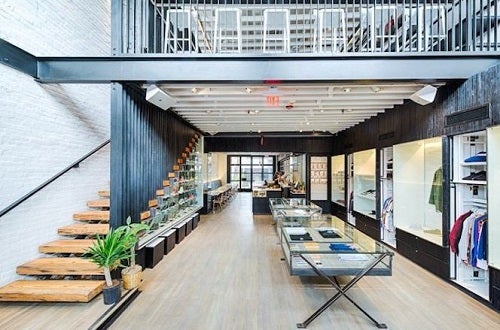 Source: Fundrise.com - Maketto
Maketto – a neighborhood hangout with both artisanal food and a retail boutique – is supported by 175 individuals from DC, Maryland and Virginia who are equity investors in the project, which raised $325,000.
Largest U.S. Fundraise
"Fundrise has given individuals a chance to participate in the country's most iconic real estate development," a $5 million financing slice of 3 World Trade Center, Miller stated.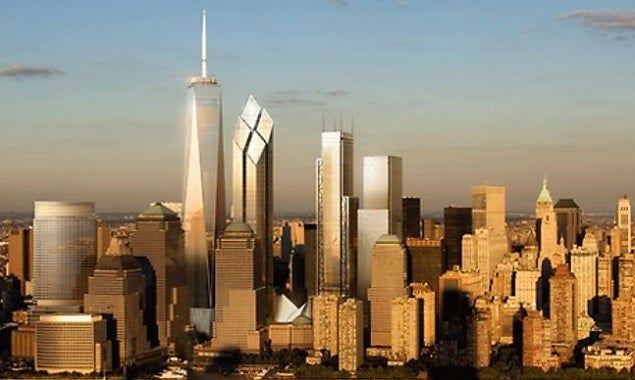 The Class 1 bonds, held by Fundrise, are senior secured with a 5 percent tax-free return.
Fundrise: Timeline
While the Fundrise story is only four years young, it has evolved quickly. This has been due in no small part to the Millers' ability to attract institutional investors and CRE industry veterans to fund the Fundrise.com platform, as well as $100 million in institutional commitments to invest alongside individuals.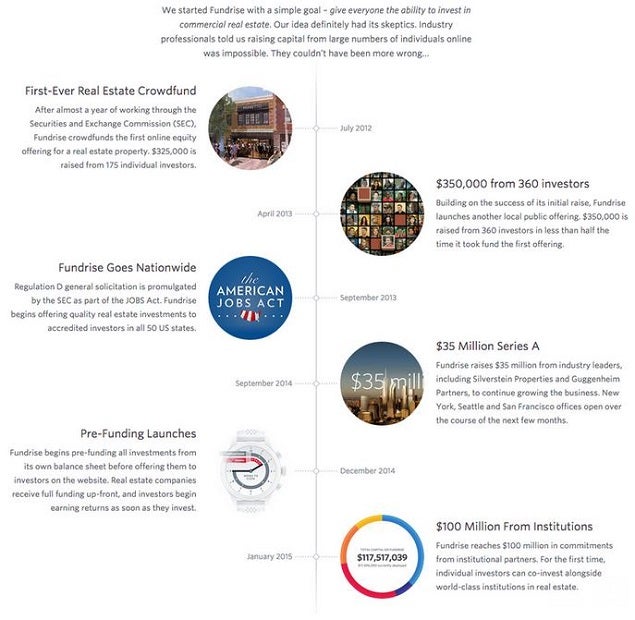 Related Link: Real Estate Crowdfunding: Are IPOs The Next Step?
Series A investors included China-based social media company Renren Inc (NYSE: RENN).
Fundrise: Pre-Funded Projects
Project pre-funding reduces uncertainty for all participants. Real estate companies can count on full funding at closing, and investors begin earning returns as soon as they invest.
Miller comments, "We believe in the quality of our investments so we pre-fund each one with our own balance sheet before offering them to investors. This means that our money is in the same position as yours."
One concern voiced by Miller surrounding crowdfunding for real estate is that investors are attracted by high yields, but may not fully comprehend the differences between crowdfunding platforms when it comes to evaluating projects, sponsors and underwriting risks.
Fundrise's Underwriting Funnel
Fundrise focuses on projects where a position has a relatively short-term expected payout of one to three years and is structured as Senior Secured Debt, Mezzanine Debt or Preferred Equity.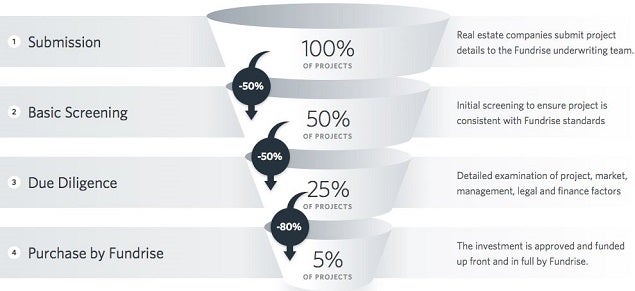 This means that in any Fundrise investment, investor money is senior to the sponsor or borrower.
Fundrise Rating System
All investments carry some risks, some more than others. Miller shared, "We have learned that great technology companies combine software with the best practices of traditional business."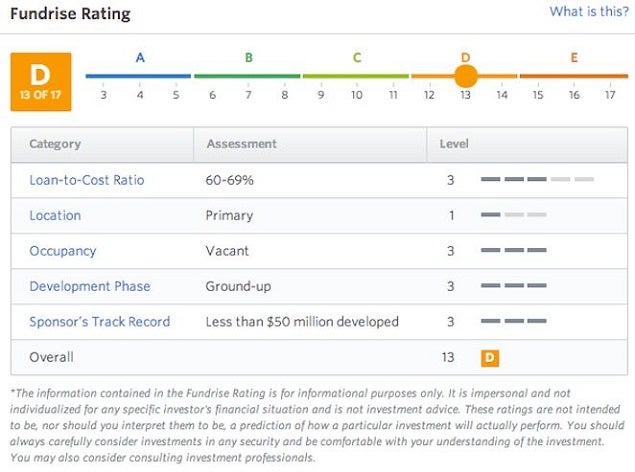 "If a real estate investment defaults," he continued, "our servicing team has the legal rights, expertise and reserve capital to work-out the issues as well as any private equity fund, and certainly better than a CMBS."
Typical Project Types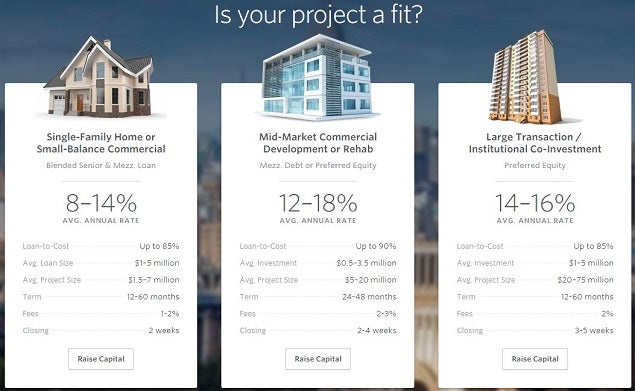 What's In It For Project Sponsors?
Time
The very best terms for a real estate developer are worthless if they can't meet a project's critical path or time-table.
Money
Having the cash in hand – even if it is more expensive than the theoretical best deal out there – can make the difference between "go and no-go" for a project.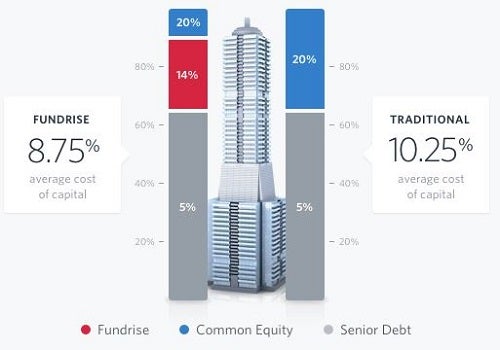 If a project duration is relatively short, paying a bit more to rent the money may not be significant, in fact, debt can be cheaper than equity, and help generate higher leveraged returns for the developer.
Crowdfunding 1.0: 'The Wild West'
Miller believes that the Internet will do to finance what it did to retailers and media – squeeze the middleman, "but, like the e-commerce revolution, it will be bumpy."
Miller was quite forthright in sharing his views about the inevitably of a shakeout: "The real estate cycle is untamable and inevitable. So the next downturn will play havoc on the burgeoning real estate fintech sector."
The institutional vetting of the Fundrise digital platform and real estate expertise is what allows underwritten projects to be fully pre-funded. This is currently not standard practice across the industry.
Miller views Fundrise as an asset manager, not a deal broker or online clearinghouse to aggregate funds.
Image Credit: Public Domain
Posted-In: REIT Hedge Funds Crowdsourcing Success Stories Exclusives Interview General Real Estate Best of Benzinga
View Comments and Join the Discussion!