Finding Value In The Burned Marijuana Sector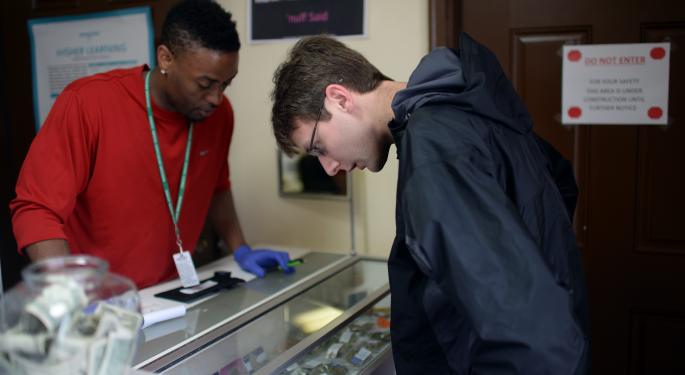 Patience is a virtue.
With the value of trading pot stocks in question, some financial writers and analysts claim that the marijuana sector, even in the OTC, has gone "up in smoke."
Don't get swept away by the wordplay and puns that have been churned out by naysayers. Instead, look at the larger picture.
While eight OTC marijuana stocks were hit hard by the SEC and Benzinga's 420 Marijuana index has dropped 62 percent since reaching its peak during March, the bigger picture suggests the marijuana sector will be a strong place to invest money long-term.
Nationally, more and more voters support not only medical marijuana, but also recreational marijuana.
Related: Should Cannabis Investors Fight The SEC?
A Quinnipiac University poll released recently shows that 52 percent of Connecticut voters favor letting adults have small amounts of marijuana for personal use. When looking at voters 18 to 29, the support rises to 80 percent. Of the survey participants, 61 percent found alcohol to be more dangerous than marijuana, with a whopping 90 percent supporting medical marijuana for the state.
Overall, 58 percent of Americans approve of the full legalization or marijuana, and even President Obama has been quoted as saying that it's not any more dangerous than alcohol.
Marijuana retailers in Colorado sold almost $19 million worth of just the recreational stuff in March alone. They also sold $35 million in medical, making a combined income of $54 million in pot sales for the month.
Colorado's Department of Revenue reported $7.3 million in taxes in the first three months of the drug's recreational legalization. With the taxes from medical marijuana, the number rises to $12.6 million.
Another good sign for market growth: in the same three month period since recreational pot's legalization, crime in hubs like Denver has decreased.
Most market analysts believe that legal cannabis sales in the 21 states that allow the sale of marijuana in one form or another will hit a combined $2.57 billion this year. As acceptance of marijuana as a cash crop commodity grows, it may prove to be a solid investment.
GW Pharmaceuticals (NASDAQ: GWPH) has seen steady increases since closing above $66.00 last Thursday. The stock pushed past $68.00 this week. It is important to note that GW Pharma trades outside of the OTC Markets.
Related: Remaining Vigilant Is Key For Marijuana Investors
Despite the marijuana market's clear potential, beware of scammers. The SEC and FINRA have involved themselves for a reason (beyond the perception of a calculated attack on the sector).
"It is difficult to blame investors for moving to the sidelines in this environment. The bottom-line is that traders are better served than ever in this environment to double down on their fundamental efforts to make sure that the companies in which they are investing are legitimate," noted 420 Investor Alan Brochstein as part of a four-piece series for Benzinga on marijuana investing.
As acceptance of the substance as a medicine and recreational drug grows, bigger companies, such as established firms in the tobacco and alcohol industries, may make plays in the sector.
Jason Cunningham had no position with the mentioned entities, with the exception of Benzinga, while writing this article. Visit Jason on Twitter at @JasonCunningham and @Benzinga.
Posted-In: 420 investor Alan Brochstein marijuana otcLong Ideas Politics Trading Ideas General Best of Benzinga
View Comments and Join the Discussion!