Consumer Uncertainty Following Government Shutdown Expected to Affect Holiday Shopping Data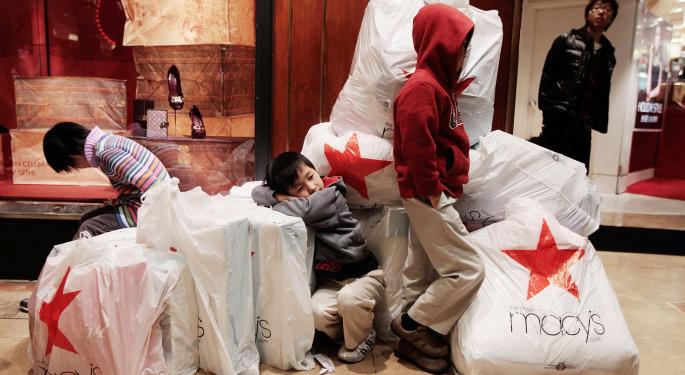 The high-stakes game of political chicken that's been unfolding in Washington may be over for the moment. But its impact is expected to linger with consumers, as the nation heads into the economically important holiday shopping season.
The National Retail Federation's most-recent spending survey of over 6,400 consumers says that while overall seasonal sales should increase nearly four percent, the average holiday shopper is being cautious and expects to spend two percent less than they did last year on seasonal items like gifts, decorations and greeting cards.
"Though the foundation for solid holiday season growth exists, Americans are questioning the stability of our economy, our government and their own finances," NRF President and CEO Matthew Shay said in a press statement. "We expect consumers to set a modest budget for gifts and other holiday related purchases as they wait and see what will become of the U.S. economy in the coming months."
The NRF also took the unusal step of asking those surveyed if the current fiscal and political crisis in Washington would affect their holiday shopping plans.
Twenty-nine percent of those polled said the gridlock would somewhat or likely affect their spending plans – with nearly one-third of older consumers, ages 55 to 64, saying the ongoing political and economic uncertainty was more than likely to affect their spending this holiday season.
Overall retail sales were lower even before the government shutdown, and observers say many consumers will continue to take very cautious approach.
"If people are afraid that the government policy brinkmanship will resurface again, and with it the risk of another shutdown or worse, they'll remain afraid to open up their checkbooks," said Standard & Poor's researchers in a report quoted by The Los Angeles Times. "That points to another humbug holiday season."
The NRF even went out of its way to openly scold lawmakers on Wednesday, following word that a temporary solution had been reached to the debt ceiling and government shutdown crises.
In a press release, the group noted the current U.S. economic recovery has been "retail-led and consumer driven," and called on Congress and the Obama Administration to stop the undermining of consumer confidence.
"As we head into the holiday shopping season, retailers and consumers need stability and certainty from policymakers in Washington and assurance that the economy will not implode due to their actions or more important, lack thereof," it said. "This new norm of legislating from crisis to crisis is no way to govern."
Posted-In: Financial Advisors News Guidance Politics Economics Personal Finance Trading Ideas Press Releases Best of Benzinga
View Comments and Join the Discussion!