3 Small Caps That Should Profit from Obamacare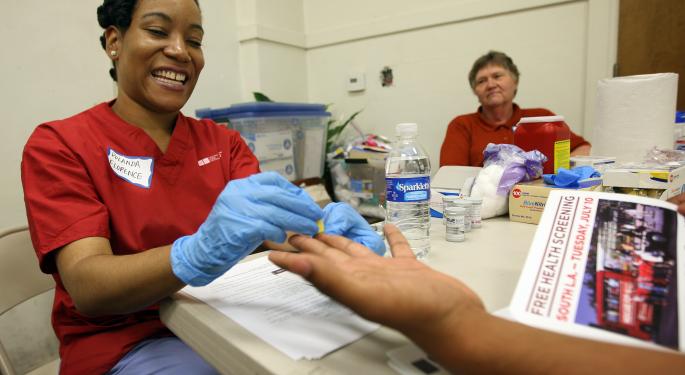 As you might expect, for some of the "usual suspects" in the healthcare industry are doing quite well as a result of the Affordable Health Act, a.k.a. Obamacare.  
Unitedhealth Group (NYSE: UNH) and WellPoint (NYSE: WLP), two major insurers that are prominent blue chips, come to mind. And there are a number of promising small caps that should do well, too.
Q4 Systems (NASDAQ: QFOR) is a software company with programs for both the public and private health insurance exchanges that help make up the foundation of ObamaCare. Companies and individuals can shop for the best deal through one of the exchanges, as health insurance coverage is required by ObamaCare.
This mandate for health insurance is why Unitedhealth Group and WellPoint have have soared. Many major companies such as Home Depot (NYSE: HD), IBM (NYSE: IBM) and Sears Holdings (NASDAQ: SHLD) have sent thousands to the exchanges. That trend will only increase, especially as firms seek to move the expenses of retiree health costs from the books. As a result, quarterly revenues for Q4 Systems are increasing by 36.40 percent.
According to an article in Forbes by Jim Oberweis, President of Oberweis Asset Management, the "stocks be Nimble, stocks be cheap" staffing companies should also do well -- as businesses prefer to use temporary workers due to the higher costs of full-time employees.
Labor Smart (OTC: LTNC) is a demand labor firm with soaring growth that is tremendously undervalued; its revenues for the third quarter total more than the market capitalization of the stock. As the higher costs of Obamacare make temporary workers more attractive, the demand for the services of Labor Smart should expand -- as have its revenues and client base, which ranges from small businesses to Fortune 100 corporations.
Obamacare will improve the treatment of cancer patients, due to the lifting of spending caps and the allowance of pre-existing conditions. That should result in more of a focus and funding for cancer treatment, which will in turn benefit CytRx Corporation (NASDAQ: CYTR), which is up more than 30 percent for the month. That rise is due to advances in two promising company programs in clinical development stages for cancer indications: Aldoxorubicin and Tamibarotene. A presentation by CEO and President Steven A. Kreigsman was very well received at the recent Rodman and Renshaw Global Investment Conference, which has obviously contributed to the share price surge in recent market action.
For 2013, Unitedhealth Group is up almost 35 percent. Over the same period, WellPoint has risen more than 43 percent. As Obamacare progresses, so too should the stock prices for Q4 Systems, Labor SMART, and CytRx Corporation.
Posted-In: Affordable Care Act Health InsuranceFinancial Advisors News Small Cap Analysis Small Cap Personal Finance Trading Ideas
View Comments and Join the Discussion!