Arold Sees Homebuilder Rising, Morgan Stanley's Shares Falling
By Michael Tarsala, Covestor
The trend is your friend.
That pretty much explains why manager Mike Arold took new long positions this week in Lennar Corp (NYSE: LEN) and Chipotle Mexican Grill (NYSE: CMG), while shorting Morgan Stanley (NYSE: MS).
Lovin' Lennar
Arold uncharacteristically took a long position in Lennar ahead of this week's earnings. His intuition was correct, as shares rose following the report. Lennar beat expectations on both earnings and revenue, with margins that rose across the board. Meanwhile, the number of homes in its backlog increased 61% year-over-year.
Many investors continue to debate whether housing has bottomed. Yet the new housing trends have improved significantly since the October 2010 trough. New housing prices are up 15% since then, according to the St. Louis Fed. And the number of new houses sold is up 27%. Lennar shares, meanwhile, have more than doubled over that period.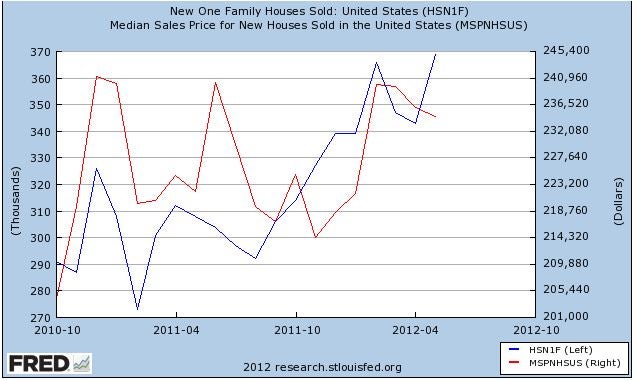 Source: St. Louis Federal Reserve
 
Arold thinks they still may have a ways to go.
"I'm still holding it: I could see Lennar run to $34 if it manages to break out from its current consolidation," he said.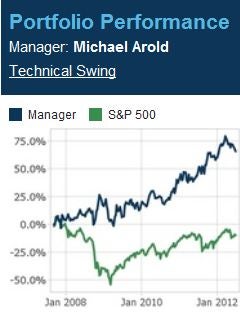 Cautious on Chipotle
A drop below $390, and Arold says he plans to sell the Chipotle stake he took this week at around $416. And he might just short it.
"It's had a nice consolidation in recent weeks and is outperforming the S&P 500: Unfortunately the stock just took an unexpected hit," he says.
Chipotle shares are down as much as 5% today, amid fresh concerns about slower growth; analysts at ITG expect same-store sales growth of 7 to 8 % in the second quarter, down from 12.7% last quarter and 10% in year-ago period. Maintaining growth rates is critical to keeping the stock chart up and to the right, with the stock trading at more than 35 times foward earnings. So, too, Arold says, is keeping within its trading range -- which is why the $390 price is critical support.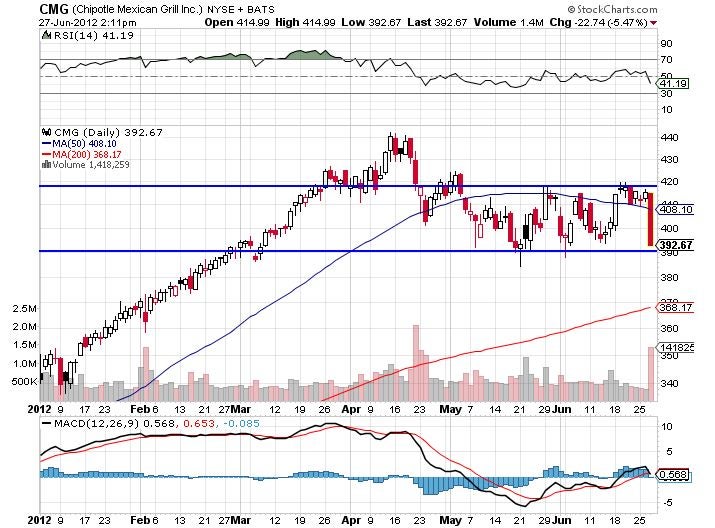 Source: StockCharts.com
 
Morgan Stanley's Mess
Arold is now shorting Morgan Stanley shares, and his rationale is simple, if not traditional.
"It's purely a technical trade," he says. "This stock led its group to the downside in April and May, then bounced from support around $13. Then after a period of consolidation, it broke down Monday from its rising-wedge pattern, so I shorted it. I went in at $13.50, with a stop at $14. My risk-reward on the stock heading to $11.50 is a 1-to-4 ratio."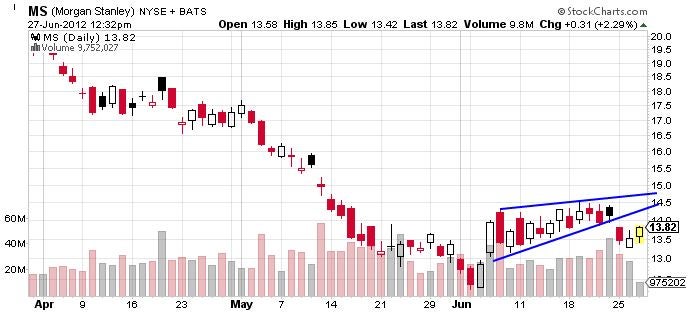 Source: StockCharts.com

Morgan Stanley would be considered a contrarian buy at this point by many as the company's bad news continues. The investment bank's debt was downgraded two notches by Moody's last week, partly due to its exposure to Europe's sovereign debt problems. Goldman Sachs equity analysts came out negative on the stock this week, dropping MS shares to a "hold" from a "buy"; analysts are worried that the debt downgrade could hamper Morgan Stanley's trading profits.
There also is the threat that investment clients could leave due to the debt down grade, added analysts at International Strategy & Investment Group. Morgan Stanley is now one of the only big banks trading at less than half its book value, or based on the assets on its balance sheet. Only Bank of America (NYSE: BAC) is worse among the largest U.S. names. But on this one, Arold isn't going to fight the tape.
As the saying goes, the trend is your friend. And he thinks it will trend even lower.
Start Covesting with as little as $30,000. We mirror the actions of our managers in your account. Talk to us. We can help you find a great investment model that matches your goals.
Covestor Ltd. is a registered investment advisor. Covestor licenses investment strategies from its Model Managers to establish investment models. The commentary here is provided as general and impersonal information and should not be construed as recommendations or advice. Information from Model Managers and third-party sources deemed to be reliable but not guaranteed. Past performance is no guarantee of future results. Transaction histories for Covestor models available upon request. Additional important disclosures available at http://site.covestor.com/help/disclosures. For information about Covestor and its services, go tohttp://covestor.com or contact Covestor Client Services at (866) 825-3005, x703.
Posted-In: Financial Advisors Long Ideas Short Ideas Technicals Topics Markets Trading Ideas General
View Comments and Join the Discussion!