Covestor Managers Bite on Apple, Diss Disney
Going for another bite of Apple?
Apple (NASDAQ: AAPL) was among the most common positions that Covestor managers added to in the past 30 days, although bucking that trend was Mike Arold, who closed out of his position completely.


"The stock looks great," Arold says, manager of the Technical Swing model. "It has the relative strength. It has the momentum. But I am concerned about the overall market condition. Because if the market rolls over, Apple gets pulled down as well."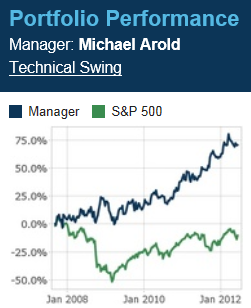 Click the chart for full access to Mike Arold's portfolio and performance.
Read Arold's concerns about this week's Spanish bank bailout, as well as the latest charts that show the risk-on trade has not yet returned.
Much of the Apple excitement revolves around new products. Expectations have been set for its next-great device, an Apple TV set with integrated Siri voice control and built-in FaceTime for video calls.
It's an announcement that some were hoping could come as soon as this week, at Apple's ongoing developer conference, but still seems a few quarters off. Perhaps more.
Down on Disney
Three different Covestor managers sold out of or reduced their stakes in Disney (NYSE: DIS) shares in recent weeks, including Ruben Kuswanto, manager of the Flexible Long-Short model.
"I still like the company, but I thought I could take profit and then buy it back lower." Kuswanto said. "I have not bought on the dip, but I eagerly am waiting for a better entry point."
Disney shares have outperformed the S&P 500 by a factor of four since October, and remain near the middle of its trading range.
The company hit on all cylinders when it reported its April quarter, and was riding high in May on the release of "The Avengers" movie.
However, it looks as though Kuswanto foresaw the point of CaRis analyst David Miller this week: For now, the "easy money", as Miller puts it, has been made.
No safety seen in Wal-Mart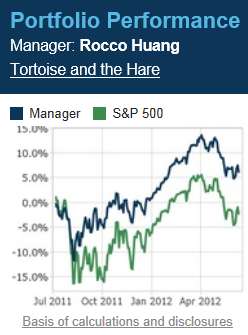 Click the chart for full access to Rocco Huang's portfolio and performance.
Wal-Mart (NYSE: WMT) tends to trade as a safe-haven stock when markets become volatile.
Yet three Covestor managers including Rocco Huang, manager of the Tortoise and the Hare, have reduced or eliminated Wal-Mart altogether in the past month.
Huang has now eliminated what had been a more than a 5% position for him.
"It's become too expensive on both forward and trailing PE," Huang said. "I think Wal-Mart is a great company, but I won't buy again unless there's about a 10% pullback."
Wal-Mart's forward PE of 12.7 is roughly in line with the S&P 500. Yet valuation is near a post-Great Recession high, despite the ongoing bribery scandal and falling gross margins.
The stock may also face resistance at the all-time high in 1999, around $70.
Still hope for Facebook?
The Facebook (NASDAQ: FB) IPO was shunned by all but one Covestor manager on Day One.
Now it is picking up some interest in the sub-$30 range.
Manager Doug Estadt has more than tripled his position in the stock since the opening day, with purchases between $25.85 and $33.82.
Another recent buyer is Kris Tuttle, long-time tech stock analyst and manager of the Soundview Technology portfolio.
Among his reasons for buying Facebook, Tuttle argues that the company's dominant social sharing platform is its main advantage, and one that has yet to be fully leveraged.
He also says that the valuation is now attractive. Based on his intrinsic value estimate, he thinks the stock is worth $50.
"We recognize that the company will have to execute and acquisitions are likely to occur, but so far we are willing to give the management team the benefit of the doubt."
Start Covesting today with as little as $30,000. We mirror the actions of our managers in your account. Talk to us. We can help you find a great investment model that matches your goals.
Covestor Ltd. is a registered investment advisor. Covestor licenses investment strategies from its Model Managers to establish investment models. The commentary here is provided as general and impersonal information and should not be construed as recommendations or advice. Information from Model Managers and third-party sources deemed to be reliable but not guaranteed. Past performance is no guarantee of future results. Transaction histories for Covestor models available upon request. Additional important disclosures available at http://site.covestor.com/help/disclosures. For information about Covestor and its services, go to http://covestor.com or contact Covestor Client Services at (866) 825-3005, x703.
Posted-In: Financial Advisors Long Ideas Short Ideas Technicals Topics IPOs Pre-Market Outlook After-Hours Center Best of Benzinga
View Comments and Join the Discussion!