Facebook's Dirty Little Secret
Corporate SEC documents required by law must include a risk section. Every public company must outline potential risks. Facebook's (NASDAQ: FB) initial public offering (IPO) documents included 23 pages of risk.
Most corporate risk information is boilerplate; it's a competitive environment, there may be unexpected economic impacts on the company etc. Yet FB had some information worth examining.
In general, investing in an IPO is risky at best. After all, the investor is putting her money into an entity with no long term public financial records. How can investor research historical earnings per share, revenue, return on equity, price earnings ratio, book value, debt to equity and other financial metrics? What were the company's growth goals in 2008 and how did they meet them? Who were their major competitors?
There's no 2008 10-K SEC document or annual report to review. Publicly scrutinized and reviewed documentation doesn't prohibit malfeasance, but without it how can the investor be certain of the veracity of any prior corporate information? An IPO lacks a long public history to scrutinize.
As a veteran portfolio manager, one crucial metric to examine when deciding to purchase a stock is diversification of revenue. Imagine if 15-20% of your corporate revenue came from one client or one product. Then carry the scenario a step further and consider the outcome if that client or product goes away.
Look at pharmaceutical companies such as Pfizer (NYSE: PFE). Their blockbuster cholesterol drug, Lipitor, provided 13 billion of annual revenue in better days.
Lipitor went off patent in 2011 and the generics entered the market and ate into Lipitor's profits. The Lipitor market share continues to erode as more generics hit the market. This is great news for the consumer who can buy an approximate drug for a fraction of the cost. It is a financial calamity for Pfizer.
Check out the five year chart for Pfizer.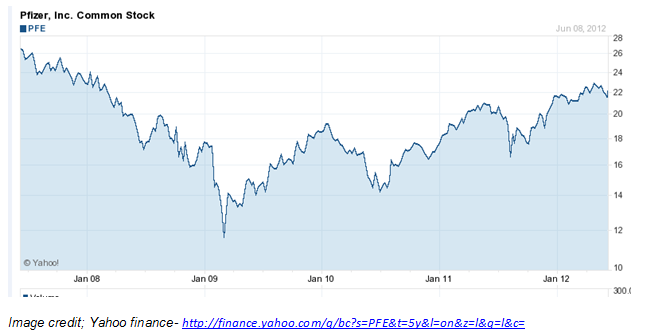 On June 4, 2007, Pfizer's stock price closed at $20.06. Five years later, on June 1, 2012, Pfizer closed at $22.14, a five year price increase of 10.37%.During the five year period, PFE traded as low as $13.13. That's a pitiful return for a risky stock investment.
Facebook is in a completely different industry than Pfizer and they are totally different types of companies. The similarity between the two is that 15 percent of Facebook's revenue is derived from Zynga (NASDAQ: ZNGA) apps and related advertising. For those living in a cave the past few years, Zynga is the developer of the hugely popular social game FarmVille. The problem is that if Zynga's profitability declines, Facebook is in financial trouble.
There's another big "no no" in Facebook's Corporation. It is common knowledge that the best run companies have a diverse and impartial board of directors and stockholders. That way, one individual or stockholder cannot impact the future of a publicly held company or be swayed by conflicts of interest.
CEO Mark Zuckerberg holds 50 percent of Facebook's voting power and holds the dual roles of a board member and corporate officer. Are his corporate interests the same as those of the shareholders? If not, then the shareholder is hurt.
Folks got swept up in the glamour of investing in Facebook as a new and popular social media site. It's risky to invest in an IPO to begin with. The valuation is frothy and the risks are great.
Factor in a market cap of 57.74 billion, earnings per share of $.39, and a price earnings ratio of 69.07 and there's more downside than up in my opinion.
Posted-In: Financial Advisors Psychology Topics IPOs Markets Media Trading Ideas General Best of Benzinga
View Comments and Join the Discussion!