An Alternative To Nursing Homes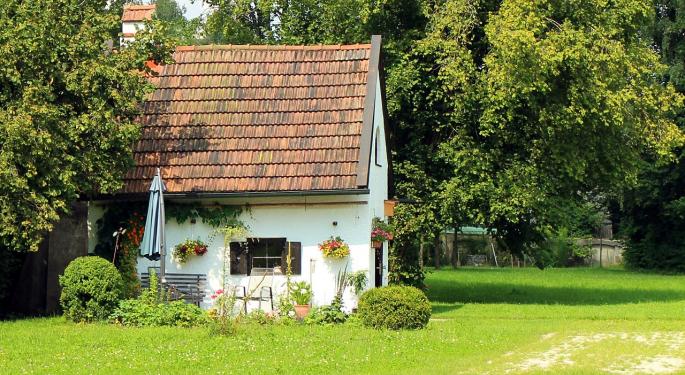 Are you part of the Sandwich generation, squashed between your aging parents who are losing their independence and growing children who are pushing to gain theirs, while struggling to cut the proverbial apron strings? If so, you aren't alone. According to Pew Research, approximately one in eight middle-aged Americans (between 40 and 60 years old) are in this situation.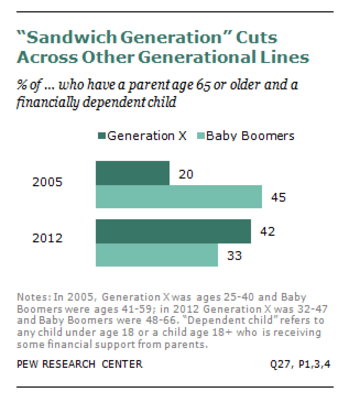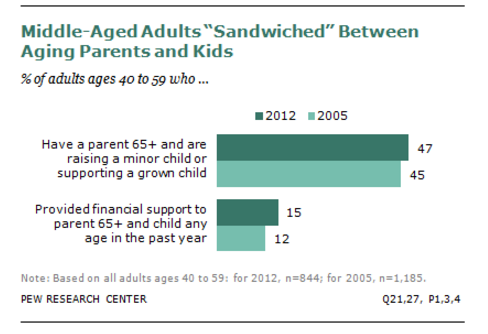 Source: Pew Research Center
While the situation is not new, the economic environment of the early twenty-first century coupled with an increased aging generation and depleting government assistance has created its own unique multigenerational stress. According to Romeo Vitelli, Ph.D., "While balancing the double burden of caring for parents and children at the same time is hardly new, improvements in geriatric care are ensuring that people are living longer. That means that adult children often carry this burden decades longer than their parents or grandparents did."
He continued, "The changing economic climate has also aggravated the problems faced by adult children caring for their parents since their children may require help as well […] Recent surveys show that 29 percent of young adults between the ages of 25 and 34 live with their parents. As a result, it's hardly surprising that members of the 'sandwich generation' feel increasingly squeezed from both directions at once."
Helping Loved Ones Who Are Losing Independence
One of the major causes of stress for seniors and their loved ones is the incremental decrease in independence. While there is a level of predictability regarding what happens as we age, the timeframe is difficult, if not impossible to predict.
Centuries' old traditional options, like multigenerational homes, have gone out of fashion, and as a significant portion of Millennials are "boomeranging" back into their parents' homes, the option of bringing the oldest generation back home becomes even more complicated.
Add to the physical lack of space to house three generations simultaneously, the emotional drain on all parties can be astounding.
Other alternatives such as sending the grandparents to a nursing home or other senior living facility may be economically impossible, or an undesirable choice.
However, there's now a new trend emerging that breaches the concerns of multigenerational care and the older generation's decreasing independence.
MEDCottage: Mini-Homes In Your Backyard
Similar in concept to micro-homes, N2Care's "MEDCottages" are modular homes that are mobile, designed with seniors in mind and are, according to N2Care, "state-of-the art hospital room(s) with remote monitoring available so caregivers and family members have peace of mind knowing they are providing the best possible care."
There are currently three MEDCottage models available, ranging in size from 288 square feet to 605 square feet.
The homes include a bedroom and additional accommodation for caregivers; a handicapped accessible bathroom; a kitchen with small fridge, microwave and medication dispenser; and electric/water hookups.
Additionally, these homes use "smart robotic features," which communicate with caregivers regarding things such as air quality and vitals.
While the homes are expensive, coming in between $39,625 and $61,125, they are comparable, if not less expensive than nursing home fees over the course of their usage lifespan.
Branded as a "trustworthy nursing home alternative," MEDCottages give older generations the independence they desire, while still allowing them to be in close proximity to their family, caregivers and loved ones, without the unfamiliarity of alternative care.
Regardless of how your family decides to deal with multigenerational needs, it is important to be aware of options. Speak with your financial advisor today about ways you can prepare for tomorrow. Seeing loved ones age and in need of more attentive care can be exhausting, physically, financially and emotionally. Know that there is help available and options to fit your specific needs.
Image Credit: Public Domain
Posted-In: Boomerangers MEDCottage millennials N2Care sandwich generationPersonal Finance General Real Estate
View Comments and Join the Discussion!