The Most Popular Financial Resolution For 2015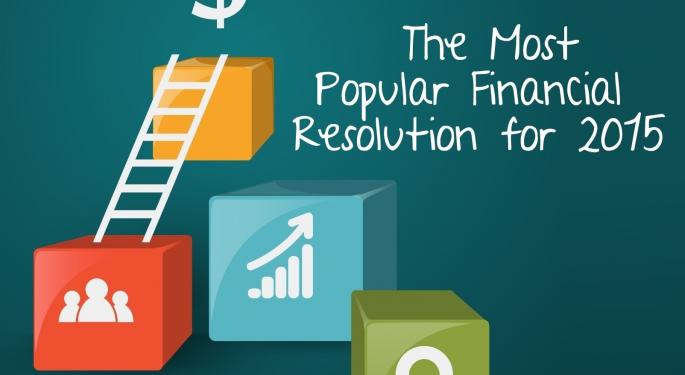 This post is sponsored by GOBankingRates
Although the end of the year can be stressful, it also evokes that natural inclination to look back, reflect, and resolve to make positive changes in the new year. For many, that means getting their finances on track once and for all.
Last year, GOBankingRates conducted a poll asking respondents about their financial resolutions for 2014. Thirty-nine percent said saving money was their biggest financial goal, over paying down debt, investing, getting a raise and building an emergency fund.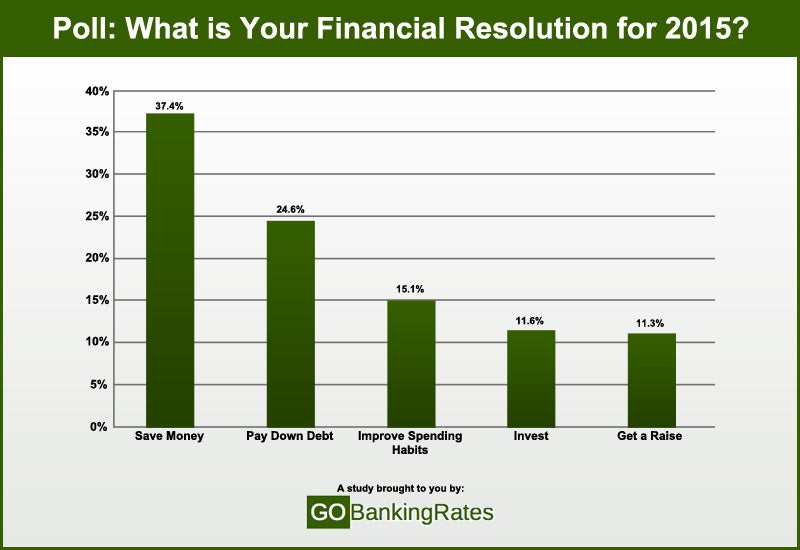 Popular Financial New Year's Resolutions
Money-related resolutions are common; according to Fidelity's annual financial resolutions study, 31 percent of resolutions set this year revolve around money. But it's not surprising money is a prevalent theme — GOBankingRates found in September that more people are scared of being broke than dying.
Who can blame them? Finances are irrevocably tied to our freedom and touch every facet of our lives.
This is the second year we conducted the financial resolutions survey. In last year's poll, 39 percent resolved to save money, 29 percent selected pay down debt, 12 percent answered invest, 11 percent said obtain a raise and 9 percent said they wanted to build an emergency fund.
This year produced largely similar results, though in this year's poll, we included the answer option of "improve spending habits," which had a larger response than building an emergency fund did last year. Interestingly, the only other response that fluctuated was paying down debt, which fell by roughly the same amount this year that improving spending habits increased over building an emergency fund.
Resolutions By Region
Meaghan Murphy, director of thought leadership at Fidelity Investments, revealed to GOBankingRates that savings rates are subject to regional variation. "[On] the coasts, the East Coast and West Coast, the savings rates seem to be higher, which could be understandable given higher salary brackets, higher cost of living … in the southeast, the savings rates were the lowest," said Murphy.
Survey results found that those on the West Coast are least interested in paying down debt while those in the South were most likely to have this financial resolution. Improve spending habits was the top answer for those in the West, showing that while debt might not be as common for West Coasters, a desire to save might motivate them to curtail spending regardless.
Resolutions By Age
Looking at age as a factor, baby boomers were most concerned with improving their spending habits in the coming year, which makes sense, as many boomers are now retired and must adjust to a fixed-income lifestyle. Millennials ages 18 to 24 were most likely to answer that saving money was their top financial resolution, at 51.56 percent, which was 1.3 times higher than the response frequency for millennials ages 25 to 34.
Fidelity also found that millennials as a generation most strongly feel a sense of personal prosperity, with 50 percent saying they are better off financially than they were last year; this generation led the rest in terms of lessening their debt in 2014.
Men Vs. Women
Additionally, we found men were twice as likely as women to say investing was their biggest financial goal for 2015.
Saving Money Continues To Be Top Resolution
The three financial resolutions that garnered the highest response rates in our survey were also the most common in Fidelity's resolutions study this year, with 55 percent of its respondents choosing save more money, 20 percent selecting pay off debt and 17 percent opting to spend less money.
So why is saving money such a focus going into the new year? A simple answer can be found in the recession that the country just recently emerged from. All jobs lost in the recession have been regained as of June, and consumer confidence hit the highest level in November in seven years. The memory of the recession is still fresh, however, as many still struggle with damaged credit and the emotional toll of bankruptcy, job loss and foreclosure.
Saving has become such a priority that it trumps salary, according to GOBankingRates' interview with Murphy. "Forty-three percent actually said that they would prefer a higher employer contribution to their retirement account in exchange for lower compensation," she said.
Not only is saving a priority, but planning for the long-term is taking precedence over big ticket purchases, personal debt and home loans.
"Saving money has traditionally been the top resolution considered for the Fidelity New Year Financial Resolutions survey — and usually, by a wide margin," said Lauren Brouhard, senior vice president of Retirement for Fidelity Investments. "This year, the median commitment to save was an additional $200 a month, which is in line with previous years. For those who identified saving more money as one of their top resolutions, the majority intend to focus their saving on long term objectives, such as retirement, college savings, health care, and long-term care (57 percent), rather than short-term goals, such as credit card debt, mortgage, and big ticket purchases (37 percent)."
With interest rates expected to rise in 2015, those hoping to save money are in luck. However, a rise in interest rates will impede the efforts of those looking to pay down debt, as interest rates on loans and credit cards are expected to rise, as well.
Fidelity found that while financial resolutions were down by 12 percent over last year, 41 percent of respondents feel better about their financial situations this year, representing the highest level of confidence since the annual survey started in 2010 and a 58 percent increase over 2013's results. More than 1 in 3 respondents said they have less debt now than they did a year ago.
Financial Resolutions Poll: Methodology
This poll was conducted via Google Consumer Surveys between the days of Nov. 18, 2014 and Nov. 20, 2014. Insights were gathered from 1,001 respondents.
Photo credit: Freepik
Find out more about Sponsored Posts.
Posted-In: BZ SponsoredPersonal Finance Best of Benzinga