Money Maven Says No Tricks In Finance, Just Practical Financial Security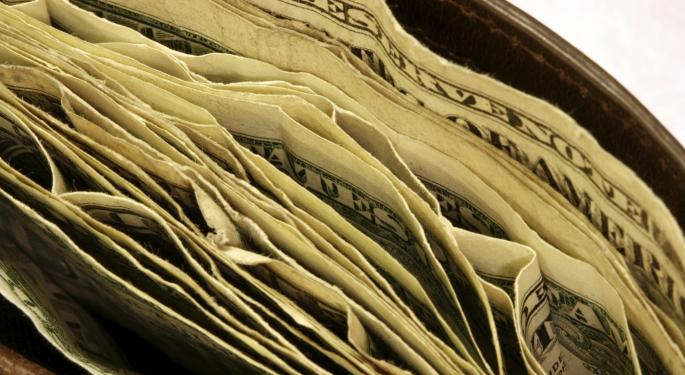 Acclaimed personal finance guru Patrice Washington spoke with Benzinga this week about financial security for the Everyman.
With a genuine demeanor, Washington tries to keeps all things money down to earth, simplified and logically relevant. Emphasizing that wealth has more to do with a mindset than money, Washington stresses that personal empowerment can lead to a healthier relationship with money, a healthier financial personality and an altogether healthier self.
Get Organized First
BZ: I'm a busy wife, mom, homemaker and have a full-time job. I've heard you mention some surefire ways to become financially secure, but I honestly don't think I possibly have time to do all of the things you suggest. Where do I start? What's the most important?
PW: I always say to start with what you can do. Start with what you can implement. Not starting with things that may involve, "Well, my husband and I have to have a meeting first so that we can be on the same page."
Do what you can do that's easiest for you; you can get organized yourself.
Consolidate all of your accounts and have everything in one place. Simplify and consolidate — get organized either electronically or on paper. Just have everything all in one place. Even just that small step will help you feel more in control of your finances.
Related Link: When To Talk With Your Kids About Finances
Wants And Needs Are Different, Can Change Over Time
BZ: You often suggest looking at your budget and attacking frivolous spending patterns first. How should you go about cutting those extra expenses? How do I determine what's trivial luxury (sure, my husband's ESPN account, but my morning lattes that ensure my morning sanity…)?
PW: Here's the thing. Wants and needs are different to all of us in every corner of our lives. My daughter is seven. She wants a cell phone. But, she's seven. She doesn't need a cell phone. But at some point, when she's 17 and driving, then she will get a cell phone. That will be a need. There are different places and different points that we have to define for ourselves.
Personal Finance Is Not Cookie Cutter; It's Up To You How To Save
BZ: My family is financially secure. Both my husband and I had to pay our own way through undergrad and graduate school. Our friends keep urging us to get a 529 Savings plan set up, but we are on the fence. Our parents didn't have one for us — college was our responsibility. But, we want to ensure the future of our children and we have other savings plans in place. Can you help?
PW: Again, it is all an individual decision. I don't look at personal finance at all as being cookie cutter. Personally, even at a time when I was paying down debt, it was important for me to save for my daughter's college. And … it was $25 per month at the time. It's an individual decision.
I don't believe in deprivation, but we need to have discipline in our relationship with money. At some point in your life, different things may become necessary for you to reach the next stage. For me, what I suggest is that there has to be a balance, and it all depends on productivity.
BZ: Can you give an example?
PW: Say you work from home. If you have two hours of dedicated time to work and you go to Starbucks and there you are productive, it's worth that $4 on coffee if the exchange will pay off in the future. If you have two hours of dedicated time to work and you're at home shuffling around moping and doing dishes and doing laundry and trying to work, your productivity decreases.
What once seemed frivolous might change. It might become a need based on where you are in your life. You have to be honest. Be honest with yourself.
Read part two of this interview here.
Posted-In: Money Maven Patrice Washington personal finance Real Money AnswersPersonal Finance Interview General Best of Benzinga
View Comments and Join the Discussion!