When To Talk With Your Kids About Finances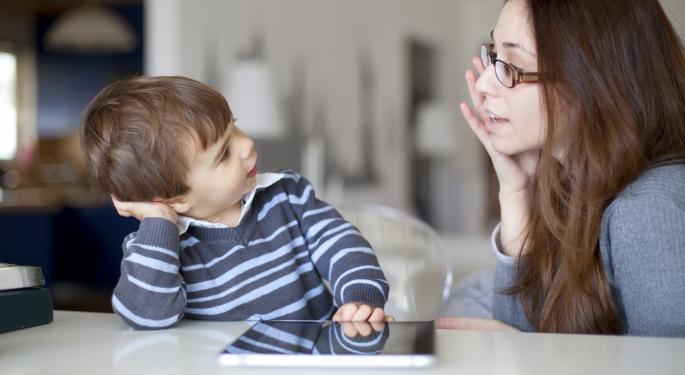 While discussing finances may still be one of the only taboo topics left, there seems to be no debate that it should be a topic frequently discussed with the next generation.
Despite the numerous advice columns and rules about talking dollars and money sense with kids, there seems to be a vague cloud around the when of the equation.
While even the best laid rules recognize that these discussions should not be a one-time event, nor age-inappropriate, little discussion goes into how early is too early to talk about money.
There is clearly no standard age because yes, kids are all different. Not every five year old can grasp concepts equally. There are some clear indicators, though, that can help you decide when to start talking about money with your kids.
Talk Now: Early Childhood
If your child knows the words, start talking about the concept. It might seem too complex, but the earlier they hear the ideas, the more easily the ideas will have meaning. According to childhood psychology expert Nathan Kogan in his book "Cognitive Styles in Infancy and Early Childhood," concepts develop in stages over time.
Related Link: When Is It Okay To Dip Into Your Retirement Funds?
Therefore, it is important to keep talking with your children. Be their source of constant stimuli. Narrate what you are doing financially as you do it.
If you take the time to portray that you are paying the doctor for her help from your child's check-up, or that you are comparing costs of different cereals in the breakfast aisle, your children will pick up on the concept that actions and products have financial facets.
Talk Often: Elementary School Age
Once your child enters school, they will be surrounded by countless other information sponges (other kids). Their knowledge base will explode. Without even being aware of it, your children will go from knowing practically nothing about a topic to becoming mini-experts. Do not underestimate them.
According to Jeanne W. Lepper in her Educational Philosophy blog for Stanford University, "Children learn from their peers. When children play with siblings and friends, they learn from each other. As questions, challenges, and conflicts arise, they learn how to solve problems."
Your child's experience at school is brimming with many other openly talkative children.
One of the only ways to keep up with what your child is learning daily is to talk daily. Engage and gage what they have learned and build off what they have to offer.
Talk Honestly: Pre-Teenage Years
Learn about your child. Learn from your child. At this stage in your child's life, they are developing a sense of self. This sense of self is formed in part through comparisons.
A Smart About Money article clarifies, "Preteens often are pressured by their peers to keep up with the latest and greatest. Use this opportunity to be a strong role model and demonstrate for your child how to make smart spending decisions."
Related Link: What 20-Somethings Need To Know About Retirement & Social Security
You can be a point of comparison that contrasts their peers. Be open about financial mistakes you made as a young adult that you wish you could have been warned about. Share with your pre-teen your household budget and what is involved in your family financial decision making process.
Keep Talking: Teen Years And Beyond
Whether you have been talking with your child since their toddlerhood, began discussing finances via an allowance in middle school, or have not been very open up to this point, talk now.
Regardless of your child's age, you have a plethora of knowledge and experience they cannot rival. Dan Kadlec elaborated in a Time magazine piece, "Your kids will never catch up to you in terms of experience and context. You'll always have something to offer -– if they are willing to listen."
Although there is still no solid answer to the question of when you should be talking about finances with your children, ideally you recognize that "any time" is an appropriate answer. It might seem evasive. It might seem ambiguous. It is, however, worth your attention and consideration.
Your children are never too young to hear you talk about finances. Their level of comprehension changes as they change. If you keep the lines of communication open with your children, you can avoid money being a taboo topic.
Try to change your perspective on "the talk" and let the conversation mature as your children mature. Do not partition financial discussions to allotted times or spaces; let the topic of money naturally blossom through the conversations you already have with your kids.
Posted-In: Personal Finance Best of Benzinga
View Comments and Join the Discussion!