Betting On Wine: An Alternative Investment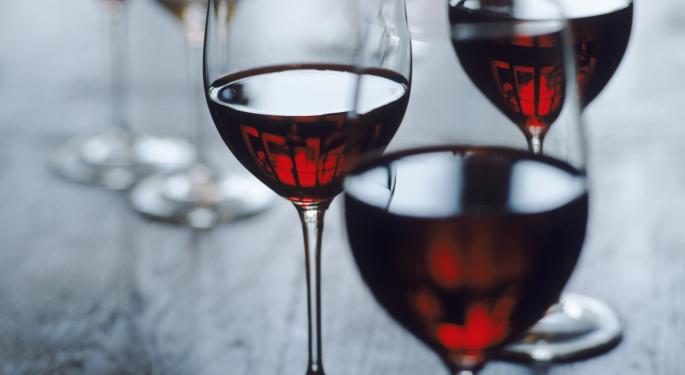 Consider yourself a wine connoisseur?
If you do, it can be a tempting investment. Over the last decade, the price for wines produced in the Bordeaux region in France has reached astronomical levels.
The Bordeaux region, famous for its Cabernet Sauvignon and Merlot, has seen its wine return as much as 16.9%within a ten-year period.
Much of this is due to rising wealth in China, where fine wine has become a sort of status symbol.
In fact, the Chinese were buying so much Bordeaux that they surpassed the US in 2009 as the largest non-European export market, according to the Wall Street Journal.
So Why Isn't Everyone Investing In Wine?

Of course, there are some points to consider before pursuing your aspirations in the wine industry. For one, returns like these are more the exception than the rule.
Elroy Dimson, Peter Rousseau and Christophe Spaenjers published a recent study called ThePriceofWine. In it, they estimated the long-term (1900 to 2012) annualized rate of return on Bordeaux wines was 4.1%, net of inflation, storage and insurance costs. Meanwhile, over that same period, equities have offered superior returns.
But perhaps most important is the fact that wine is a physical asset. Unlike stocks, bonds and other liquid investments, most purchasers of wine take physical delivery of the bottles. And once you take possession, the wine needs to be properly stored in a temperature controlled environment.
This means you need a cellar or storage device, or at least a third party location that rents storage space. And of course, you would want insurance against damage or theft. The monetary cost of these factors was included the study's 4.1% long-term return, but transaction costs were not. There are a number of online trading platforms and auctions, but fees still range from 10% to 30% of the selling price. This is a significant drag on performance.
There are also non-monetary factors to consider, like time and effort. Buying and selling wine means you have to get to and from locations that sell, pack and ship wine. This is a much bigger hassle than sitting at your home computer and entering an order to buy 10 shares of Google. Like other investments, you also need to do your research.
Not all vintages and producers are created the same, so they will not appreciate at the same rate. Some will even decline. A couple of recent vintages serve as prime examples. Characterized by almost perfect weather, 2009 was considered one of the best years on record for French Bordeaux. As such, it commanded some of the highest prices ever in the futures market.
A 2009 Lafite Rothschild, for instance, was selling for over $1,900 a bottle at certain retailers in 2010. However, according to Bloomberg, prices have already pulled back by more than 50% as demand from China waned over the last few years.
How Would Wine Fit In Your Portfolio?
In the end, wine has the potential to enhance your investment portfolio, but with some very important considerations. Wine sales are predominantly driven by rising wealth, and wealth increases as the stock market rises. So when it comes to diversification, wine is probably not the best counterweight to a portfolio of stocks.
There is, however, some potential return enhancement. While the inflation-adjusted historical return on wine is lower than equities, it is still higher than bonds. So trading a small amount of bonds for wine could make sense, as long as it didn't substantially increase your risk.
But again, other monetary and non-monetary factors need to be considered, like transaction costs, and the time and effort of dealing with a perishable physical asset.
The preceding article is from one of our external contributors. It does not represent the opinion of Benzinga and has not been edited.
Posted-In: Personal Finance Best of Benzinga
View Comments and Join the Discussion!