New Data Show College Still The Best Path To Financial Stability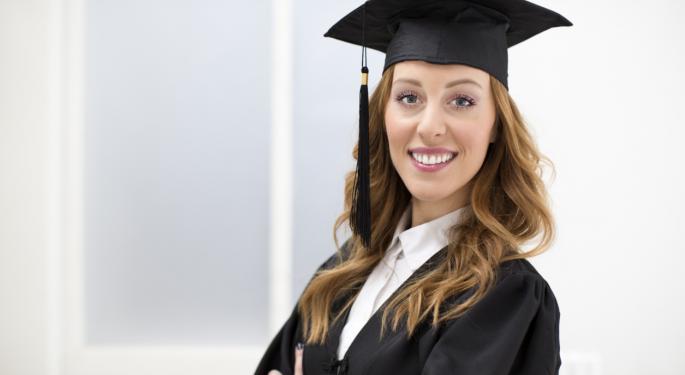 College tuition is skyrocketing, unemployment is still over six percent and if you ask enough people you'll find plenty with college degrees and still unemployed. Facts like these have led parents and students to ask if college is still a sound investment.
The Federal Reserve Bank of San Francisco released a report titled, "Is It Still Worth Going to College?" Authors Mary C. Daly and Leila Bengali found the answer to be a clear "yes."
Earn More
First, the authors looked at the college earnings premium—the difference in earnings between a person with and a person without a college degree.
In 2011, the latest data available, the premium was $20,050—61 percent higher than people with only a high school diploma. The premium was lowest in 1980 when the gap was $15,570—43 percent higher.
See Also: Does Home Automation Really Save You Money?
From 1968 to 2011 the average premium was $20,300. Even students who went to college but didn't earn a degree saw a slight increase in wages, although the report isn't specific on numbers.
But an average doesn't take into account changes in the economy and the job market. The value of a college degree gained in the 1970s could be different than one earned only a few years ago. Maybe the average over 46 years is still higher, but new graduates are at a disadvantage.
Not true, says the report. The authors broke the data into three cohorts separated by date. The report found that the earnings premium is larger for those who graduated more recently.
Nearly Two Decades To Break-Even, But Lots More Money Thereafter
A popular argument among the "college isn't worth it" crowd is that you have to factor in the cost of gaining the degree including the loss in earnings you experience while in college.
The authors found that the break-even point is around age 38. To simplify, factoring in all associated costs of college, those graduates start to out earn those without a college degree at age 38. Over time, this meant that, on average, a college degree earns you about $830,800 more throughout your career than without.
Does that mean that everybody should go to college? There will always be the statistical outliers—the person who started a company out of high school and later sold it for millions. There will be the people who inherit a profitable business or find their career calling in something that makes them happier than the sight of a huge paycheck.
But for most people, college is still the path to financial security despite what you might have read elsewhere—at least if you believe the Federal Reserve Bank of San Francisco.
Posted-In: college Federal ReservePersonal Finance Best of Benzinga
View Comments and Join the Discussion!