Will Potential Debt Ceiling Crisis Add To Market Volatility?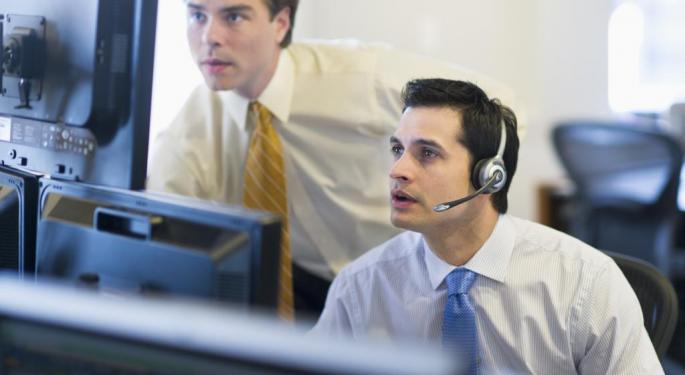 Cracks in the global economic picture. A Federal Reserve juggling interest rate timing. And don't look now—the budget and debt issues that hobbled Washington and Wall Street a few years ago could return.
For market participants, how the U.S. handles near-term budget issues and longer-term debt-ceiling challenges could factor into already high-volatility trading. The debt stress could drive U.S. market interest rates higher at a faster clip than the gentle tweaks a go-slow Fed is hoping for. The fallout for stocks, bonds, and commodities? Not yet clear.
For now, a patch may be in the works. The Senate on Monday passed a procedural vote to extend federal agency funding levels until December 11 as Congress moved to avoid a government shutdown on Thursday, when the new fiscal year starts. The Senate is now set to vote on the stop-gap spending bill by Wednesday and should it pass, will send the measure to the House.
History Repeating?
Although the debt ceiling required attention as recently as 2013, an examination of the 2011 impasse may be worth looking at. Then, as now, concern over economic growth already had consumers on edge—Washington wrangling just piled on. Figure 1 captures the drop in one measure of consumer confidence during the 2011 budget crisis.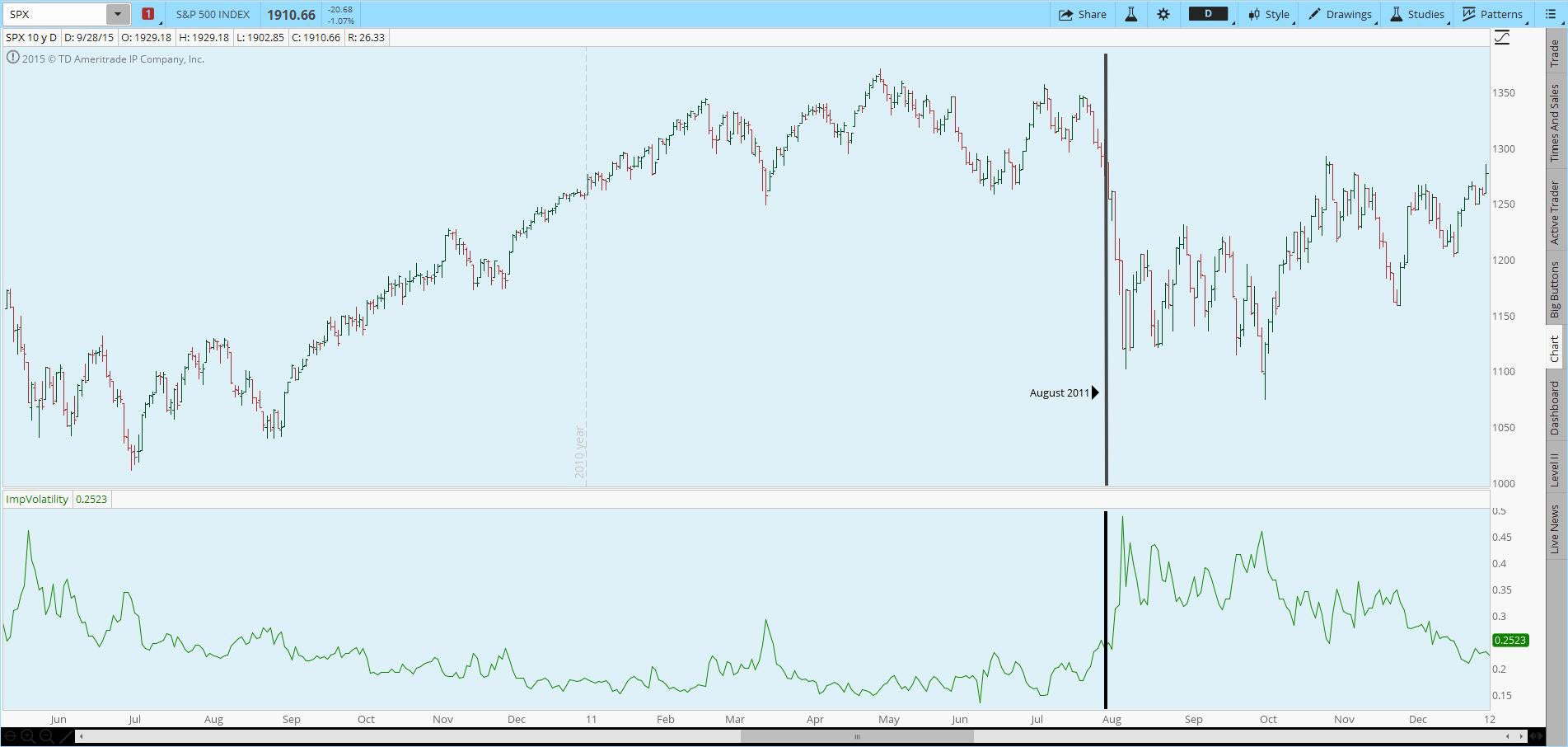 There was a lot going on in 2011 as lawmakers huddled for the hard budget work. For starters, Standard & Poor's downgraded the U.S. debt rating and slapped on a negative outlook. A downgrade to what was considered to be the safe haven asset worldwide roiled credit markets, increasing the cost of borrowing for everything from mortgages to local, state, and sovereign debt. Overseas, Europe was having its own issues as a variety of euro-zone members were struggling to protect their credit ratings. The now all-too-familiar Greek debt crisis, and the risk of contagion to other European Union countries, remained a pesky issue, too.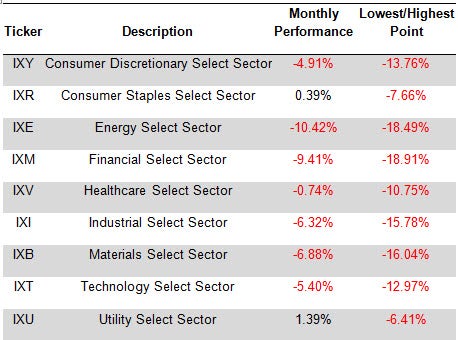 Even as that stock slide (figure 2) took along many passengers, some stock sectors fared better than others. It would appear that the sectors most sensitive to healthy credit markets, including financials, energy, and high-growth technology, bore the brunt of the market selloff (figure 3). Perhaps investors felt comfortable being in sectors that were perceived to have reliable cash flows (people won't stop buying toothpaste or paying electric bills).
Health care (IXV) was generally resilient, closing out August 2011 down 0.74%, but it did hit a double-digit percentage drop, at one point down 10.75%.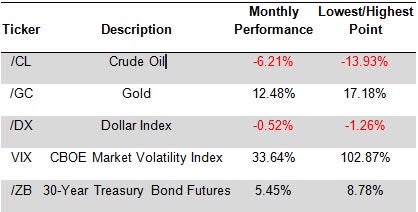 Volatility shows up in many forms. Although equities generally moved in one direction (down), commodities were much more interesting during that 2011 debt crisis. Crude oil (/CL) finished August down 6.21%, while gold (/GC) moved higher 12.48%.
The dollar (/DX) was relatively flat despite bonds, as measured by the 30-year Treasury futures contract (/ZB), rising 5.45% (figure 4).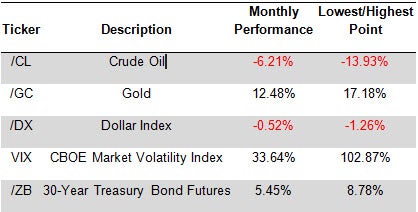 Current Climate Fast forward to present: anyone with memory capacity back just a few weeks will recall a new batch of issues has surfaced. Chief among them are China's sketchy economic performance and a broad-based commodities washout.
These issues came to a head in August as equity markets began to sell off and volatility spiked. Investors are becoming increasingly concerned about global growth prospects alongside Fed interest rate timing—and now, budget uncertainty—but some sense of controlled anxiety has returned. At least volatility readings look to have established a new range. Although briefly spiking above 50 on August 24, the CBOE Volatility Index (VIX), a measure of broad-market sentiment, has more recently moved in the 25-30 range.
For comparison, the sell-off in global equities in August of 2011 spiked the VIX into the 30-45 range; at one point during that month the VIX was up 102%. As we move into October, Washington D.C. may be the center of our trading universe (let's hope not). Treasury Secretary Jack Lew warned lawmakers in a recent visit to Capitol Hill that unless the debt ceiling is raised, the Treasury will not be able to fund the federal government much later than the end of October.
Investors are also starting to wonder what all this volatility means for any potential Fed decision to move on rates. There are a growing number of traders who believes the Fed will not be able to move on rates in 2015 even though Janet Yellen herself indicated a move is still on the table. Sustained strength in the U.S. economy, along with stabilization of foreign economic activity, could provide markets with firmer footing. Just how much a potential debt crisis might chip away at that stability—if at all—is yet to be seen. Market volatility, volume, and system availability may delay account access and trade executions. Past performance of a security or strategy does not guarantee future results or success.
Options are not suitable for all investors as the special risks inherent to options trading may expose investors to potentially rapid and substantial losses.
Options trading subject to TD Ameritrade review and approval. Please read Characteristics and Risks of Standardized Options before investing in options. Supporting documentation for any claims, comparisons, statistics, or other technical data will be supplied upon request. The information is not intended to be investment advice or construed as a recommendation or endorsement of any particular investment or investment strategy, and is for illustrative purposes only.
Be sure to understand all risks involved with each strategy, including commission costs, before attempting to place any trade. Clients must consider all relevant risk factors, including their own personal financial situations, before trading. TD Ameritrade, Inc., member FINRA/SIPC. TD Ameritrade is a trademark jointly owned by TD Ameritrade IP Company, Inc. and The Toronto-Dominion Bank. © 2015 TD Ameritrade IP Company, Inc. All rights reserved. Used with permission.
Posted-In: Previews Politics Opinion Trading Ideas General
View Comments and Join the Discussion!