Shaky Legs Across Markets To Wrap Week Even As China Props Up Equities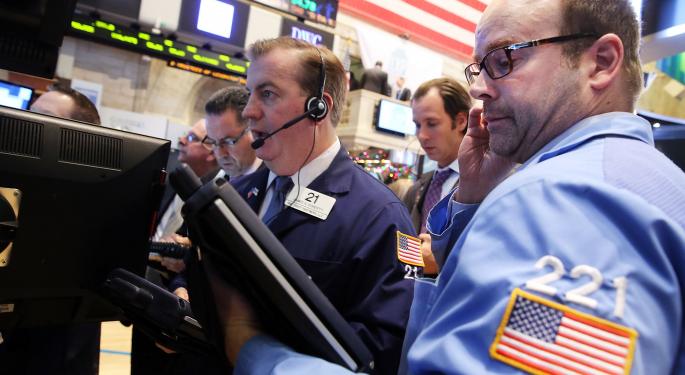 A propped-up Chinese stock market logged a second day of gains but the action may not be enough to soothe jittery investors across major markets, especially with the Federal Reserve powers gathering at a fortuitous time (although they may not see it that way).
It's not surprising that Friday stirs a fresh round of pre-weekend nerves, and Monday could be just as volatile as participants look ahead to important job-market data and continue to assess what's next for the U.S. economy and interest rate policy.
Aggressive risk-off selling on Monday and Tuesday gave way to a rush to buy on Wednesday and Thursday, leaving the technology-studded NASDAQ Composite with a fighting chance for weekly gains. This week's action does leave the Dow Jones Industrial Average ($DJI) and the broader S&P 500 (SPX) at a deficit for the year.
These market drivers could persist as China struggles to right the ship. China's markets, of course, triggered global reverberations with a five-session crash, and subsequent bounces, starting last Thursday. Chinese shares rallied for a second day Friday and the yuan gained the most since April on speculation authorities stepped in again to shore up equities. The Shanghai Composite index closed Friday up nearly 5%, paring its loss for the week to just over 10%.
Against the changed backdrop, we need to get used to a new normal for volatility and remain nimble. A six-month-long trading range got pretty comfy for many (figures 1 and 2). The establishment of a new range won't likely take shape without major tests in both directions.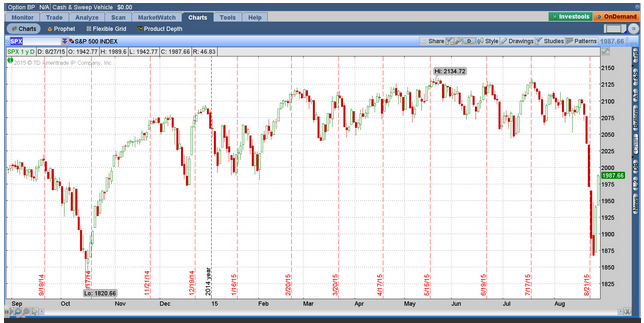 FIGURE 1: FORMING A NEW RANGE? The S&P 500 (SPX) snapped a string of six losses with back-to-back gains but is now negative for the year. Data source: Standard & Poor's. Chart source: TD Ameritrade's thinkorswim® platform. For illustrative purposes only. Past performance does not guarantee future results.

FIGURE 2: WATCH VIX. The CBOE Volatility Index (VIX) tickled 50-plus earlier this week, its highest level in nearly seven years. The "fear index" moved back below 30 as the broader stock market rallied, but remains well off the sub-11 reading scored a few short weeks ago. Data source: CBOE. Chart source: TD Ameritrade's thinkorswim® platform. For illustrative purposes only. Past performance does not guarantee future results.
Weekend Newsmakers?
Traders remain hungry for interest rates clues as Federal Reserve officials this week appeared to back off from a fondness for a September rate hike. This weekend marks the annual Jackson Hole, Wyoming, gathering of the Fed powers.
The event has been known to produce a few market-moving headlines in the past. But notably, Fed chief Janet Yellen isn't making the Wyoming pilgrimage this year. The retreat's theme? "Inflation Dynamics and Monetary Policy."
But surely speakers could touch on China's devalued currency, the collapse in oil prices, and recent stock market turmoil, right?
Oil Down, Eyeing Weekly Gain
Crude oil prices eased Friday but were on track for a sizable weekly advance after notching their biggest one-day gain in more than five years in the prior session. On the New York Mercantile Exchange, crude futures for October delivery traded hands near $42.28 a barrel.
October Brent was near $47.19 a barrel in London. NYMEX crude, trading at multiyear lows, is on pace for a weekly climb of 4.5%, while Brent is up 3.8%. On Thursday, crude prices soared some 10%, the largest one-day percentage gain since March 2009 for NYMEX; it was the biggest rise since December 2008 for Brent crude.
Say It: Capitulation
Stock funds lost $29.5 billion in one week through Wednesday, according to a Bank of America/Merrill Lynch calculation, with other industry trackers revealing a similar exodus. That's the largest weekly outflow since BofA began recording this data in 2002.
Such a run-from-risk scurry—also called capitulation—typically forms at least a short-term bottom. Some industry watchers speculate that's what happened to produce the dramatic bounce from the Monday-Tuesday selloff to the Wednesday-Thursday rebound.
BofA noted capitulation last week across emerging markets, commodities, and energy-linked stocks in the lead-up to this week's broader market shakeout.
Good trading,
JJ
@TDAJJKinahan
This piece was originally posted here by JJ Kinahan on August 28, 2015.
TD Ameritrade, Inc., member FINRA/SIPC. Commentary provided for educational purposes only. Past performance of a security, strategy, or index is no guarantee of future results or investment success. Inclusion of specific security names in this commentary does not constitute a recommendation from TD Ameritrade to buy, sell, or hold.
Options involve risks and are not suitable for all investors. Please read Characteristics and Risks of Standardized Options before investing. Supporting documentation for any claims, comparison, statistics, or other technical data will be supplied upon request.
The information is not intended to be investment advice and is for illustrative purposes only. Be sure to understand all risks involved with each strategy, including commission costs, before attempting to place any trade. Clients must consider all relevant risk factors, including their own personal financial situations, before trading.
Posted-In: JJ Kinahan The Ticker TapeOpinion Economics Markets Best of Benzinga
View Comments and Join the Discussion!