Exxon, Chevron Prep Street For Ugly Earnings With Nixed Projects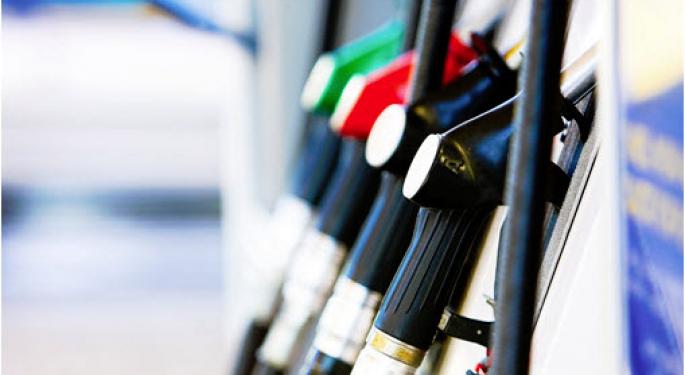 There's little question that when Exxon Mobil (NYSE: XOM) and Chevron (NYSE: CVX) report earnings before the market opens Friday they won't be pretty. The 45% falloff in oil prices has sucked producers' sales and profits, and has led to a massive pullback in production throughout the energy industry amid a global supply glut.
This shrinkage is not only hurting top and bottom lines it's threatening dividend payments to shareholders.
BP Plc (NYSE: BP)'s results earlier this week provided a potentially dismal harbinger when it missed projections and put itself on a deeper cost-cutting path. "The external environment remains challenging," Chief Executive Bob Dudley told analysts on the conference call. On Wednesday, overseas rival Shell announced it could cut as many as 6,500 staff and direct contractor posts and would dump more assets.
Big Difference In One Year
For the quarter, Exxon Mobil is forecast to report a profit of $1.09 on revenues of $72.48 billion, according to Thomson Reuters, compared with the year-ago results of $2.05 a share on revenues of $111.65 billion.
Thomson Reuters-surveyed analysts are looking for Chevron to report per-share earnings of $1.12 on revenues of $30.91 billion. A year ago, Chevron made $2.98 a share and revenues of $57.94 billion.
Click here for more info on earnings updates.
Chevron didn't wait till Friday to deliver a chunk of bad news. On Tuesday, the company pulled the plug on some 1,500 jobs—a move it said will shave $1 billion in costs. Analysts fully expect the two to announce other major retractions in spending in new production and investments. Industry consultant Wood Mackenzie estimated this week that oil companies have scratched or postponed $200 billion worth of projects since the middle of last year.
52-Week Lows This Week
Obviously, all this has battered their stocks. The two closed at 52-week lows on Monday before a slight rally in energy stocks was seen the rest of the week, probably prompted by bottom fishing and short covering. Some traders use these shares as a synthetic way to play the oil market. As crude stabilizes, they'll likely buy these stocks rather than buying the futures. Exxon Mobil is the eighth most shorted stocks among the Dow components, according to Dividend Channel's analysis of NASDAQ's mid-July short-interest data.
Before the advances this week, Exxon Mobil's stock had shed 23%, while Chevron's stock had erased 32% at its 52-week trough of $89.14.
Short-term options traders don't appear to be pricing in a significant move in the underlying XOM shares, just below 2% in either direction around the earnings release. Implied volatility in these shares is at the low end of the range, in the 32nd percentile.
CVX invites a bit more volatility, trading in the 40th percentile. Short-term options traders are pricing in a 2.25% move in either direction for the stock around the earnings release.
Click here for more info on earnings updates.
Over the last week, we've seen buying in CVX's weekly 93½ calls and the weekly 90 puts, which indicates that people may be playing for a move up through 93½ or looking for a degree of short-term protection at that level.
Known To Beat
If there's a silver lining on any of this, it's that Exxon Mobil, the largest oil producer on the globe, is considered the staunchest in a sea of weaklings, according to a majority of analyst ratings coverage. XOM results blew away expectations in Q1 even after its profit plunged 46%, thanks in part to strength in its other businesses.
This piece was originally posted here by JJ Kinahan on July 30, 2015.
TD Ameritrade, Inc., member FINRA/SIPC. Commentary provided for educational purposes only. Past performance of a security, strategy, or index is no guarantee of future results or investment success. Inclusion of specific security names in this commentary does not constitute a recommendation from TD Ameritrade to buy, sell, or hold.
Options involve risks and are not suitable for all investors. Please read Characteristics and Risks of Standardized Options before investing. Supporting documentation for any claims, comparison, statistics, or other technical data will be supplied upon request.
The information is not intended to be investment advice and is for illustrative purposes only. Be sure to understand all risks involved with each strategy, including commission costs, before attempting to place any trade. Clients must consider all relevant risk factors, including their own personal financial situations, before trading.
View Comments and Join the Discussion!
Posted-In: JJ KinahanPreviews Opinion Economics Trading Ideas Best of Benzinga