Options Outlook: Market In 'Headline' And 'Sentiment' Mode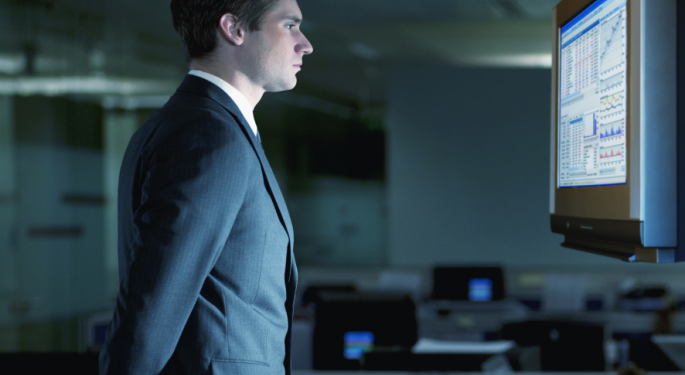 Scoreboard: Last week ended on a sour note for the bulls after much promise. It's only fair though since much of the exuberance came from questionable rumors of Greek deals. Headlines are harmful to traders since they can ruin the homework. Once a headline comes out, the price action depends solely on the headline at hand regardless of its validity or sustainability.
So, the market switches to 'HEADLINE" mode, in addition to "SENTIMENT" mode. What's the difference? Market ranges derived from homework lose importance as they can get blown out by a headline. So traders make more room for error or trade smaller.
The causes for the malaise are not new; Greek woes are years old and just four months ago traders knew that the country metaphorically kicked the can until now. At present, the headlines are in the ticker tape, so traders react. The blinders came off and traders did not like what they saw.
Focus points for the week continue to be 1) Currency, 2) Apple Inc. (NASDAQ: AAPL) (Still stuck at 132 resistance), 3) Small caps (have the opportunity to break out, and 4) Financials. It's also worth it to be cautious about oil. Friday, it spiked +4 percent higher and now sits at possible technical breakout level to add another 5 percent fast. It's possible higher oil means lower some important sectors like the transports (which are already in trouble).
Bears Lazy, Bulls Shy
Ranges played out again within expectations with regard to open interest and trends, indicating the "stalemate" continues, as bulls are too shy to breakout. The markets are still in the neutral zone, where bulls and bears are free to roam. They have support below and resistance above -- that's why Iron Condors are a decent way to generate income.
SPDR S&P 500 ETF Trust (NYSE: SPY): Range tightening but nearing the bottom end rather than upper end of longer range trading. Bulls are being too shy breaking out.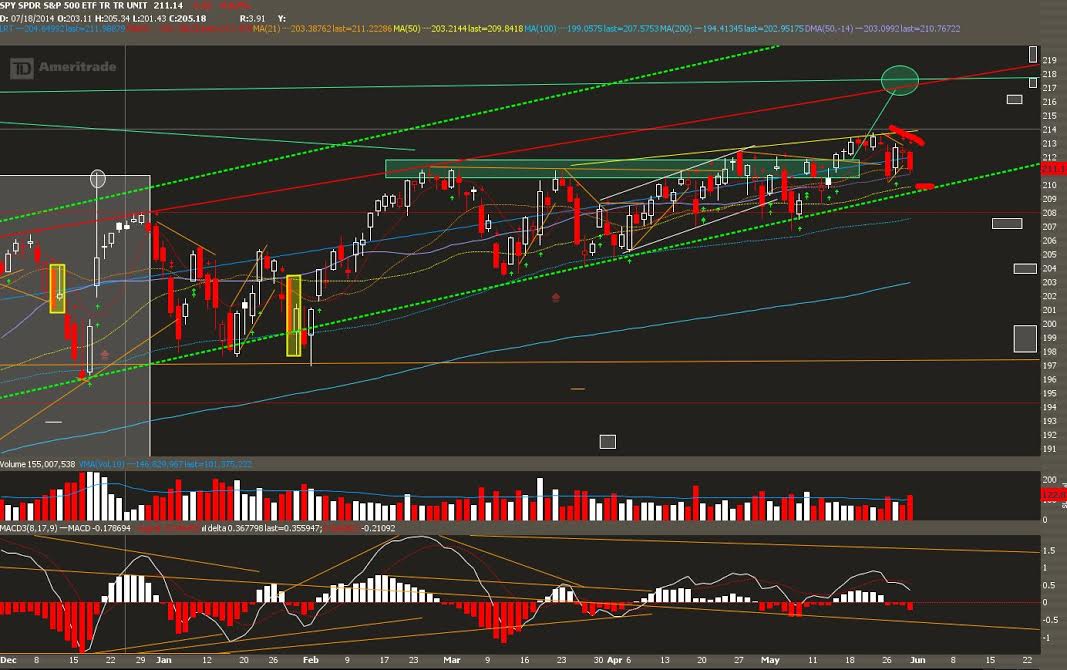 PowerShares QQQ Trust, Series 1 (ETF) (NASDAQ: QQQ): Range is extremely tight and move coming at the vertical crayon line. The Qs are still healthiest of the three with regards to the six month range. Now, it is possible that a rumor can fuel the move and not fundamentals. This makes the direction of the move more of a coin flip than fundamentally based.
iShares Russell 2000 Index (ETF) (NYSE: IWM): Markets still fighting of the "X" mark on chart. Outcome could be heavily influenced by rumors early in the week then economic data later in the week. Optimism is waning.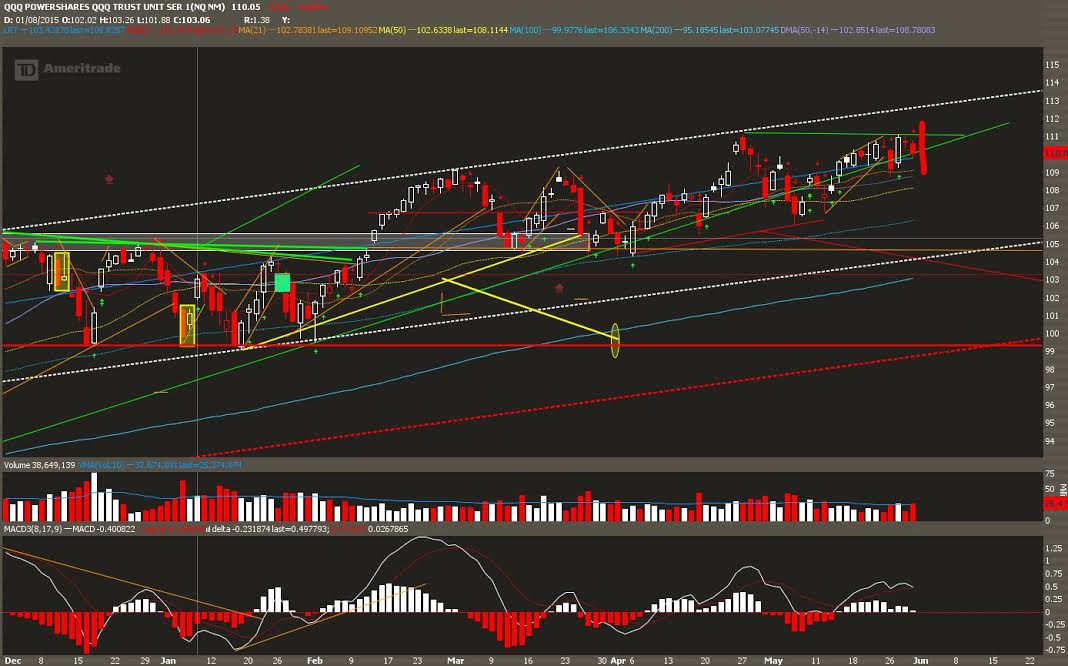 iShares Dow Jones Transport. Avg. (ETF) (NYSE: IYT) No let up in the selling pressure. Spells trouble especially with rising oil prices.
VIX: It was too low at 12. Now it's threatening a breakout, which could spell trouble for markets.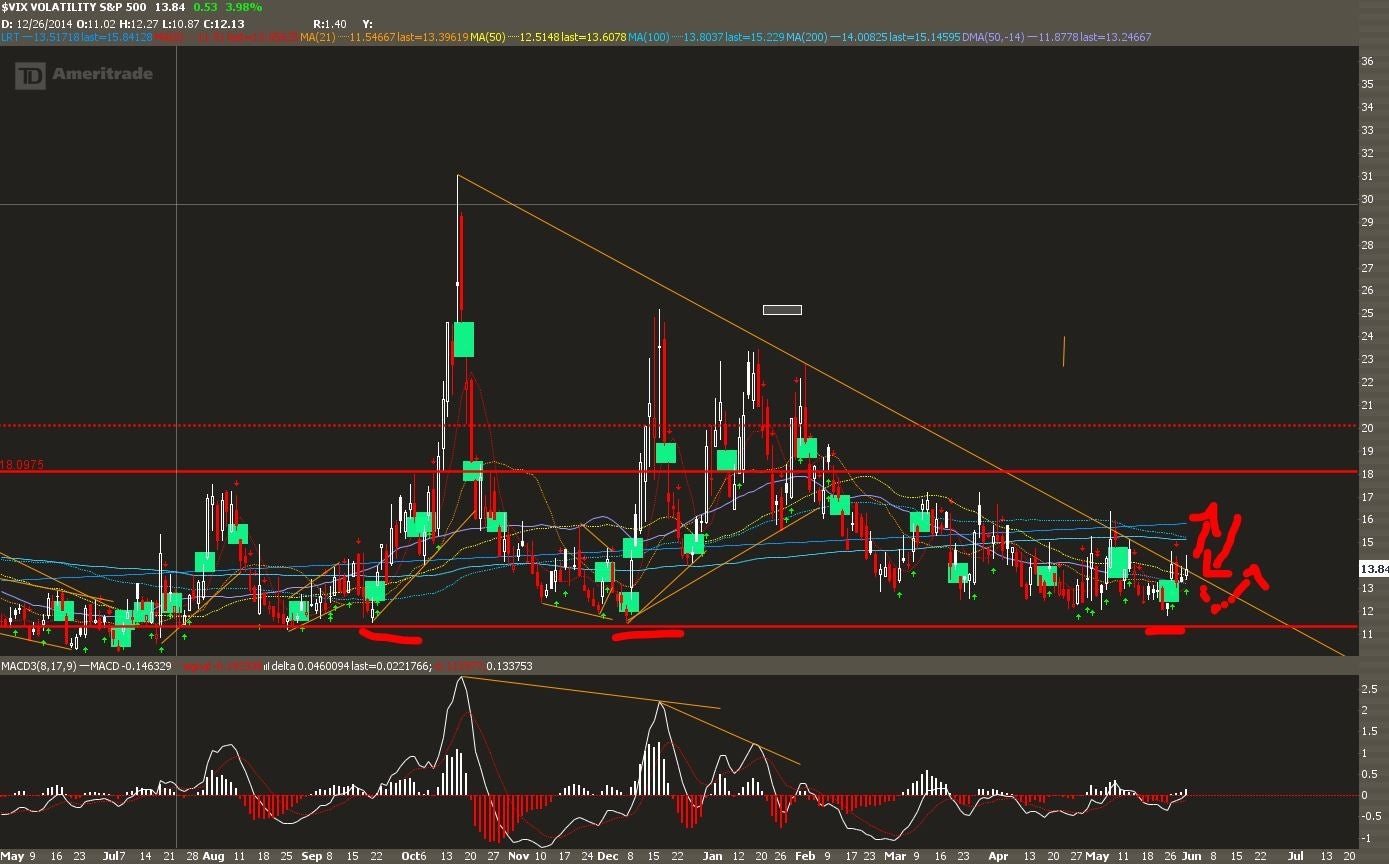 Priceline Group Inc (NASDAQ: PCLN): Possible downside, especially if markets fall.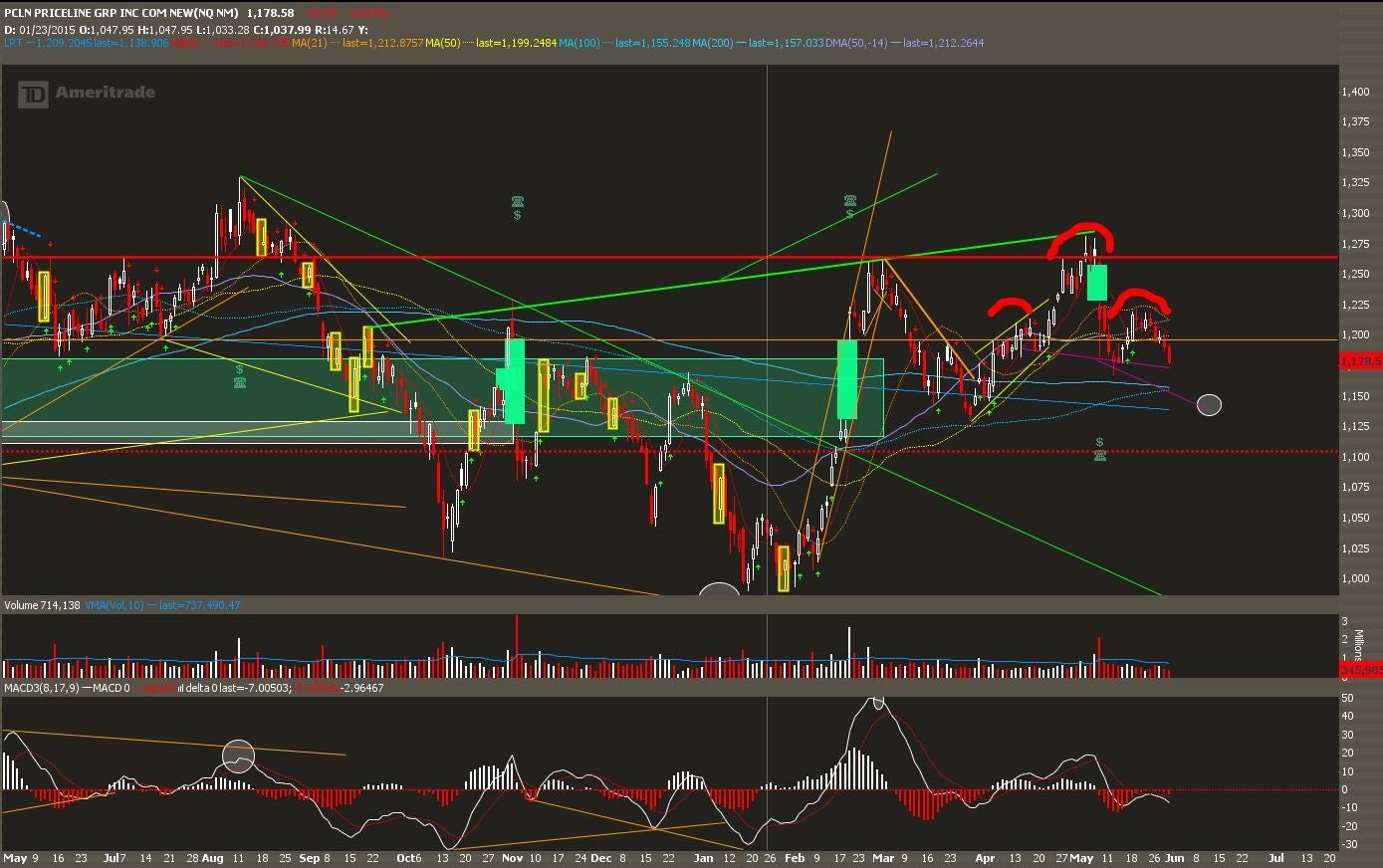 American Airlines Group Inc (NASDAQ: AAL): Better setup; green on a red market day. But it still needs follow through to regain the prior support level (rectangle).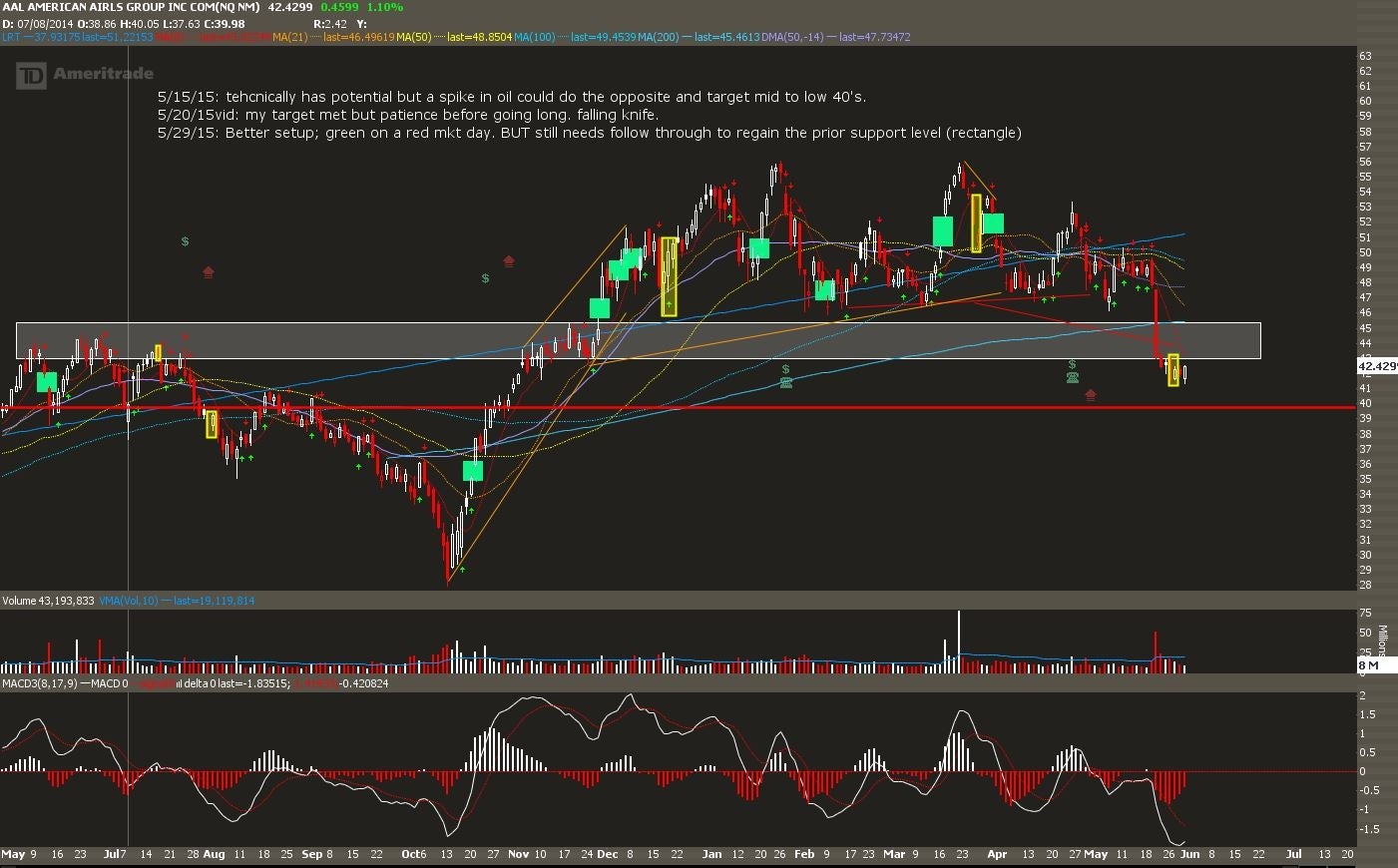 Bristol-Myers Squibb Co (NYSE: BMY): Moves like this is why the pharma sector is prone to headlines every and any day.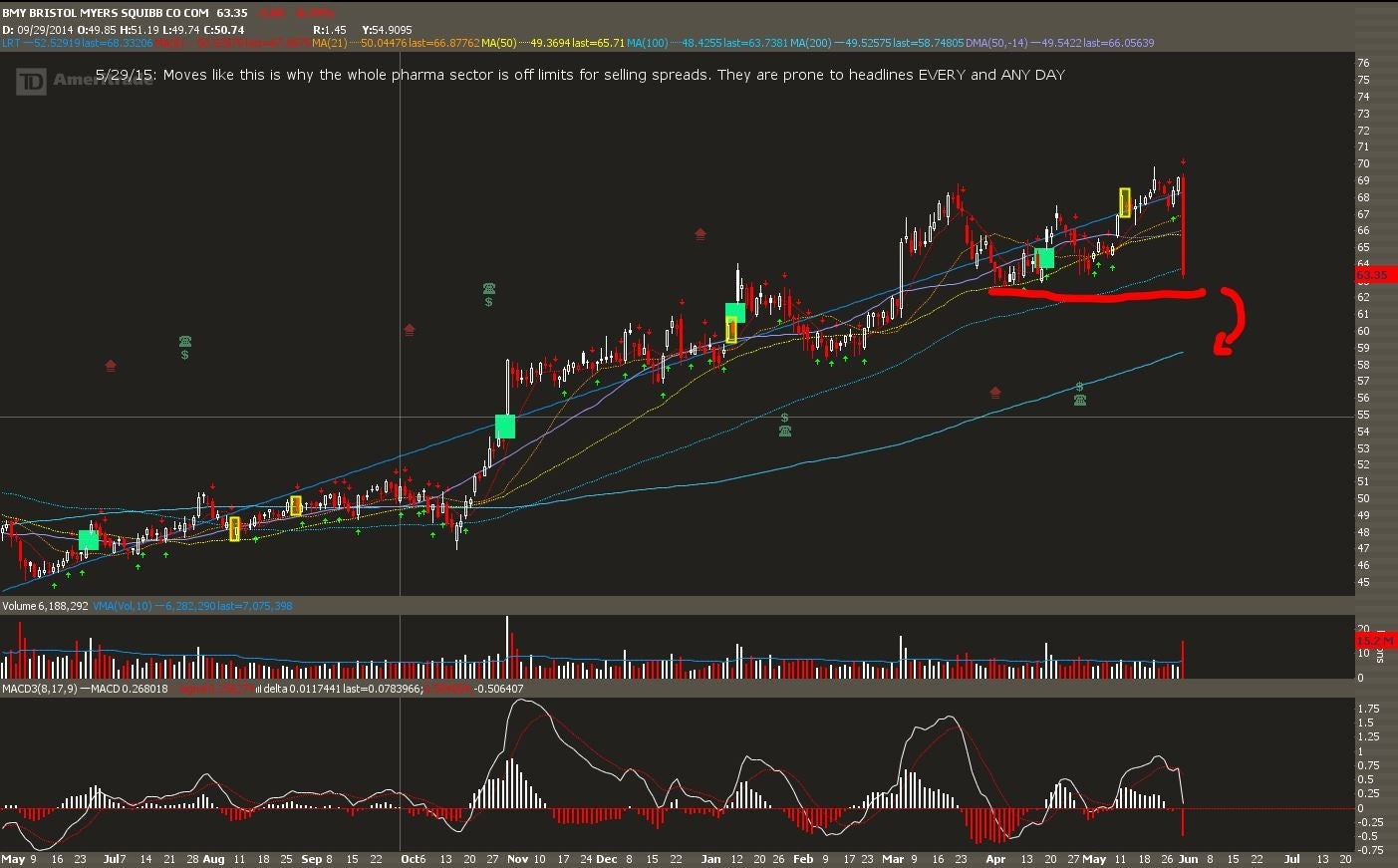 Facebook Inc (NASDAQ: FB): Next week, Facebook has strong support at 75 and resistance at 80. June undecided around 80 pin.
Zillow Group Inc (NASDAQ: Z): A move coming, but it's not better than a coin flip.
Tags: Nic Chahine Options Outlook options trading
Posted in: Previews Options Opinion Markets Trading Ideas Best of Benzinga