Hesitation In Options Market Causing Grief For Bulls?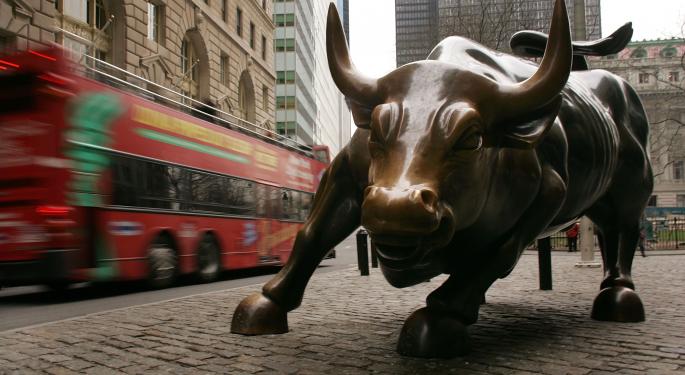 Check out the full recap of this week's options outlook below:
Title for the week? Bears have been lazy and bulls have been shy!
The week ended on two sour notes with disappointments for bulls on Thursday and Friday. The Yellen speech only managed a three point pop in the S&P where as the 3/18 pop was closer to 100.
The lack of conviction in the bull thesis is causing hesitation. For weeks markets have been set up for a mega breakout that has failed to come. Yes, we get new all time highs but the setup potential is for so much more. The 2013 bearish trade was difficult and costly. But since 2014, the bearish trade has been somewhat difficult but manageable.
Meaning a well managed thesis like ours has beat the market without difficulty and more importantly without the exposure to the ever-possible downside whoosh. Markets have shown positive reactions to bad U.S. economic news. This is a syndrome of having much hopium still built into markets = market-wide downside risk.
As we expected, Yellen didn't say anything to hint at a delayed rate hike. My interpretation of her statement was that the hike is coming this year and that it will be one and one for a while. Low and slow.
VIX went too far this week. It broke 12 and close just above it. This is lowest close since early December before it ripped higher. A rip higher in the VIX means a market downside.
Transports down big again and this time on a day where oil is down big. That's twice this week. WARNING.
Three things to keep focus on this week:
Apple: It did its job this week and ran against resistance. The battle continues into next week with the same levels.
Small caps: Although green weekly candle failed to live up to their potential. Here too the battle spill out into this week.
Financials: Flattish for the week but still on my radar. Why? There is a chance that strong financials actually can be bearish markets IF the rally in financials comes on rising rates.
Again this week facts did not change only sentiment.
Weekly candles for SPY, QQQ and IWM:
Ranges: All the ranges are playing out within our expectations with regards to open interest AND trends. We have support below and resistance above. That's why Iron Condors are a decent way to generate income.
Indices still have bullish setup this week but the breakouts are not a sure thing without a positive catalyst like a Greek headline or rumor. They just need to put this range behind them once and for all. Else markets risk a downfall simply from fatigue.
How to trade?
Bullish traders can buy a few Debit call spreads in indices with +1.5% upside as they are cheap enough. There are a few potential breakout potential in names like Starbux. So debit call spreads in it could be fruitful. Amazon and Boeing can be argued both for bulls and bears so flip your coin into a small lotto ticket. Bears who believe that the Emerging markets are potentially in trouble then they can buy put spreads in the EEM for a break lower.
iShares Dow Jones Transport. Avg. (ETF) (NYSE: IYT): Warning signs flashing all over. A breakdown in the transports could spell serious market-wide trouble.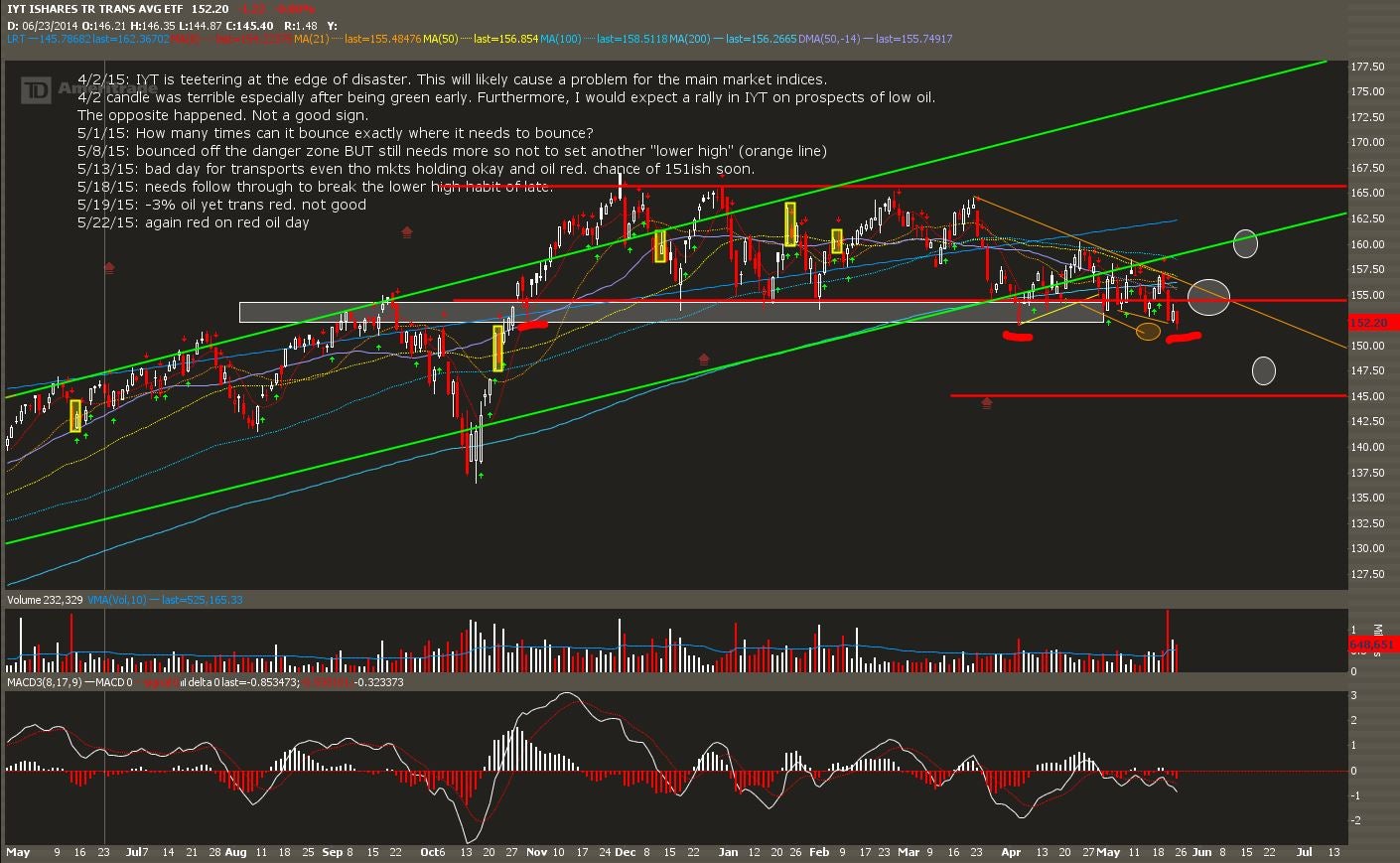 Volatility S&P 500 (VIX): Red even tho uncertainties at hand didn't wane. Dangerously low levels.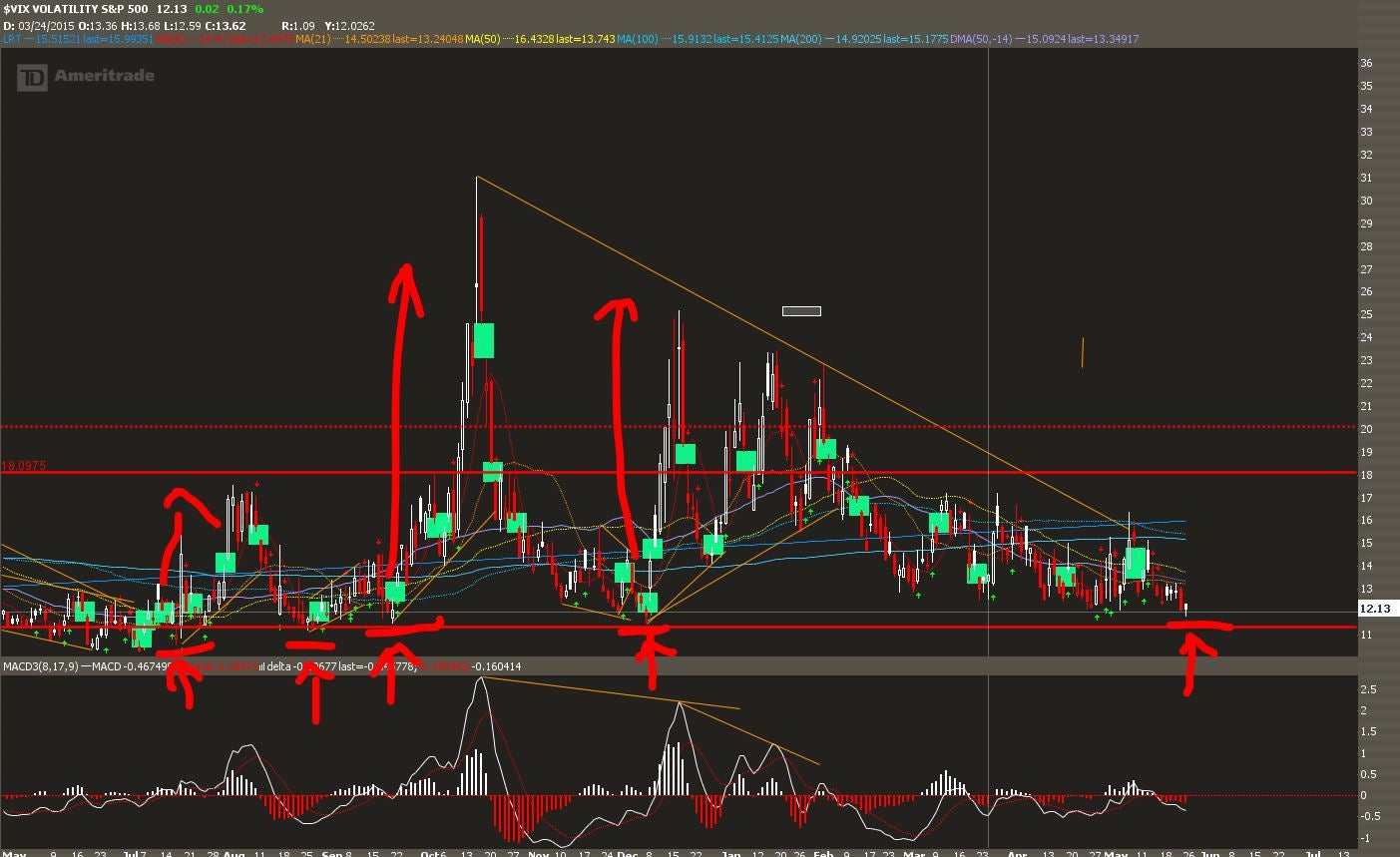 Variables: No change in thesis: Fed still raising rates & QE still dead in U.S.; Eurozone still mired but with EQE; China still mystery and now in a bubble; Japan a scary experiment; Geopolitics still scary; Oil depressed but making a comeback, Grexit looming, ISIS, etc.
Tickers to watch:
- Starbucks Corporation (NASDAQ: SBUX): If markets rip, it has the op to break out big time. Higher lows knocking on highs for the 3rd time. June OI however shows possible resistance at 50 but support starting at 48.5ish.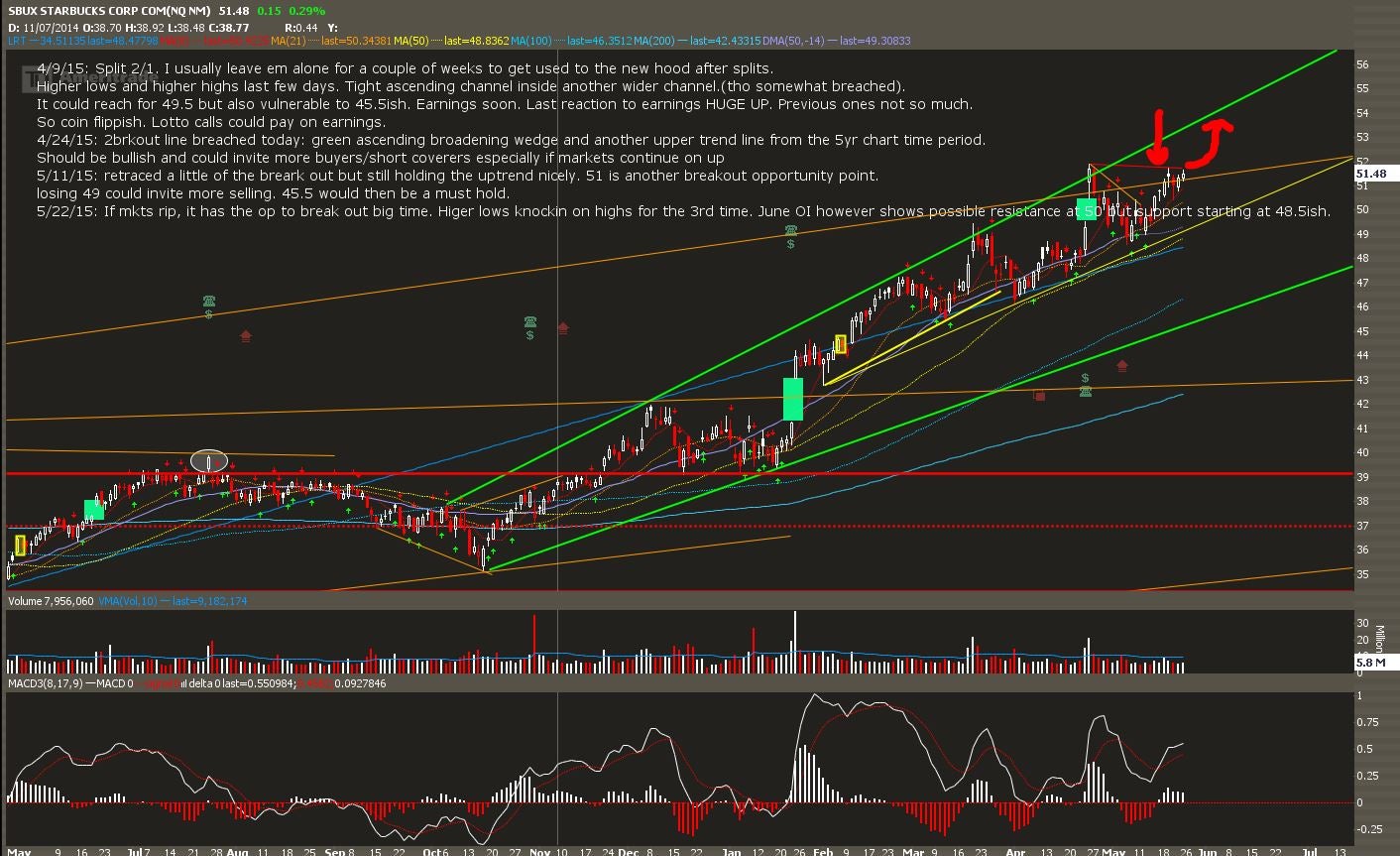 - Boeing Co (NYSE: BA): Just as we expected price broke down at the breakout potential line. Still undecided about green or red zone
Posted in: Previews Options Opinion Pre-Market Outlook Markets Trading Ideas Best of Benzinga