Harnessing The Impact Of Big Shifts In Consumer Behavior With LikeFolio Co-Founder Andy Swan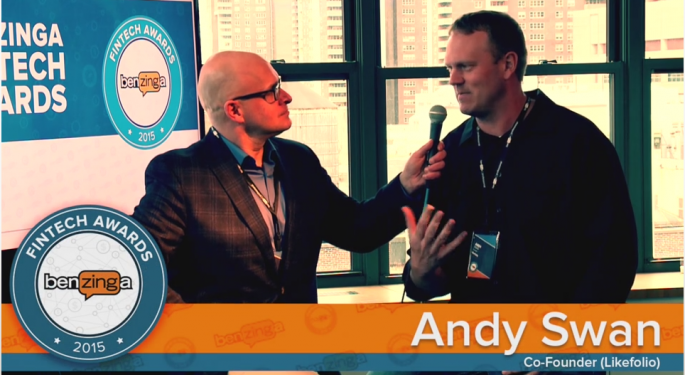 Financial expert and media personality Jeff Macke was the fireside chat host at the 2015 Benzinga Fintech Awards gala in New York on April 8.
Below is the video and full transcript of his talk with Andy Swan, Founder at LikeFolio.
Jeff Macke: I'm with Andy Swan at the Benzinga Fintech Awards. Hey Andy. Who are you with, what are you doing?
Andy Swan: Founder of Likefolio, so we're here to just spread the word about what we're doing and meet some interesting people. It's great.
Jeff Macke: Well, tell us about it, brother. Tell us what you're doing.
Andy Swan: So, Likefolio takes in all of Twitter. We take in every tweet and look for mentions of brands and products that are owned by publicly traded companies, and look for shifts in consumer behavior around those products, so we can understand how revenue might be impacted or future earnings events might be impacted by big shifts in consumer behavior. Looking for outliers.
Jeff Macke: And so you're working from the consumer backwards. That's kind of the way I see stocks. So, that's really interesting. Are you using qualitative search words? How are you going about culling all that information?
Andy Swan: Yeah. So what we do, of course we have a list of every brand and product owned by every publicly traded company, and then we have a list of positive negative words, purchase intent type of mentions. And what that does is kinda allows us to understand whether- not just what are people talking about, but how are they talking about it? How are they potentially interacting with that brand? And are they making that purchase at the cash register? Because what's interesting to us is, a lot of people are running out doing surveys on this type of stuff, and, on Twitter, people are just putting this stuff out there on their own, of their own volition, telling us what they're buying, why they're buying it, why they like it. And we just analyze that, try to find signal for the market.
Jeff Macke: That's excellent. What awards are you up for tonight? Are you up for awards? Because this sounds award-worthy. It sounds like you should be honored.
Andy Swan: You know, I think we're up for an award, but we're here to have a good time. This is a great event, we love Benzinga, and, whatever happens, happens. I'm not even sure what category we're in, but we're having a good night.
Jeff Macke: Starts with a 'W' for Winner, Andy Swan. So, where can people find your stuff?
Andy Swan: Likefolio.com. We've got our blog at Likefolio.com, has great information for free for everybody. Come check us out, I think you'll like it. Our stuff's also on Benzinga, so. We try to spread the word.
Jeff Macke: He's a mountain of a man, people, and it's a mountain of data they're going through every single day. Check out the company, check out the awards, let us know what you think. Stay tuned, we're here all night.
View Comments and Join the Discussion!
Posted-In: Andy Swan Benzinga Fintech Awards Jeff Macke LikeFolioOpinion Exclusives Interview Best of Benzinga