View From The Valley: Are We Approaching Peak Optimism?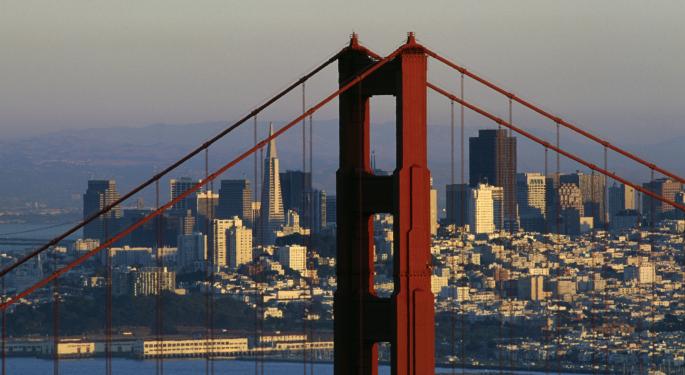 This article was originally published on Moneyball Economics, home of the world's most unique economic commentary.
The San Francisco Bay Area is home to:
~10 percent of the S&P 500
6 of the top 20 companies by market capitalization
30 of the 65 Information Technology companies on the S&P 500
With Great Wealth Comes Great Property Inflation
94 percent of homes received multiple offers in March, up from 88 percent last year (source: Redfin). Compare that to the national averages of 61 percent, down from 64 percent last year. 34 percent of homes go above asking price (source: Redfin).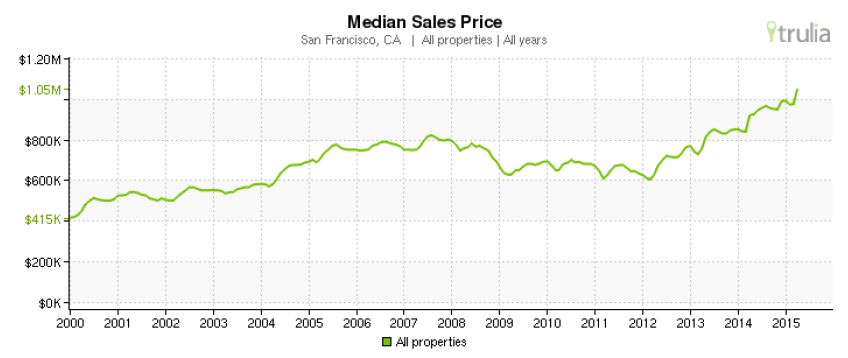 The median property sales price in the Bay Area is $1M+, up 25 percent from the peak in 2007 and up 67 percent since 2012. Not coincidentally, the stock market was flat until 2012 and has since surged 67 percent.
The stock market has fueled a tech bubble through the mechanism of IPOs and stock options. Things took off in 2012 with Facebook Inc (NASDAQ: FB)'s IPO. Prior to that there were a few big hits (Skype, Trulia, LinkedIn Corp (NYSE: LNKD)), but Facebook signaled that the game was on.
2013 had Twitter Inc (NYSE: TWTR) (and Splunk, Workday, Palo Alto Networks, ServiceNow). CBIN cites estimates showing that of the top 15 tech IPOs in 2013, 40 percent were Bay Area companies. That trend hasn't stopped. There's been a steady flow of IPOs that have enriched literally tens of thousands. A lot of hot money is chasing the yield offered by those start-ups and IPOs.
And, just like in 2000 and 2007, a lot of dubious start-ups have emerged.
The Criticality Of Stock Options To Local Real Estate Prices
The Bay Area enjoys the highest incomes in the nation. Median family income is $87K in San Francisco, $104K in San Mateo, and so on. Even that's not enough to get a loan to bridge the 20 percent down payment on a $1M house.
An income of $100K can yield a mortgage loan of $400K on a good day. If rates rise, that figure comes down to $300K. Incomes and mortgages don't matter when the median home is $1M and the down payment is $500K+. That's stock option money, and if you have $500K in stock options, you probably have $600K, $800K, $1M or more.
For the rest of the country, rising interest rates will affect real estate prices. In the Bay Area, interest rates aren't a gating factor: affordability is defined by the down payment, aka stock options. God forbid a drop in the stock market.
Inflation isn't limited to real estate. The cost of living is up everywhere here. Based on recent personal experience, a steak dinner in San Francisco is now more expensive than one in New York.
Bay Area Optimism
In fact, speaking about steak dinners, let me share a story from one last week. It started with a tale of woe shared by one of the guys at the table. One night recently, he and his wife and another couple went out for drinks and dinner. On the way home, his wife suddenly realized that she had forgotten her purse. They called the restaurant which still had the purse but was closing in an hour. They could either pick it up at that moment or in two days. Meanwhile her husband was drunk and the restaurant was 20 miles away.
The solution? He called Uber and got a ride to the restaurant and back. I wondered why he didn't just have an Uber go to the restaurant, pick up the purse, and drive it up to his house. Someone else wondered whether he should have set up a Taskrabbit (an online resource where folks bid to do your small chores).
The point here is that in Silicon Valley everything is seen through the prism of a software or hardware solution. In Hollywood, the cocktail chatter revolves around writing and performing stories. In New York it's about investing. Meanwhile, in San Francisco, a potential marital issue is immediately addressed as a problem solvable with an app. In fact, the table conversation included some great start-up ideas just waiting for a little capital investment.
The San Francisco economic experience is extreme but the optimism is universal. Looking across the country, the concept of a recession is on nobody's plate and job security fears continue to fade, finally hitting pre-recession levels.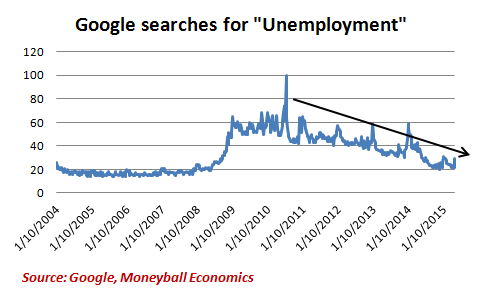 So what issues concern the US household? Concerns about inflation and interest rates are rising and have hit post-recession highs.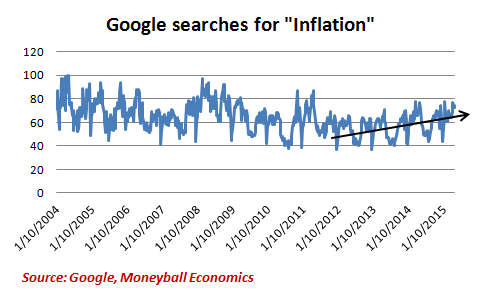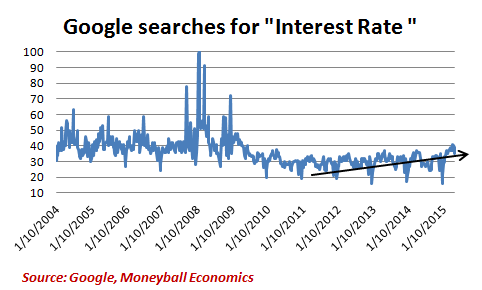 At the same time, interest in oil prices has surged to levels not seen since they collapsed in the recession.
Taken together, we see optimistic households mostly concerned with factors that can move their disposable incomes up or down: inflation, interest rates, lower prices, and so on. These are not life-threatening issues by any stretch of the imagination.
Tread Carefully During Peak Optimism
The lack of anxiety and fear is bolstering consumer spending. That and the gas price dividend. Looking at 401Ks, the typical worker sees lack of growth YTD and increased volatility, but that's paper money. In their pocket they feel richer thanks to the discretionary spending boost from commodity/energy fueled deflation and disinflation.
And that's precisely the problem: households aren't prepared for the next downtick. We have all the ingredients for a sharp pullback of consumer spending:
Over-reliance on a diminishing gas pump dividend
Households unprepared for an economic slowdown or recession
Rising concern about inflation and interest rates
The exposure is much more limited than in the previous cycle, but the reaction to a reversal in gas prices will be a sudden retreat in spending.
Sitting in Silicon Valley, it feels like we've reached the peak again. Hot money is chasing deals at ridiculous valuations. Housing prices are more than incomes can cover. Optimism is high. Jobless Claims are at cyclical lows.
We've seen this before, in 2000 and 2007.
As deflation and disinflation fade in 2H – taking with them the consumer economic benefits – and as we enter the seventh year of the recovery cycle and the economy further slows, expect consumer sentiment to drop right alongside consumer spending.
The preceding article is from one of our external contributors. It does not represent the opinion of Benzinga and has not been edited.
View Comments and Join the Discussion!
Posted-In: Andrew Zatlin Bull Market Optimism stock market bubbleOpinion Economics Markets Tech Best of Benzinga