Column: Mother's Day Is More Than Cards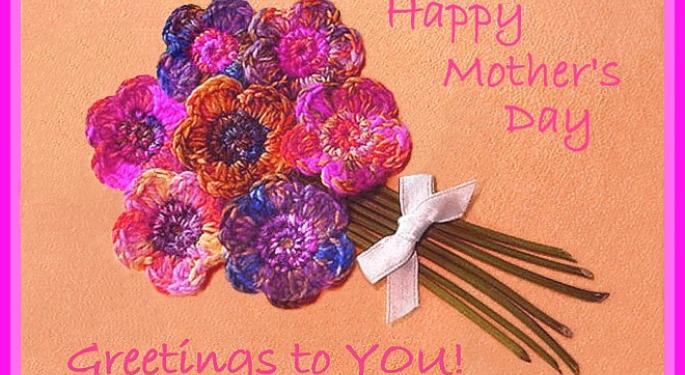 Hallmark has spent the last century warming people's hearts, while making a few bucks doing it.
The privately-held greeting card company saw revenues around $4 billion in 2014. Mother's Day is one of the biggest seasons for the company, right behind Christmas.
This year the National Retailers Federation annual survey estimates that, from flowers to clothing, more than $21 billion will be spent for Mother's Day; about $785 million of that total will be spent on greeting cards.
Hallmark, American Greetings, 1-800-Flowers.com Inc (NASDAQ: FLWS) and a host of others are surely to benefit.
My mom has worked at a Hallmark store for about the last seven years. It's been nice way to get away from the house for a few hours, make a couple extra pennies, and meet some pretty nice people. This is the first year in as long as I can remember that I didn't buy mom a Mother's Day card.
Hallmark Holiday
Some people might criticize the second Sunday in May as being a "Hallmark holiday" -- something conjured up by businesses in order to help turn a profit. Sweetest Day is arguably the most popular day to fall under this category.
Indeed, even shipping and delivery companies (FedEx Corporation (NYSE: FDX), UPS (NYSE: UPS) and even Amazon.com, Inc. (NASDAQ: AMZN)), use the day as means to charge a little extra, although that is due in part to the demand the day brings.
It's not that I didn't like picking out a card for mom. I know she's always enjoyed receiving them. But, sometimes, that $4 for a few words written by someone other than myself can ring hollow.
Mother and Child Reunion
Since graduating college, I've spent the last couple years at home with my parents. It may not always be expressed outwardly or as often as it should, but every day is Mother's Day for me.
Some days only a few words are exchanged between us; other days are spent shopping in Detroit's Eastern Market and grabbing a couple afternoon cocktails. Both mean a great deal to me.
We'll spend this Mother's Day with my brother's and sister's families. Beers and barbecue, the standard. And in a month, we'll do it all over again for Father's Day.
People spend the day in many different ways. Church, family brunch, going to the ballgame -- something that can be done together, honoring the women who brought us into the world. These occasions may be highlighted (or exaggerated) by places like Hallmark, but it's for good reason.
So, if you're lucky enough to still have yours with you, try to make every day feel like Mother's Day. They'll appreciate it.
"And if I may, call your mom, everybody. I've told this [to], like, a billion people, or so. Call your mom, call your dad. If you're lucky enough to have a parent or two alive on this planet, call 'em. Don't text. Don't email. Call them on the phone. Tell 'em you love 'em, and thank them, and listen to them for as long as they want to talk to you. Thank you. Thank you, Mom and Dad." - J.K. Simmons, upon accepting his 2015 Academy Award.
Image credit: Cheryl, Flick
Posted-In: Hallmark Mother's DayTopics Opinion General Best of Benzinga
View Comments and Join the Discussion!