Stock Investors Dig In For Bank Earnings, Ready For Next SPX Test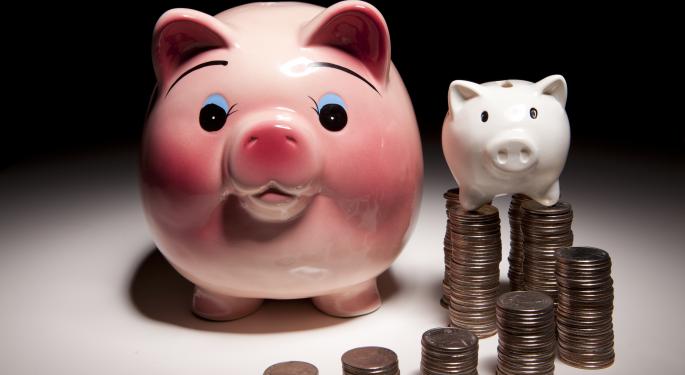 Well, whadda ya know?
Choppy trading actually turned into two consecutive winning weeks for the S&P 500 (SPX) for a push above the closely watched 2100 mark. And now?
We're staring down a challenge at 2120.
General Electric's (NYSE: GE) continued migration away from banking back to its industrial roots drove its shares up some 11% Friday, enough to prop up the broader market.
It was a positive twist for a largely cautious Wall Street that's been kept in check by volatility in energy prices, the stronger dollar, and a soft patch in the economic data on the brink of what's expected to be a so-so Q1 earnings season. Investors will certainly be scrutinizing Q1 earnings results this week, which include some leading financial names in the mix.
The focus includes not just what companies say about results for the first three months of the year but what to expect for the remainder of 2015. Caution, Not Alarm Judging by the recent performance of the market's "fear gauge," risk perceptions are easing heading into the opening round of Q1 reports.
The CBOE Volatility Index (VIX), which tracks the expected or implied volatility priced into short-term S&P 500 (SPX) options, moved north of 17 a couple of weeks ago. Since then, VIX has been trending lower and, after dipping below 13 Friday, is back at the lower end of the 2015 range (figure 1).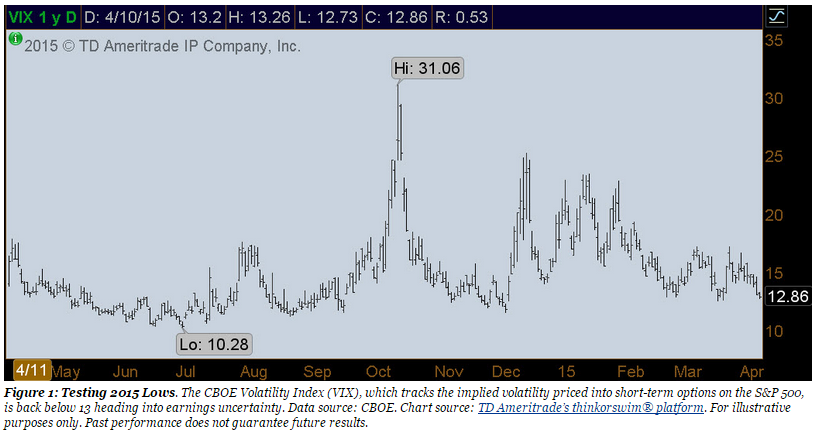 Perhaps investors know what they're in for. According to Zacks Investment Research, analysts estimate that overall SPX earnings will be down 3.3% in Q1 from a year ago on a 4.5% decline in revenues. That's the bad news.
The good news: much of that decline is due to the energy sector. Excluding energy, earnings are expected to be up 4.7% on a 0.7% increase in revenues. Looking at the performance of various market sectors in the three months leading up to Q1 results paints an interesting picture.
The SPX on the whole is up roughly 5% from early January through Friday but not all groups have participated equally in the advance: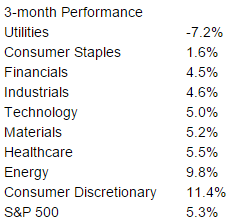 Consumer discretionary names, which include Home Depot (NYSE: HD), Comcast (NASDAQ: CMCSA) and Disney (NYSE: DIS), have been the top performers.
Interestingly, energy has helped pace that advance since mid-January despite expectations for weak earnings from the sector. Consumer staples have lagged. But utilities are the only group to really suffer any meaningful losses in the past three months.
Related Link: The Word Of The Herd: Trading By Social Media Committee
Keep in mind that mid-January, when the Q4 earnings period was just getting underway, was a turning point for the equities market. VIX hit a 2015 high of 23.43 on January 16 as the SPX had shed 3.4% from late-December highs.
Trading remained turbulent through month's end but then the equities bull market resumed in February and pushed the SPX to record highs by February 25.
It's been seesaw action since then as we can see in the three-month heat map from TD Ameritrade's Trade Architect platform (figure 2). Outside of the utility sector, substantially more stocks moved higher (green squares) rather than lower (red squares) since mid-January.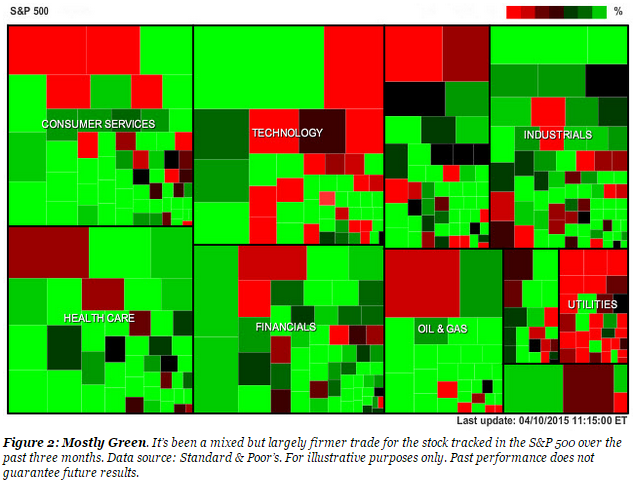 Banks, Bonds, Buying Trends
Financials will be the main focus in the week ahead. JP Morgan Chase (NYSE: JPM) and Wells Fargo (NYSE: WFC) are among the big banks to release results Tuesday. Dow components Johnson & Johnson (NYSE: JNJ) and Intel (NASDAQ: INTC) also report results that day. The pace increases in the middle of the week and then the floodgates swing open with hundreds of companies due to report from April 20-24.
After a lull last week, the economic calendar picks up as well, including March retail sales data Tuesday morning (see figure 3 for the full calendar).
Will there be a rebound after a soggy retail spending report a month ago?
Consumers drive this economy and they've not exactly grabbed the wheel with both hands. Manufacturing, inflation and housing data are on tap and could trigger a bit more volatility in the bond pits, changing market interest rates at the same time that stock investors try to size up the Federal Reserve's next move. Finally, action in the currency markets could affect trading this week.
The euro had a rough go against the buck last week and dipped below $1.06 on Friday after moving north of $1.10 on Monday. Now, focus turns to the European Central Bank's rate decision on Wednesday.
Volatility in the euro (dollar strength) could potentially spill over into other markets, like commodities, and trigger some bumps in the road on Wall Street as well.
Good trading,
JJ
This piece was originally posted here by JJ Kinahan on April 13, 2015.
Spreads and other multiple-leg option strategies can entail substantial transaction costs, including multiple commissions, which may impact any potential return.
A rollover is not your only alternative when dealing with old retirement plans. Please click here for more information on rollover alternatives.
Futures and futures options trading is speculative, and is not suitable for all investors. Please read the "Risk Disclosure for Futures and Options" prior to trading futures products.
Market volatility, volume, and system availability may delay account access and trade executions.
Past performance of a security or strategy does not guarantee future results or success.
Options are not suitable for all investors as the special risks inherent to options trading may expose investors to potentially rapid and substantial losses. Options trading subject to TD Ameritrade review and approval. Please read Characteristics and Risks of Standardized Options before investing in options.
Supporting documentation for any claims, comparisons, statistics, or other technical data will be supplied upon request.
The information is not intended to be investment advice or construed as a recommendation or endorsement of any particular investment or investment strategy, and is for illustrative purposes only. Be sure to understand all risks involved with each strategy, including commission costs, before attempting to place any trade. Clients must consider all relevant risk factors, including their own personal financial situations, before trading.
TD Ameritrade, Inc., member FINRA/SIPC. TD Ameritrade is a trademark jointly owned by TD Ameritrade IP Company, Inc. and The Toronto-Dominion Bank. © 2015 TD Ameritrade IP Company, Inc. All rights reserved. Used with permission.
View Comments and Join the Discussion!
Posted-In: JJ KinahanOpinion Economics Markets Best of Benzinga