Wall Street Vet On The 6th Anniversary Of The Current Bull Market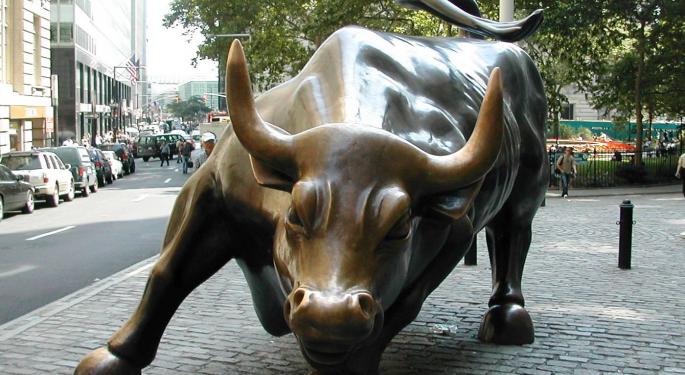 The following is an excerpt from Timothy Anderson's (MND Partners) morning note.
The historical perspective of where we are on the calendar is intriguing, particularly given the media frenzy early last week of NASDAQ 5000. Today, March 9 is the 6th anniversary of the current bull market, following the carnage of the Global Financial Crisis of 2008 - 09. Ironically today is also the 15th anniversary of the first ever NASDAQ close above 5000 on March 9, 2000.
Let's go to the videotape!!
On March 9, 2000 the NASDAQ closed at 5046.86, the 1st close ever above 5000. The AOL/Time Warner merger had just been announced in early January and having just survived what was then billed as the IT world's "great unknown" of Y2K equity markets were still in "Dot Com Heaven."
On March 10, 2000 NASDAQ posted a second consecutive closing high by less an 2 points at 5048.62 after trading nearly 100 points higher intraday. Yes, this was an ominous "Doji Day" with long "topping tail."
Of course it got minimal attention at the time, but the die was cast. While the market was peaking, March 9 and 10 fifteen years ago were the only 2 days that NASDAQ closed above 5000 until last Monday.
By April 18, 2000 the NASDAQ was at 3800, a 23 percent correction in less than 6 weeks.
While today's market, no doubt has a few headwinds, from valuations concerns to global issues of economic growth and Political stability, we are nowhere near as overextended on technical's of fundamentals as during the glory days of the internet bubble.
What about this week? Speaking of anniversaries, it's been 2 weeks to the day since the new Greek government came to an agreement in principle with their creditors over terms for some temporary emergency funding. According to many reports last night and early this morning, they may not make through the 1st month. Depending on which reports you choose to believe it appears that the new Greek government may have attempted a high level "bait and switch" by submitting a formal proposal that was materially different to their creditors than what they had gestured 2 weeks ago. Realistically, it should not come as an earth shattering surprise that the final moves in a high stakes game of "Chicken" have yet to be played between Athens, Brussels, and Berlin.
Equity markets will likely struggle to gain a footing the first couple days of this week, although the ECB commencing its QE bond buying this morning could lend some support. Watch the Utilities, down 12.5 percent from their highs 10 weeks ago, as well as any chatter on Greece and the ECB.
Image credit: Arturo De Modica, Wikimedia
DISCLAIMER:: NOTICE REGARDING PRIVACY AND CONFIDENTIALITY This e-mail and any attachments thereto is intended only for use by the addressee(s) named herein and may contain legally privileged and/or confidential information. If you are not the intended recipient of this e-mail, you are hereby notified that any dissemination, distribution or copying of this e-mail, and any attachments thereto, is strictly prohibited. If you have received this e-mail in error, please immediately notify me and permanently delete the original and any copy of any e-mail and any printout thereof. E-mail transmission cannot be guaranteed to be secure or error-free. The sender therefore does not accept liability for any errors or omissions in the contents of this message which arise as a result of e-mail transmission. In accordance with SEC Rule 17a-4 and NASD Rule 3010; Emails sent to and from this address may be recorded and are subject to archival, monitoring, review and retrieval by the TJM Compliance Department. TJM and/or its affiliates are a member of FINRA, CBOE, NFA, SEC, and SIPC. TJM's main office is located at 318 W. Adams 9th Floor, Chicago, IL 60606. For more information about TJM, please contact (312)-432-5100 or fax (312)-432-4499.
The following article is from one of our external contributors. It does not represent the opinion of Benzinga and has not been edited.
Posted-In: Previews Opinion Economics Markets Trading Ideas Best of Benzinga
View Comments and Join the Discussion!