LikeFolio CEO: Might As Well Face It, We're ADDICTED To Facebook
Andy Swan is the co-founder and CEO of LikeFolio.
Why Can't We Quit Facebook?
Despite the occasional flare-ups of people threatening to leave Facebook Inc (NASDAQ: FB) (usually after privacy screw-ups by the company), there is no indication that users are abandoning Facebook in any meaningful numbers.
In fact, we're seeing that people who post about quitting Facebook are usually posting something about being back on it within 30 days. While Twitter is having problems engaging new users, Facebook users simply cannot quit.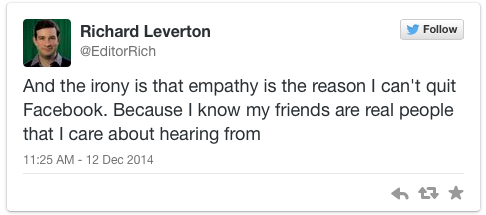 We Hate Ourselves For Loving Facebook
76% of tweets about Facebook are positive. That's the same score as tweets about Twitter, and right in line with normal behavior around social networks. We will be monitoring this closely over the next few quarters, as a sentiment move in either direction has been telling signal for Facebook stock in the past.
Advertisers Continue To Lick Their Chops
We've seen a 10% increase over the past quarter in enthusiasm surrounding advertising on Facebook. Most of this is attributable to its mobile-advertising network. Enthusiasm for Facebook ads tends to come from owners of small businesses, who are showing excitement about Lift— a tool that helps you figure out when ads are working.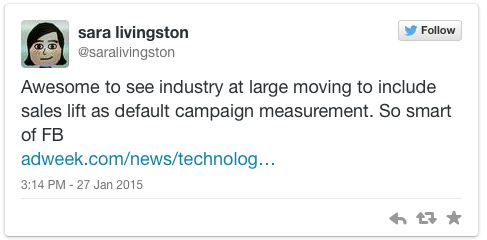 Facebook Is Dead. All Hail Instagram.
Enthusiasm is awesome for both Instagram and WhatsApp. In fact, social mentions of Instagram are getting close to mentions of Facebook proper— an amazing accomplishment.
Data via TDAmeritrade
Like it or not, Facebook has users right where they want them… addicted to their growing platforms and ready to consume ads from eager marketers.
— Andy Swan is the co-founder and CEO of LikeFolio, and can be reached at andy [at] likefolio.com
The preceding article is from one of our external contributors. It does not represent the opinion of Benzinga and has not been edited.
View Comments and Join the Discussion!