Salesforce Offers Potential 55% Return For Bullish Traders
Salesforce.com, inc. (NYSE: CRM) shares have taken a beating recently, but they are approaching an important trendline.
One opportunity for those traders with a bullish bias is a Bull Put Spread using the $54 strike as the short put and the $52 strike as the long put.
As of Tuesday's close, this trade offered a roughly 55 percent return on risk over the next 10 calendar days when using the December 26 expiry.
The maximum profit on the trade would be $72 per contract with a maximum risk of $128. The spread would achieve the maximum 55 percent profit if Salesforce.com closes above $54 on December 26 in which case the entire spread would expire worthless allowing the premium seller to keep the $72 option premium.
The maximum loss would occur if Salesforce.com closes below $52 on December 26 which would see the premium seller lose $128 on the trade. The break-even point for the Bull Puts Spread is $53.28 which is calculated as $54 less the $0.72 option premium per contract. Keep in mind that due to the bid-ask spread, traders may not be able to get filled at these prices.
Looking at the chart below, Salesforce.com is approaching an important trend line, which will see the trade succeed if there is a bounce from that level.
The RSI indicator is at 27.88 which is one of the lowest levels seen in the last 12 months and has set the stage for big rallies in the past.
The 50 day moving average is above the 200 day moving average which is generally considered a bullish sign.
Counting against the stock is the MACD which is in a bearish position, although approaching oversold levels. Salesforce.com stock is also below the 50 and 200 day moving averages which is considered bearish.
If Santa Claus is going to visit Wall Street this year, Salesforce.com could be lifted higher along with the general market allowing bullish traders to make a tasty return on this Bull Put Spread.
See chart below: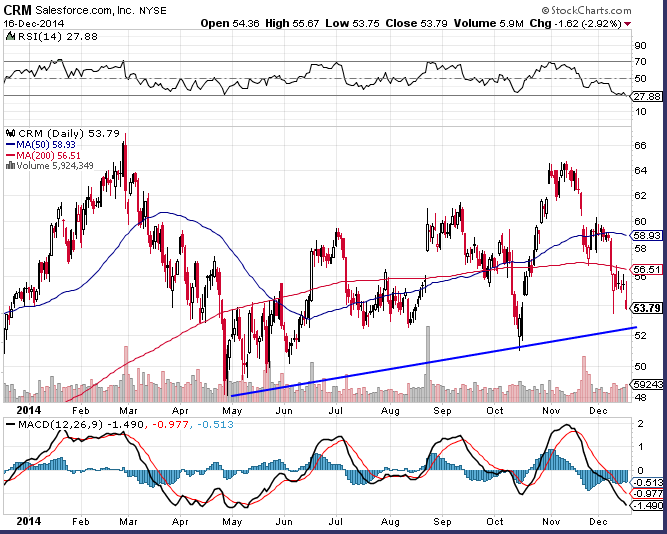 Posted-In: Options Opinion Markets Trading Ideas
View Comments and Join the Discussion!