A Master Mentalist Reveals The 'Ridiculously Simple' Trick To Public Speaking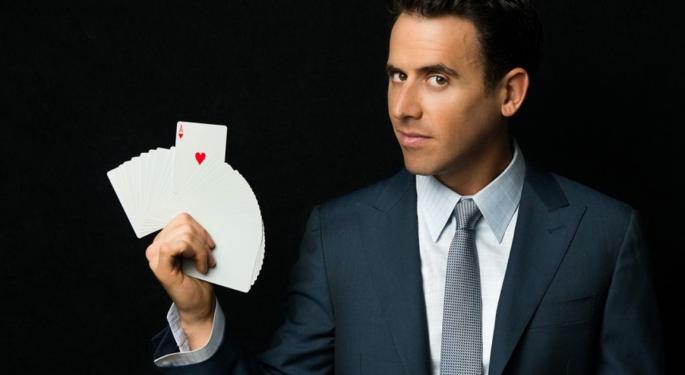 "Wall Street Mentalist" Oz Pearlman's job is more difficult than most other public speakers. The "America's Got Talent" finalist routinely convinces rooms full of Wall Street professionals that he has powers bordering on the supernatural.
After performing magic tricks and mentalism nearly every day since he was a teenager, Pearlman has a few tips for those looking to win over crowds that apply to non-magical contexts. Below are a few of Oz Pearlman's tips for working a room.
Sow the seeds for a great speech.
A key aspect of Oz Pearlman's approach to the stage is that he doesn't speak to the audience cold. When he can, he warms up the crowd by milling about before his performance.
"When you think of a speaker, when they get up on a stage, that's their job interview," Pearlman says. "That's the first time you are meeting them. But what I do, which is a little unusual, is I stroll. I walk around throughout the event and nobody knows who I am. I'm networking, but with my craft. My goal, within moments of meeting someone, is to establish credibility, to have them enjoy my performance, and to facilitate business relationships."
If you're not the night's entertainment, but instead a keynote or making a sales pitch, you can do something analogous to what Pearlman does.
If you walk up to groups of people at the event and introduce yourself and have friendly conversations, you can get members of the audience comfortable with your delivery and presence. There's a big difference in speaking to a crowd in which several people recognize you on a colloquial level versus speaking to a completely "cold" audience.
Psyche yourself up.
Pearlman admits confidence can be a bit of a catch-22 for public speakers. It takes practice to get used to being in front of a crowd, but, you need confidence to get in front of the crowd in the first place.
However, Oz Pearlman has a useful psychological tip to prevent worry from eating away your confidence: get yourself out of your head by imagining yourself as a third party.
"When I'm performing, I think about myself as if I'm the agent who represents me. Then imagine that they call and they are trying to pitch me and say, 'you know how great Oz Pearlman is?' If somebody then says, 'listen, we're not interested in that right now,' you're never going to hear it. Your agent is going to hear it. You take out the personal element of it. They didn't hurt your feelings."
Expand your rapport with the audience.
Pearlman doesn't get to know his audience before he performs just because he's a friendly guy. Like with anything else in business, a good stage performance comes from forming and nurturing relationships. Pearlman builds on the relationships he develops with his pre-performance stroll by taking the time to mention some audience members' names onstage.
"Rapport is everything," Pearlman says. "It's very key on how the performance feels. A trick to establish a relationship with the audience is knowing names. That one is so ridiculously simple, but it really, really does work. Refer to people in the audience as if you are getting instant testimonials. If you can in any way, shape, or form, learn people's names, remember them, and utilize them when you're presenting or speaking."
These tricks have helped Pearlman make a career out of mentalism. Before he was old enough to buy beer, he was making enough money performing magic to pay his way through an education at the University of Michigan, and now, he regularly makes appearances on networks like CNBC.
Posted-In: America's Got Talent Oz PearlmanEducation Entrepreneurship Psychology Exclusives Interview General Best of Benzinga
View Comments and Join the Discussion!