Have Shoppers Made The Case For Rising Interest Rates?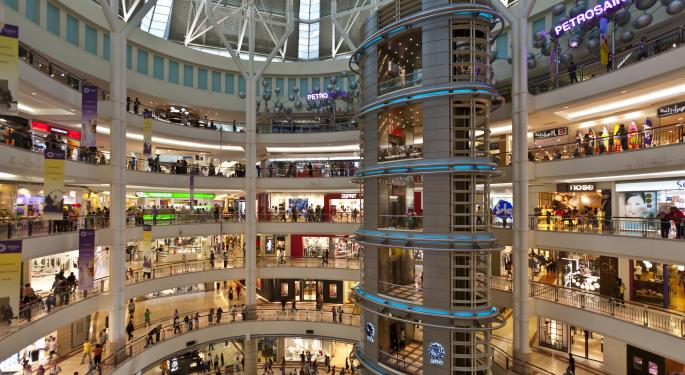 After a glum 0.7 percent contraction in first-quarter GDP, the case for a second-quarter economic recovery looked like it was on the ropes.
However, economy bulls – and those hoping for an interest rate rise from the Federal Reserve – saw their position strengthened after retail sales data flexed its muscles in May.
Retail sales rose by 1.2 percent in May from April, and by 2.7 percent from the same month a year ago.
However, the Financial Times reported that the numbers also offered plenty of signs of life in the US economy, with almost all of the categories in the report seeing gains in May and US Census Bureau revising up previously weak data for March and April.
"Let the shopping resume," Gregory Daco, head of US macroeconomics for Oxford Economics, wrote in a note to clients cited by the FT that predicted a continuing acceleration in retail spending in the months ahead thanks to strong employment data, persistently low gas prices and even rising wages.
One concern for economists has been what appeared to be stingier behavior by consumers in recent months and years, with some raising the possibility of a long-term change in saving and spending patterns.
According to the FT, a move to raise rates still appeared unlikely to occur at this week's meeting of the Federal Open Market Committee, which sets Fed policy, after a number of Fed policy makers expressed doubts about the strength of the US economy in recent weeks.
But this newest report offered support for those seeking to make the case for a return to monetary policy normality and higher rates, adding to strong jobs numbers last week.
Auto sales were up 2 percent from April and 8.1 percent from May 2014 while sales at gas stations were 3.7 percent higher in May than in April. Sales of clothing rose 1.5 percent while Americans also purchased 2.1 percent more building materials than they did in April.
According to Los-Angeles based Guild Investment Management, the entire summer will bring more strong economic data, of the sort that will result in the Fed raising rates in September.
In a piece on equities.com, Guild recently wrote that first-quarter GDP was hurt by two transitory factors: bad weather in the Eastern and Midwestern US, and the port strike in the West.
"We have no doubt that the second and third quarters will be stronger. Economic data indicate that we are seeing a pick-up in jobs, that many formerly discouraged workers are reentering the workforce, and that average wages are enjoying a small uptick," the company wrote.
"All of this points to strengthening economic results for the April-through-September period in the US. With stronger GDP growth will come stronger bond yields and lower bond prices.
That could mean an opportunity for stocks that could stand to benefit from a rising interest rate environment. The Rising Interest Rates motif has increased 4.5 percent in the past month and has gained 32.2 percent in the last 12 months.
In those same periods, the S&P 500 is down 1.7 percent and up 7.7 percent, respectively.
The content contained herein is for informational purposes only and is not a solicitation or a recommendation that any particular investor should purchase or sell any particular security. Motif does not assess the suitability or the potential value of any particular investment. You are responsible for understanding the risks involved with investing in securities and for all investment decisions you make. Investments in small cap companies and companies within a particular sector involve additional risks unique to those companies which you should be aware of before making any investment decision. The information contained herein is obtained from sources believed to be reliable, but its accuracy or completeness is not guaranteed. Performance of motifs is for informational purposes only and is not not based on results you could expect to achieve. See how returns are calculated.
View Comments and Join the Discussion!
Posted-In: GDPPreviews Psychology Retail Sales Econ #s Economics Trading Ideas General Best of Benzinga